Last Updated on Dec 27, 2022 by Aradhana Gotur
Radhakishan Damani is a renowned retail entrepreneur and a successful value investor in India. A college drop-out, Damani started his business and then ventured into stockbroking. His journey has been nothing but inspiring.
Here's a detailed look at Radhakishan Damani's portfolio, shareholdings, net worth and journey.
Radhakishan Damani portfolio
Also known as RK Damani, he holds the following stocks estimating around Rs. 1,52,007 cr. Some of the leading stocks in Radhakishan Damani's portfolio as of September 2022 are:
Note: The shares in Radhakishan Damani portfolio 2022 are as per the information available with the exchanges. For the latest quarter, results might not be available for some companies as they may file them later.
In the quarter ended September 2022:
RK Damani decreased his holdings in Avenue Supermarts Ltd
He increased his holdings in Metropolis Healthcare Ltd, Sundaram Finance Holdings Ltd, and VST Industries Ltd
He sold all his stakes in Trent Ltd and United Breweries Ltd
Radhakishan Damani net worth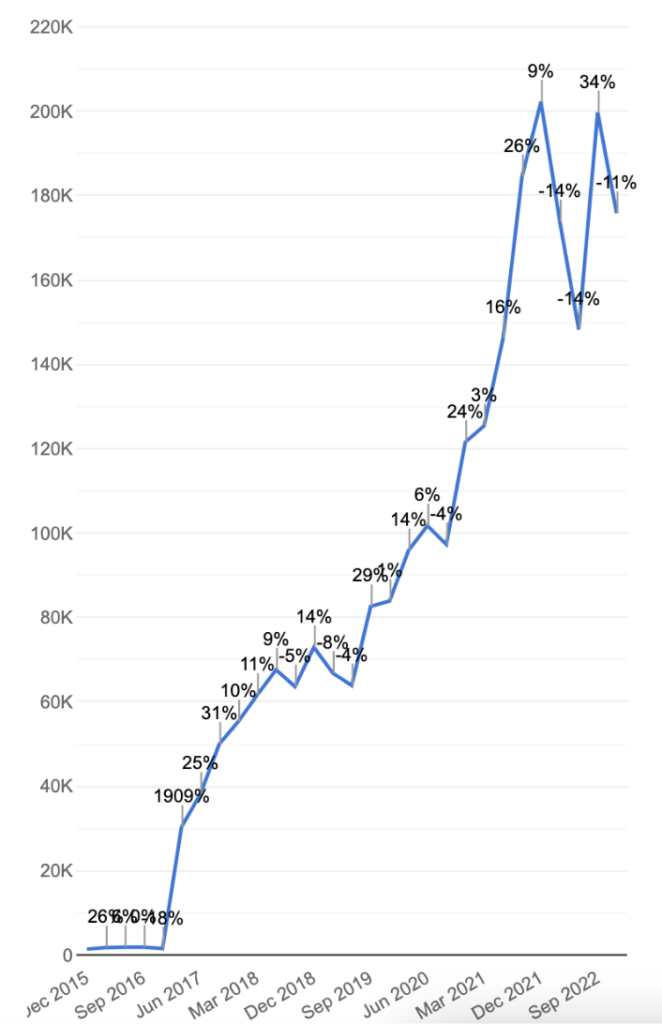 As of September 2022, Radhakishan Damani's net worth was around Rs. 1,52,107.10 cr. The above is the trend of Radhakishan Damani's net worth from December 2015 to September 2022. RK Damani's net worth increased significantly due to Avenue Supermart IPO, even though the company only began trading on stock exchanges in 2017.
RK Damani Bulk and Block Deals
As of September 2023, there are no bulk and block deals in Radhakishan Damani's portfolio. To keep track of insider trading and bulk and block deals, use Tickertape's Stock Deals. It allows you to analyse big investors' stock deals for your chosen timelines, reflecting their outlook on a stock.
About Radhakishan Damani
Damani, born into a Marwari family in 1954, dropped out of college to work on his ball bearings business, only to later venture into stockbroking. In 1989, he founded BrightStar, an investment firm and became a SEBI-registered stockbroker. However, he quickly realised that he needed to transition from a stockbroker to a full-time trader to earn more significant profits. Therefore, he gained profit by short-selling stocks that Harshad Mehta had illegally inflated in the 1990s.
But, shortly after tasting the bite of the success, Damani left the world of stock trading. He dipped his toes into entrepreneurship by testing the ground with his first DMart store in 2002, which picked its pace and bloated up to 14 folds revenue since the FY 2012.
The rise of DMart
RK Damani's rise began with the failure of his 'Apna Bazaar' venture, which pushed him to start his own business and laid the groundwork for DMart, a wholly-owned subsidiary of Avenue Supermarts.
DMart stood as one of India's largest consumer retail supermarket chains of Avenue Supermarts. Its success has been a pinnacle in RK Damani's investment journey. The company is a one-stop supermarket chain that aims to offer customers a wide range of basic home and personal products under one roof. The operations scale across 284 stores in Maharashtra, Gujarat, Delhi, Chhattisgarh, Madhya Pradesh, Telangana, Rajasthan, Andhra Pradesh, Punjab, Tamil Nadu, Daman and Diu, and Karnataka.
This triumph dates to 2017 as DMart launched its initial public offering (IPO) and became a monumental success listing Avenue Supermarts on the NSE and BSE exchanges. The stock got listed at Rs 604.4 apiece, providing a 102% premium to its issue price of Rs. 299 with a high oversubscription. The end of that year also saw the company become the most expensive retail stock globally based on various financial metrics.
Key milestones
1956: Radhakishan Damani was born in the Indian city of Mumbai.
1995: Became the largest individual shareholder in HDFC Bank.
2000: Exits the stock market and begins working on his retail business.
2002: Founded Avenue Supermarkets.
2002: Established his first DMart store in Mumbai.
2010: DMart operates 25 stores under the DMart brand.
2016: 21 new DMart locations opened.
2017: Avenue Supermarts jumps 106% over IPO price in Mumbai debut.
2017: Avenue Supermarket is publicly listed in India, marking huge success.
Valuable lessons from RK Damani
Here are a few lessons that you can take from RK Damani's life.
1. Stake money to reap rewards
RK Damani's evolution from stockbroker to stock trader demonstrates his belief in risking his own money to make more. Investing your own money raises the stakes as you tend to avoid losing hard-earned savings. So, if you want the stock market to work for you, begin by investing in high-quality stocks.
2. Believe in your business
Even though RK Damani made DMart public, he did not relinquish his stake in the company. He still owns a significant part of the business. This determines his belief in the business model. This also teaches you to think about the decisions and stick to them consistently, no matter what the market condition may seem like.
3. Have a long-term outlook
Over the last couple of decades, RK Damani has become a firm believer in the long-term investment strategy. He maintains his portfolio and does not make considerable changes to it. You can also consider his long-term outlook to earn attractive returns and grow your portfolio.
Radhakishan Damani is a shining example of how one can achieve success despite lacking resources. He charted his winning path with a brilliant investment strategy and a sound business model. His approach to diversifying his investment portfolio and investments in mid-cap companies has yielded significant gains. When it comes to making big decisions or changing careers, Damani has been headstrong and dived deep to embark on the path of success!
He is a living statement on making your money work for you. However, it is critical to conduct your research and find stocks that suit your risk capability rather than simply copying Damani's holdings. You can read Blog by Tickertape and expand your understanding of the market's intricacies because research is essential for investments. Speak to a financial advisor before investing.
Frequently asked questions (FAQs)
Who is the owner of DMart?
Indian renowned businessman and billionaire Radhakishan Damani is the founder of DMart (Avenue Supermarts Limited). RK Damani is a successful retail entrepreneur and value investor as well.
Who is Radhakishan Damani?
The DMart founder is also a famous stock market personality in India. Damani was a college dropout who started a ball-bearing business. He became a SEBI-registered stockbroker in 1989 after establishing his own investment firm called BrightStar. He then transitioned to a full-time trader to earn more profits. RK Damani gained profit by short-selling stocks Harshad Mehta had inflated in the 1990s.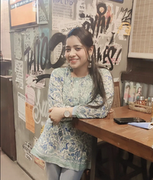 Latest posts by Neera Bhardwaj
(see all)