Last Updated on Jul 6, 2021 by Aradhana Gotur
With a host of initial public offerings expected to hit the market in the coming days, you have no dearth of investment options. However, evaluating them carefully can help you identify the ones that are worth investing your hard-earned money in. Here we analyse GR Infraprojects Ltd IPO.
This article covers:
About GR Infraprojects Ltd
Incorporated in Dec 1995, GR Infraprojects Limited (GRIL) is an integrated road engineering, procurement, and construction company (EPC). They are experienced in designing and construction activities and working on road and highway projects. In the road sector, GRIL undertakes civil construction projects under the EPC, BOT (Build Operate Transfer), and HAM basis. They also have experience in constructing state and national highways, bridges, flyovers, culverts, rail over-bridges, and airport runways.
GR Infraprojects Ltd has also diversified into manufacturing activities of electric poles, thermoplastic road-making paints, fabricating metal crash barriers, and road signages, and railway sector projects. The company executed their first projects for the Public Works Department (PWD), Rajasthan in 1997. The Bid Project Cost was Rs 2.65 cr. Since 2006, the company has executed over 100 road construction projects.
Today, GR Infraprojects has road and highway projects across 15 states in India, the Vadodara Mumbai Expressway project awarded by NHAI being their latest one. This project is on HAM basis and involves a Bid Project Cost of Rs 2,747 cr. As of Apr 2021, GR Infraprojects Ltd had completed over 100 road construction projects and currently has four BOT projects under construction. Currently, the company has 14 road projects under the HAM. Of these, five are currently operational, four are under construction, and five more are yet to be commenced.
Business verticals of GR Infraprojects Ltd
GRIL is a well-diversified company having the following businesses verticals:
Civil construction activities to provide EPC services
Development of roads and highways on a Build Operate Transfer basis including under annuity and Hybrid Annuity Model (HAM)
Manufacturing activities to manufacture thermoplastic road-marking paint, electric poles and road signage, process bitumen, and fabricate and galvanize metal crash barriers
Manufacturing facilities
GRIL has three manufacturing facilities at Guwahati (Assam), Udaipur (Rajasthan), and Sandila (Uttar Pradesh), and a fabricating and galvanization unit at Ahmedabad (Gujarat).
Promoters of GRIL
The company's promoters are Vinod Kumar Agarwal, Purshottam Agarwal, Ajendra Kumar Agarwal, and Lokesh Builders Private Limited.
GR Infraprojects IPO details
The Rs 963-cr worth IPO is set to open on 7th Jul 2021 and close on 9th Jul 2021
While the face value of each share is Rs 5, the price band of the IPO is in the range of Rs 828 to Rs 837 apiece
The minimum lot size is 17 shares and the maximum lots allowed for subscription are 14
The company is looking to get listed on both BSE and NSE and the likely date of listing is 19th Jul 2021
Objects and utilisation of the IPO proceeds
The IPO is entirely an offer for Sale (OFS) of up to 1.15 cr equity shares. Since the IPO is entirely OFS, all the proceeds will go to the promoters and investors looking to liquidate their positions. The company will not receive any funds.
Category-wise reservations of the issue
Up to 50% for qualified institutional buyers (QIBs)
15% or above for non-institutional bidders
35% or above for retail investors
2.25 lakh shares are reserved for employees
Book running lead managers to the issue
ICICI Securities, SBI Capital Markets Limited, HDFC Bank Limited, Motilal Oswal Investment Advisors Limited, Kotak Mahindra Capital Company Limited, and Equirus Capital Private Limited are the book running lead managers to the offer. Karvy Computershare Private Limited is the registrar.
Peers of GR Infraprojects
The company's listed peers include PNC Infratech, KNR Constructions, Dilip Buildcon, Ashoka Buildcon, Sadbhav Engineering, IRB Infrastructure Developers, and HG Infra Engineering.
Valuation of GRIL
Based on FY 2021 earnings, the company commands a PE of 8.5, which is lower compared to its peers namely PNC Infratech that are trading at 14.7, Dilip Buildcon Ltd at 23.9, and Ashok Buildcon at 11.3 basis FY 2021 earnings, respectively. The company seeks a market capitalisation of Rs 8,093 cr, second to their peer Dilip Buildcon.
Financials of GR Infraprojects Ltd
As of 31st Mar 2021, the company had a healthy order book of Rs 19,025.80 cr comprising of 16 EPC projects, 10 HAM projects, and three other projects. This gives the company strong revenue visibility in the future
From 2019 to 2021, GRIL's revenue from operations increased at a CAGR of 21.86 and their profit zoomed at a CAGR of 15.33%
The company's EPS for FY 2019, FY 2020, and FY 2021 was 73.91, 82.59, and 98.31
Of its total order book in FY 2021 at Rs 19,026 cr, 87% is with NHAI
Among key EPC players, GRIL's EBITDA zoomed at the highest CAGR of 63% over 5 yrs between FY 2015 and FY 2020 among key EPC players
Their EBITDA margin stands at 23.6% led by superior execution capabilities and backward integration
Their PAT margin in FY 2021 was 12.2%
The company's standalone debt is Rs 1350 cr with a debt to equity of 0.3x and consolidated D/E of 1.2x
For FY 2020, the company reported a total income of Rs 6,420 cr against Rs 5,320 cr in the preceding year. For the same period, net profit was Rs 800 cr versus Rs 710 cr in the preceding period
In FY 2021, the company posted a profit of Rs 953 cr
As of Dec 2020, their total borrowings were Rs 4,200 cr while their net worth was Rs 3,730 cr. The total order book stood at Rs 18,220 cr
Below is the restated consolidated financial information of three years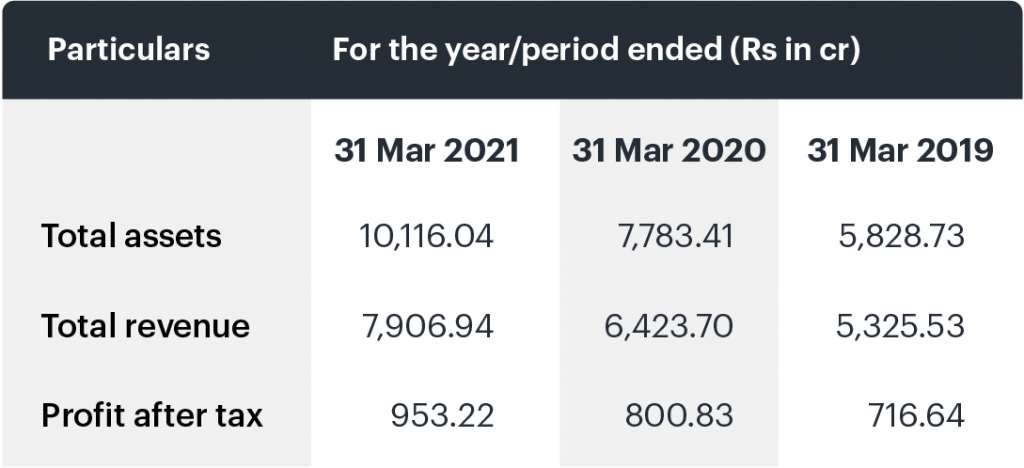 Order book of GR Infraprojects Ltd
As of 31st Mar 2021, they had an order book of ~19,000 cr. It comprises:
EPC and HAM projects in the road sector across Andhra Pradesh, Madhya Pradesh, Himachal Pradesh, Uttar Pradesh, Gujarat, Chattisgarh, Maharashtra, Rajasthan, Manipur, Bihar, and Odisha
Railway projects in Andhra Pradesh and Madhya Pradesh
An optical fibre project spread across Bihar, West Bengal, Odisha, Jharkhand, Sikkim, and Andaman and Nicobar Islands
The company is heavily dependent on road projects from a limited number of government entities. This accounts for the majority of their revenues
The project portfolio is concentrated in the northern states
Strengths of GRIL
The government's focus on enhancing road infrastructure in the country and GR Infraprojects is well-positioned to benefit from this
The company strives to maintain low debt levels while also emphasising good overall financials and a strong balance sheet
GRIL has established a track record of timely execution
They have experienced promoters and a strong management team
Risks of GR Infraprojects
The sustainability of the EPC profitability in the near term is a matter of concern
The company has a large HAM portfolio, which may be difficult to monetise
The company also faces a significant interest rate risk
Given the ongoing COVID-19 pandemic, uncertainty looms over the company's business and operations
Since the company is capital intensive, insufficient cash flows can hamper their ability to repay debts and working capital thus impacting their operations
As mentioned at the start, evaluating an IPO helps you analyse its investing feasibility. Don't just take a subscription call based on this article. Do your homework on GR Infratech Ltd IPO before taking any decision. Read All You Need To Know About Applying for an IPO if you aren't familiar with the process.
Latest posts by Aradhana Gotur
(see all)