Last Updated on Sep 15, 2022 by
When you are building your portfolio, you will come across thousands of stocks listed under various indices. Hence, picking the right stocks can be an overwhelming task. In such a case, looking at the shining portfolios and success stories of investors can be inspiring. Let's have a look at the investor, Dilipkumar Lakhi's Portfolio, his net worth, and investment strategy.
Who is Dilipkumar Lakhi?
Dilipkumar Lakhi is one of the most famous diamond merchants of India and one of the top investors in the Indian stock market. He has acquired a decades old and equally famed real estate property in Mumbai, Cadbury House that once belonged to the globally recognised confectionary brand Cadbury.
The Lakhi Group specialises in manufacturing diamonds and is one of the major exporters of diamonds in India. They are the first ever group to have set up Asia's largest factory and to produce more than a million carats of polished diamonds. Dilipkumar Lakhi is a philanthropist as well. He believes strongly in his commitment towards the society and has made valuable contributions towards the construction of houses for Tsunami victims and providing rehabilitation to the victims of Gujarat earthquake and flood.
Dilipkumar Lakhi Latest Portfolio and Holdings
Dilipkumar Lakhi's portfolio is holding the stocks of around 11 companies as of June 2022. His portfolio is as follows:
Please note: These are the shares held by Dilipkumar Lakhi as per the information available with the exchanges. For the latest quarter, results might not be available for some companies as they may file them later on.
Dilipkumar Lakhi's portfolio analysis
Of the above holdings, there was no addition in the Q4 FY 2022 and most of the stocks had the similar holding value to Q3 FY 2022. Further, the sell activity in Dilipkumar Lakhi's portfolio was seen in the stocks of Aro Granite Industries Ltd, NXTDigital Ltd, Unitech Ltd, Welspun Enterprises Ltd, and Diligent Media Corporation Ltd.
He has increased his stakes in Premier Explosives Ltd. to 10.2% in Q4 FY 2022 from 8.20% in Q3 FY 2022. His top two stocks from the lens of holding values are Religare Enterprises Ltd and Welspun Specialty Solutions Ltd. In Religare Enterprises Ltd, his total holding value is Rs. 323.5 cr. whereas in Welspun Specialty Ltd, it is Rs. 210.7 cr.
What does the portfolio tell us about the investment strategy?
The stock selection of any portfolio tells us a lot about the investment strategy. Looking at Dilipkumar Lakhi's portfolio, his investment strategy includes investing in less popular segments like lubricants. Unlike the top investors such as Rakesh Jhunjhunwala, Dilipkumar Lakhi's portfolio does not show any sort of inclination towards industries ranging from pharmaceuticals, automobiles, and banks. Instead, he prefers investing in the least competitive segments, and relies on reversals and contra calls.
What is Dilipkumar Lakhi's Net Worth?
Dilipkumar Lakhi's net worth has been through many ups and downs in the last 7 yrs. The portfolio began its journey in 2016 with Rs. 177.36 cr. Dilipkumar Lakhi's net worth is Rs. 765.32 cr. as of September 2022. His net worth trend for the last 7 yrs looks like:
Dilipkumar Lakhi's Bulk and Block Deals in 2022
Bulk and block deals provide transparency and explain the reasons for the increase/decrease in the volumes of the stocks. The disclosures of bulk and block deals help in determining the sectors which are gaining momentum and where buyers are losing interest. It also gives a direction to the retail investors for their future investments cues.
As of Q4 FY 2022, no block and bulk deals have been observed for Dilipkumar Lakhi's portfolio. To keep a track of bulk and block deals, you can use Tickertape's Stock Deals tool to analyse Dilipkumar Lakhi's bulk and block deals for a different time period.
To Conclude
Investing in the stock market by selecting the most valuable stocks has never been a cup of tea. Therefore, looking at the shining portfolio of investors like Dilipkumar Lakhi always helps you in navigating your ship to the greener lands. You can use Blog by Tickertape to expand your knowledge horizon about investing and utilise Tickertape's Stock Screener tool to screen top stocks based on your requirements.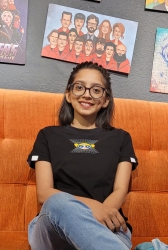 Latest posts by Anjali Chourasiya
(see all)