Last Updated on Oct 6, 2022 by Anjali Chourasiya
Stock markets are risky but also rewarding for patient and diligent investors. As such, the success stories of celebrity investors like Rakesh Jhunjhunwala can be quite inspiring. Popularly known as 'The Big Bull of India', Jhunjhunwala was one of India's well-known investors and traders. His sudden demise has put a spotlight on the ~$4 billion worth of stocks held by the investor. In this article, let's look at his inspiring journey, struggles, and failures. Additionally, we'll also scan Rakesh Jhunjhunwala and Associates' portfolio in 2022.
Who was Rakesh Jhunjhunwala?
Rakesh Jhunjhunwala was born in Mumbai to a Marwari family. He completed his Bachelor of Commerce from Sydenham College, University of Mumbai and later became a qualified Chartered Accountant. His is not a typical story of rags to riches but that of persistence and self-belief. Because of his acumen and success in the stock market, Jhunjhunwala is often called 'India's Warren Buffett' and 'Investor with the Midas Touch'.
The bull has sadly left the world before his time, very much at the peak of his prowess. His estate, including shares and property, will be bequeathed to his wife and three children. The famed investor was among the most influential market voices in Asia's third-biggest economy. The ace investor has also given back to the society via Rakesh Jhunjhunwala Foundation, which backs causes like education and healthcare.
Rakesh Jhunjhunwala's investment journey
Rakesh Jhunjhunwala started his journey in the stock market with only Rs. 5,000 in 1985 when the SENSEX, the Bombay Stock Exchange Index, was at 150; it now trades at ~52,863. He earned his first big profit back in 1986. He invested in 5,000 shares of Tata Tea, which, at that time, was trading at the price of Rs 43 per share. In 3 months, the share price rose to Rs. 143, giving him a profit of Rs. 5,00,000. Over the next 3 yrs, he earned a profit of over Rs. 20 lakh by trading in the stock market.
Jhunjhunwala's investment company
Jhunjhunwala established his own stock trading firm – RARE Enterprises. The name is a combination of the initials of Rakesh Jhunjhunwala's wife and his'.
Rakesh Jhunjhunwala and Associates' net worth trend
Rakesh Jhunjhunwala and Associates' net worth is Rs. 34,072.58 cr. as of 21 September 2022. Following is the trend of their net worth over the last 5 yrs.
Source: Trendyline
Rakesh Jhunjhunwala and Associates' portfolio 2022
Below is the list of Rakesh Jhunjhunwala's holdings as of the quarter ending June 2022.
Of the above, there is only one recent addition to Rakesh Jhunjhunwala and Associates' portfolio 2022, which is Escorts Kubota Ltd. Further, the sell activities in Jhunjhunwala's portfolio were seen in stocks of NCC Ltd, Federal Bank Ltd, D B Realty Ltd, Indiabulls Housing Finance Ltd, and Tata Motors Ltd.
In the quarter under review, Rakesh Jhunjhunwala and Associates sold Delta Corp Ltd, Indiabulls Real Estate Ltd, National Aluminium Company Ltd, and TV18 Broadcast Ltd.
Note: The data above may have minor discrepancies as not all companies may have reported their shareholding data.
Rakesh Jhunjhunwala and Associates' Bulk and Block Deals in 2022
In 2022 so far, Rakesh Jhunjhunwala and Associates has carried out the following Bulk and Block Deals through his asset firm Rare Enterprises.
| | | | | | | |
| --- | --- | --- | --- | --- | --- | --- |
| Stock | Date | Category | Transaction type | Quantity | Value traded (₹) | Holdings change |
| Tata Motors Ltd – DVR | 12-Jan-2022 | Block | Buy | 12,50,000 | 31.88 cr. | – |
| Indiabulls Housing Finance Ltd | 20-Jan-2022 | Block | Buy | 35,00,000 | 76.65 cr. | 0.79 % |
| Kings Infra Ventures Ltd | 22-Feb-2022 | Bulk | Buy | 1,20,000 | 77.60 L | 0.51 % |
| Delta Corp Ltd | 17-Jun-2022 | Bulk | Sell | 57,50,000 | 96.12 cr. | 2.16 % |
You can use Tickertape's Stock Deals tool to analyse Jhunjhunwala's Bulk and Block Deals for a different time period.
Conclusion
Rakesh Jhunjhunwala has always been a passionate investor. He recognised the Indian economy's potential for growth and did not hold back while taking risks. He has always been a source of inspiration for many investors. There are many bulls on Dalal Street, but Jhunjhunwala might turn out to be India's last 'Big Bull'.
Be it an old player or a new entrant, everyone is a fan and keen observer of Rakesh Jhunjhunwala's trade strategies. However, it may be prudent to conduct your own research and find stocks that suit your risk capability rather than simply copying Rakesh Jhunjhunwala's holdings. Speak to a financial advisor before investing.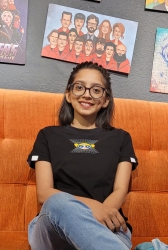 Latest posts by Anjali Chourasiya
(see all)