Last Updated on Aug 2, 2023 by Anjali Chourasiya
Ramesh Damani portfolio
As per publicly available information, Ramesh Damani held four stocks as of 2nd August 2023. No change has been seen in his holdings compared to the previous quarter.
Note: The portfolio details may have missing data as not all companies may have reported their shareholding data.
Ramesh Damani net worth
As of the quarter ended September, Ramesh Damani held four stocks. These summed up to a net worth of over Rs. 117.5 cr. The net worth trend of Ramesh Damani is highly volatile as seen in the graph below.
Ramesh Damani Bulk and Block Deals in 2023
As of the quarter ended June 2023, Ramesh Damani has not had any Bulk and Block Deals. You can use Tickertape's Stock Deals tool to analyse Damani's Bulk and Block Deals for different times.
Who is Ramesh Damani?
The Indian soil has been home to innumerable wealth creators. The same period that created the Ambanis and the Tata also saw the rise of ace investor Ramesh Damani.
Damani shot to fame after his stock calls on Infosys and CMC became multi-baggers. An ardent follower of the Warren Buffet style of investing, Damani made his name by picking undervalued stocks to invest in and seeing them rise multifold in the long run. His life story, early journey, and portfolio hold innumerable anecdotes that can serve as a guidebook for even new-age investors.
Key details of Ramesh Damani
Early life of Ramesh Damani
Ramesh Damani's life is no typical rags-to-riches story. He came from a well-to-do family, with his father earning regularly from the financial markets. After completing his Bachelor's in India, he moved to the USA to do his MBA at California State University. Ramesh Damani's father wanted him back and to get involved in stock trading with him. Nonetheless, Junior Damani did not have the same love for the markets as his father.
Things changed when Damani's father sent him US $10,000 to invest in the stock market as a sort of challenge. If the money doubled, he could keep it, but should he lose, no questions would be asked. Well, Ramesh Damani ended up losing the entire amount.
While senior Damani was disheartened and accepted that maybe his son wasn't cut out to be a market player, a flabbergasted Ramesh could not believe that with all his education and an international MBA to boot, he ended up losing so much money. This invoked in him a new interest towards the Indian markets.
Ramesh Damani's stock market journey
Ramesh Damani got himself a membership to the BSE on his return to India. Initially, his plan was to make money through brokerage, but gradually, his interests were inclined towards investing and making money in the long run.
During the early 1990s, he made great returns from the market for his clients but earned very low percentages on the same. He later decided to invest for himself – Rs. 10 lakh in Infosys and CMC (1993). The investment turned 100-folds, making Ramesh Damani a billionaire. One of Ramesh's noteworthy early bets was also on the liquor industry, which earned him handsomely.
Lessons from Damani's journey
Ramesh Damani believes in buying stocks of companies with strong management and good fundamentals in the early years and holding them for the long term to realise gains. Damani has always emphasised starting to invest as early as possible and remaining invested for as long as possible.
Ramesh Damani, in the past, has many times talked about simple investing. He talks about basic market understanding and identifying external opportunities.
He often encourages investors to invest in equity markets even during boom periods as he always felt equities to be a long-term game.
And lastly, as he has said many times about the stock market, "There are no losses, only lessons earned".
No one is a born investor. In his early days, Ramesh Damani incurred losses, and only after years of gaining knowledge and being a part of the Indian stock market was he able to create bountiful wealth.
The Ramesh Damani portfolio currently consists only of two stocks but in very large quantities. Damani is an investor who has always upheld that quality pays over the long term. Your portfolio need not necessarily be stuffed with too many stocks.
A slow and steady approach to investing, patience to remain invested over the long run, and stringent research to find undervalued companies to invest in are the key takeaways from Ramesh Damani's stock market journey.
It is important to note that just because Ramesh Damani has a stake in the above-mentioned companies, you should not invest in these shares. Every investor has different goals, different risk tolerance capacities, and varied conviction levels.
Frequently Asked Questions (FAQs)
What is Ramesh Damani's age?
Ace investor Ramesh Damani is 60 yrs old.
Who is Ramesh Damani?
Ramesh Damani is an ace investor in India. He gained fame after his stock calls on Infosys and CMC became multi-baggers. He follows Warren Buffet's style of investing.
What is Ramesh Damani's net worth?
As of the quarter ended June 2023, Ramesh Damani held four stocks. These summed up to a net worth of over Rs. 117.5 cr.
Are Ramesh Damani and Radhakishan related?
No, Ramesh and Radhakishan Damani are not related. They are both successful investors in Dalal Street.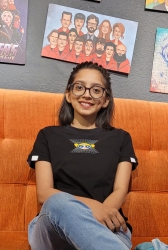 Latest posts by Anjali Chourasiya
(see all)