Last Updated on Jun 1, 2022 by Anjali Chourasiya
A leading name in the private equity investment sector, Ashish Dhawan has emerged as one of India's richest investors and philanthropists. His private equity firm, ChrysCapital is one of the leading funds in India. Ashish Dhawan's portfolio is also rich with quality stocks that have catapulted his net worth to more than Rs 1,600 cr.
While you may know him as the co-founder of the Young India Fellowship program, Ashoka University, and co-founder and owner of private equity firm ChrysCapital, Dhawan rose to riches from humble beginnings. Let us delve into the journey of Ashish Dhawan and see the financial lessons that he can teach potential investors.
Early life
Born in 1969 in New Delhi, Dhawan graduated from Yale University and later pursued an MBA from Harvard University. His career started in 1992 when he joined the Wasserstein Perella and Company, a Wall Street boutique bank. He took a break to study MBA, after which he joined Goldman Sachs in New York in the proprietary capital department.
Laying the foundations of his business
In the year 1999, Ashish Dhawan returned home to India. Here, he co-founded ChrysCapital along with his batchmate from Harvard, Raj Kondur. ChrysCapital was a private equity firm which was still a new concept in those times. However, the company managed to establish itself well and Dhawan himself became a brand personality.
Within 5-6 yrs of commencement, ChrysCapital was already managing $1 bn. This made the company one of the largest funds in India.
Venturing into education and philanthropy
Ashish Dhawan's journey into the education sector began in 2010 when he co-founded the Young India Fellowship program. The Fellowship is a one-year residential program in multiple disciplines that focuses on experience-based learning to create the next generation of Indian leaders.
In 2012, Dhawan established the Central Square Foundation, a grant-making organisation. The foundation is engaged in providing grants and acts as a policy think-tank aimed to improve the country's education quality. Moreover, the foundation focuses on children's education from the lower sections of the population.
Furthermore, in 2014, Dhawan also co-founded Ashoka University with 40 other philanthropists. The university is the first of its kind liberal arts university in India.
Ashish Dhawan's portfolio
With 20+ yrs of experience in investment management, Dhawan has constructed a solid portfolio reflective of his net worth. At of the end of the January-March 2022 quarter, he holds 14 primary stocks which stood as:
Ashish Dhawan's portfolio analysis
There have been significant developments in Ashish Dhawan's portfolio in recent times. Have a look:
In March 2022, in a major sell-off, Dhawan sold his entire holding in Allcargo Logistics Ltd after Max Healthcare Ltd and Max India Ltd in the previous years. In the October-December 2021 quarter, Dhawan held a stake of 1.59% in the logistics company. His stockholding was valued at Rs 125 cr. However, Dhawan off-loaded his entire stake in the company and liquidated his position.
In the January-March 2022 quarter, Dhawan bought 1.18% stakes in Mahindra & Mahindra Financial Services Ltd, valued at Rs 261.11 cr. He also raised his stake in Quess Corp Ltd from 1.07% to 1.86% which valued at Rs 189.27 cr. as of March 2022.
Ashish Dhawan has reduced his stake in Birlasoft Ltd from 1.80% to 1.29%. The company reported lower-than-expected revenue growth performance due to the normalisation of growth in one of its healthcare customers.
Ashish Dhawan's net worth trend
Forbes India recognised Ashish Dhawan as the NextGen Leader in Philanthropy. For the last 6 yrs, the net worth trend of Ashish Dhawan looks like this: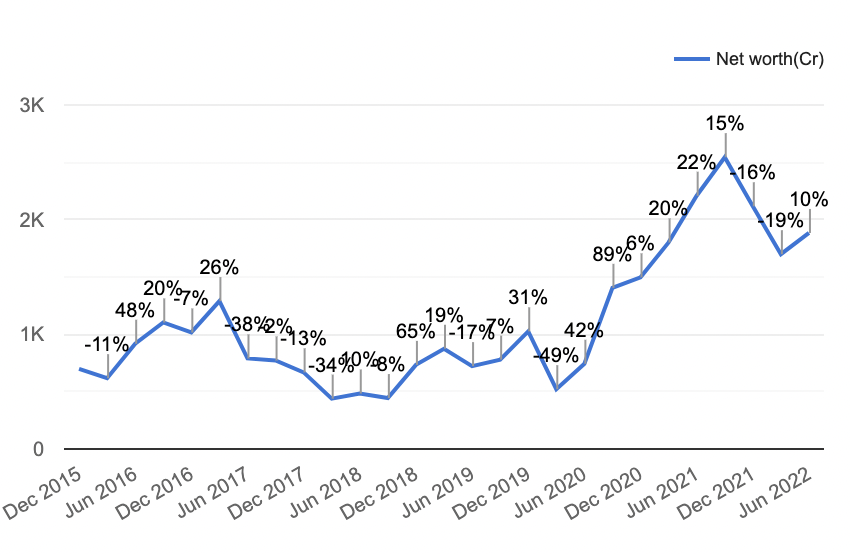 The net worth of Dhawan in September 2021 was Rs 2,544.76 cr. which is the highest in the last 5 yrs. After that, a drop is evident in his net worth. As of March 2022, his net worth was valued at Rs 1,698.73 cr.
Bulk and block deals in Ashish Dhawan's portfolio
For the quarter January-March 2022, Ashish Dhawan has carried out no Bulk and Block Deals. You can use Tickertape's Stock Deals tool to analyse Dhawan's bulk and block deals for a different time period. You can also use the tool to analyse the insider trades of big investors. This helps you gauge their outlook on the company and analyse their portfolio.
Investment lessons from Ashish Dhawan
Dhawan has managed his portfolio effectively and increased it exponentially within a span of a few years. Here are some important lessons that you can learn from Ashish Dhawan's portfolio:
Diversification always pays
Dhawan held six telecom companies in his portfolio and also invested in companies of other sectors. When the Dot Com crash happened, Dhawan's portfolio suffered from acute exposure to telecom stocks. However, his investment in SpectraMind gave him attractive returns. These returns helped him set off the losses. Even the current portfolio of this investment guru is diversified across sectors. Hence, diversification is essential so that losses from one investment can be offset against gains from others.
Long-term investment is profitable
Dhawan invested in Mphasis when the market price was Rs 350. After that, the stock prices plummed sharply to Rs 50. Rather than panicking, Dhawan held onto his stock with rock-solid belief in the company. The same Mphasis stock, later, earned him 5x returns.
So, even when the markets turn volatile, they largely dilute in the long term. If you have invested in sound companies, do not fear fluctuations.
Understand the company that you invest in
Dhawan has incurred his fair share of losses by investing in sub-par stocks. However, these failures taught him the lesson to study the company judiciously before investing and also the importance of monitoring. When Max Healthcare stock started falling in the markets, Dhawan was able to make an informed choice to exit from the company and cut down his losses without remorse.
So, before investing your hard-earned money, understand the basics of the company that you are investing in. Moreover, realise that all trades will not result in great returns. It is better to cut your losses early on than wait for corrections to happen.
The bottom line
Ashish Dhawan is one of the biggest stars in the investment world. Through hard work and failures, he has carved a name for himself in the market. Besides being a smart investor, he is also a wise entrepreneur and a big-hearted philanthropist. With his endeavours in social welfare causes, Dhawan has constantly been giving it back to society. You can take valuable lessons from his life and investment journey and create a profitable portfolio for yourself too.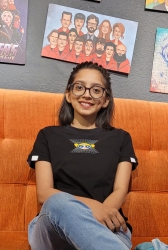 Latest posts by Anjali Chourasiya
(see all)