Last Updated on Jun 22, 2021 by Aradhana Gotur
India Pesticides Ltd, a leading agrochemical manufacturer, is looking to make a market debut by raising Rs 800 cr via an initial share sale. Here are all the details you need to analyse India Pesticides Ltd IPO and make an informed investment decision.
The article covers:
About India Pesticides Ltd (IPL)
Incorporated in 1984, IPL is one of the fastest-growing agrochemical companies in India with strong R&D capabilities and a diversified product portfolio. The company has 2 business verticals namely, technicals and formulations.
As of 30th Sep 2020, they manufactured over 30 formulations of herbicides, insecticides, and fungicides. The formulations include IPL Ziram-27, Takatvar, IPL Soldier, IPL Dollar, and IPL Guru. Besides, the company is also engaged in the manufacture of Active Pharmaceuticals Ingredients (APIs).
Promoters of the company
Anand Swarup Agarwal and the ASA Family Trust are the promoters of the company.
Manufacturing facilities of IPL
India Pesticides Ltd has 2 manufacturing facilities in Uttar Pradesh:
These have an aggregate capacity of 6,500 tonnes for the formulations and 19,500 tonnes for technicals segments.
Research & development capabilities of IPL
The company has 2 well-equipped in-house laboratories registered with the Department of Scientific and Industrial Research (DSIR). With efforts on the R&D front, IPL has developed processes to manufacture 3 generic off-patent Technicals since FY 2018. Currently, they are in the process of developing processes for several Technicals including 2 herbicides, 2 fungicides, 2 insecticides, and 2 intermediates.
Product portfolio of IPL
The company's product portfolio is a diverse one. It includes:
Folpet, a key fungicide technical used to manufacture fungicides that control fungal growth in cereals, vineyards, and crops
Cymoxanil, a technical used in the manufacture of fungicides that control downy mildews of grapes, vegetables, and other crops
Thiocarbamate, a major herbicide technical used in field crops such as wheat and rice
Ready-to-use products such as growth regulators and Acaricides
Anti-scabies drug used in the treatment of pediculosis and scabies
Fungicidal drug, which inhibits squalene epoxidase and acts on fungal hyphae
Registrations and licenses
IPL has registrations and licenses to sell its products domestically and also export them. They have registrations and licenses for 22 agrochemical technicals and 125 formulations for sale in India and 27 agrochemical technicals and 35 formulations for export.
Clients of India Pesticides Ltd
IPL boasts a geographically diverse client base that is spread across the country and the globe. They mainly sells its agrochemical formulations within the country to domestic crop protection manufacturers including:
Conquest Crop Protection Pty Ltd
Sharda Cropchem Limited
ASCENZA AGRO, S.A.
Syngenta Asia Pte Ltd
Stotras Pty Ltd.
UPL Ltd
India Pesticides exports its technicals products to over 20 countries of Asia, Australia, Africa, and Europe. In FY 2020, these exports contributed 62% to the company's total revenue earned from its technicals segment.
Peers of India Pesticides Limited
India Pesticides has listed peers including Bharat Rasayan Ltd, Dhanuka Agritech Ltd, UPL Ltd, PI Industries Ltd, Rallis India Ltd, Atul Ltd and Sumitomo Chemical India Ltd. In the international markets, IPL competes with the likes of China National Corporation Ltd, BASF SE, and Sumitomo Chemicals Co. Ltd.
India Pesticides Ltd IPO details
The IPO will open on 23rd Jun and close on 25th Jun
While the face value of each share is Re 1, the price band of the initial share sale is set as Rs 290 to Rs 296 apiece
The IPO can be subscribed to in a lot of 50 shares. As a retail investor, you can apply for up to 13 lots
The company is looking to list on both BSE and NSE. The likely listing date is 5th Jul 2021
Constituents of the offer
India Pesticides IPO comprises of:
Reservation of the IPO for various investor categories
Up to 50% for qualified institutional buyers
35% for retail investors
15% for non-institutional investors
Book running lead managers and registrar to the IPO
Axis Capital and JM Financial are the book running lead managers to the offer whereas Kfin Technology Private Limited is the registrar.
Utilisation of IPO proceeds
The company plans to use the proceeds from the initial share sale as follows:
Fund working capital requirements
For general corporate purposes
Valuation of India Pesticides Ltd
At 24.5, IPL's PE is attractive as compared to the industry, which commands a PE of 36. The company's peers Dhanuka Agritech trades at a PE ratio of 21.4, UPL Ltd at 20.4, Rallis India at 31.5 and PI Industries at 58.6. Post issue, IPL would command a market cap of Rs 3,408.8 cr.
Financials of India Pesticides Ltd
IPL has posted a PAT of Rs 134.8 cr in the FY 2021
For the 6-mth ended Sep 2020, IPL reported a revenue of Rs 333.84 cr, a 52% increase y-o-y. For the same period, its net profit zoomed 170% to Rs 72.50 cr
56% of IPL's revenue come from exports and 44% from the domestic market
At ~28%, IPL's operating margins are strong as compared to the industry
Despite COVID-19, the agrochemical segment has exhibited a strong growth of 33% y-o-y and India Pesticides has followed suit.
IPL clocked a 37.17% y-o-y growth in the manufacture of Technicals in terms of volume between FY 2020 and FY 2021
Below are the restated consolidated financials of IPL for 3 yrs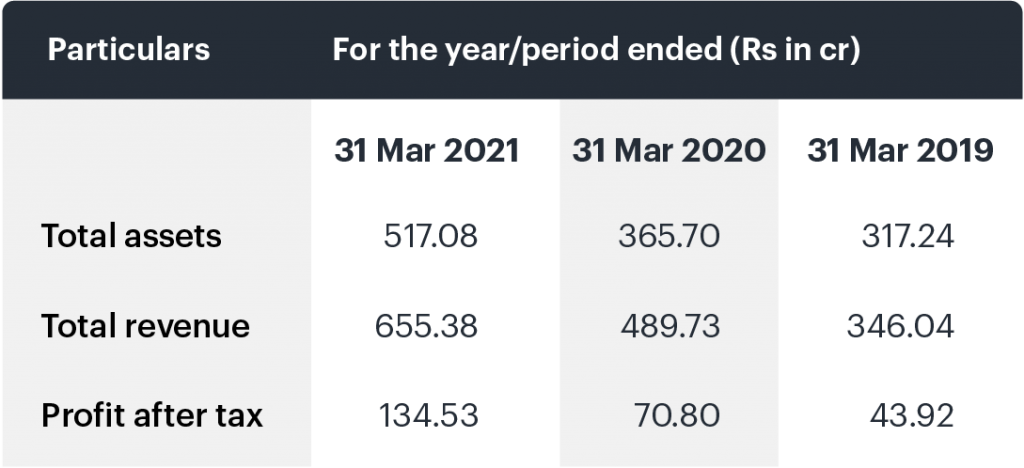 Strengths of the company
India is the 4th largest manufacturer of crop protection chemicals globally. IPL being a growing company in the sector has immense opportunity to scale and make the most of this position
IPL is the only manufacturer of 5 agrochemical technicals in India
Globally, the company is a leading manufacturer of Folpet, Captan, and Thiocarbamate herbicide in terms of production capacity
IPL has a diversified portfolio with specialized products, and they cater to a client base that spreads across domestic and international markets
The company has strong research & development capabilities
Risks of India Pesticides Ltd
The Indian agrochemicals industry is fragmented. It has over 1,000 formulators, 150 active ingredient manufacturers, and 2,00,000 companies engaged in distribution. Ergo, India Pesticides faces tough competition from its peers
As per analysts, some of IPL's international competitors are better-equipped to adapt to market trends due to greater financial resources, research and development capability, technology, deeper market penetration, and presence in diverse geographics and product portfolios
The manufacture of technicals and formulations, which are IPL's core products, require regulatory pre-approval. In the event of disapproval of new products, the company would face challenges when launching them in the market
The agrochemicals industry is subject to the launch of innovative products, technological upgrades, price fluctuations, and stiff competition. Further, the laws and regulations applicable to the products of such an industry change from time to time. These can make IPL's products and technologies obsolete or non-compliant
Since the company is heavily dependent on the agriculture sector, any adverse development there can have a critical impact on its business
IPL relies on third parties for the transportation of its materials and delivery of products. In other words, the company is not vertically integrated. This dependence can harm the business in case of disruption in the third party services
Compared to the industry, IPL's trade receivables days are quite high
The company is inefficient when it comes to converting EBITDA into CFO. While IPL's ratio is 45%, some of the peers' ratios are ~70%
Although you have all the information you need to analyse the company's initial share sale, we encourage you to do your research before subscribing to India Pesticide IPO.
Latest posts by Aradhana Gotur
(see all)