Last Updated on Aug 6, 2021 by Aradhana Gotur
Being the only profitable online and offline used car seller and car aggregator going public, CarTrade has commanded a lot of attention in the market. Reasonable valuation, a diverse range of services, and increasing demand for used cars highlight the CarTrade Tech IPO. However, the company has reported certain risks and challenges that might affect their business in the days and years to come.
Read on to know the vital details you need to assess the CarTrade IPO as an investment opportunity.

This article covers:
About CarTrade Tech Ltd
Incorporated in 2000, Mumbai-based CarTrade Tech Ltd is a leading multi-channel online and offline auto aggregator platform. The company was founded by Vinay Sanghi, ex-CEO of Mahindra First Choice, and Rajan Mehra, ex-country head of eBay India. Marquee investors such as the US private equity giant Warburg Pincus, March Capital Partners, JP Morgan, and Singapore's state investor Temasek back the company.
CarTrade offers an online and offline automobile platform for vehicle dealers, new and used automobile customers, original equipment manufacturers (OEM), and other businesses to facilitate buying and selling various types of vehicles. The company deals in various automobile types such as new and used cars, 2-wheelers, and commercial vehicles.
More than just an auto aggregator
CarTrade is also involved in offering and facilitating related solutions like marketing and financing automobiles. They also double as a software company that interconnects various stakeholders such as vehicle dealers, manufacturers, and banks, and NBFCs. CarTrade boasts a robust network of over 180 owned or franchisee stores, 40+ OEMs, and more than 15,000 dealers.
Brands of CarTrade Tech
The group operates several well-known brands such as CarWale, BikeWale, CarTradeExchange, AutoBiz, Adroit Auto, and Shriram Automall.
Streams of revenue
CarTrade earns revenues via commission and fees collected from auctions and remarketing services, lead generation, online advertising solutions, dealers; technology-based services offered to OEM, financial institutions, and inspection and valuation services.
Promoters of the company
CarTrade Tech Ltd is a professionally managed company and has no identifiable promoters based on SEBI rules.
CarTrade Tech IPO details
Here are a few details of the ~Rs 2,998.51 cr-CardTrade IPO:
The IPO is set to open on 9th Aug and close on 11th Aug
While the face value of each equity share is Rs 10, the price band is set at Rs 1,585 to Rs 1,618 apiece
The market lot consists of 9 shares; the minimum lot available for bidding is 1 and the maximum is 13
The company is looking to get listed on BSE and NSE and may list on 23rd Aug 2021
Registrar and lead managers to the IPO
While Link Intime India Private Ltd is the registrar to the IPO, Axis Capital Limited, Citigroup Global Markets India Private Limited, Kotak Mahindra Capital Company Limited, and Nomura Financial Advisory And Securities (India) Pvt Ltd are the lead managers.
Category-wise reservation of the IPO
75% for qualified institutional buyers
15% for non-institutional investors
10% for retail investors
Objects of the issue
Via the IPO, CarTrade wants to allow existing investors an exit route and achieve the benefits of listing on stock exchanges.
Exiting investors
CMDB II
Bina Vinod Sanghi
Shree Krishna Trust
Highdell Investment
Vinay Vinod Sanghi
Daniel Edward Neary
MacRitchie Investment
Victor Anthony Perry III
Springfield Venture International
Utilisation of the proceeds
CarTrade Tech will not receive any IPO proceeds as the issue is entirely an offer for sale.
Financials of CarTrade
In FY 2021, CarTrade earned a revenue of Rs 281.52 cr compared to Rs 318.44 cr a year ago and a net profit of Rs 101.07 cr compared to Rs 31.29 cr in FY 2020
They have ample cash and cash equivalents to fund future investments and acquisitions
The company has been focusing on being asset-light
The PE ratio based on diluted EPS for FY 2021 at the upper end of the price band is 84.31
For the last three fiscals, CarTrade's weighted average return on net worth has been 3.52%
Following is the table of restated financials of CarTrade Tech for three years: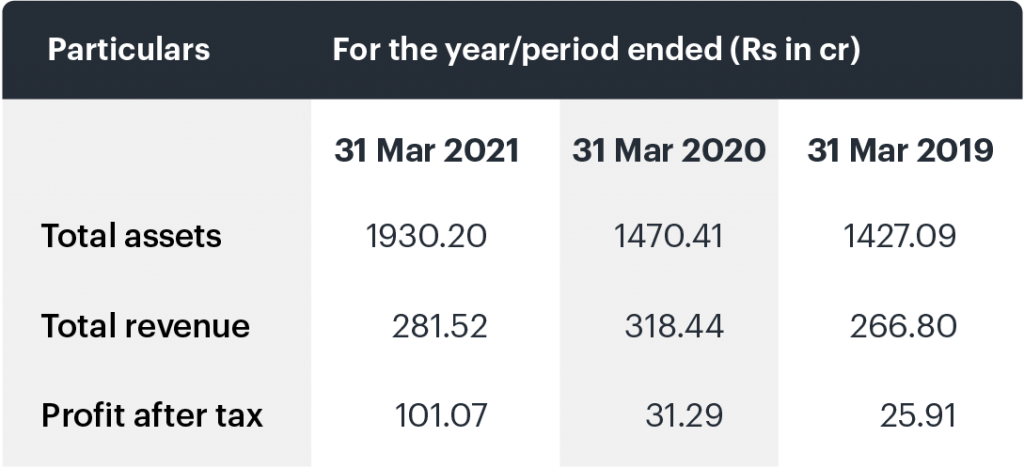 Notable acquisitions
In Jan 2018, the company had acquired a 51% stake in Shriram Automall for ~Rs 157 cr. And in 2015, they had bought rival CarWale to consolidate the online auto classifieds industry.
Strengths of the company
CarTrade Tech is the only profitable online used car seller and car aggregator compared to peers like CarDekho, Cars24, Droom, and Mahindra First Choice
While the total addressable market is pegged at $ 14.4 bn, the combined revenue of all players was a mere Rs 4,693 cr in FY 2020. This suggests that CarTrade has an opportunity to scale
Many car buyers are shifting to used cars to cut down their costs, which can be a boon to the company
The company's CarWale and BikeWale platforms ranked #1 on relative online search popularity compared to peers. Further, the number of transactions and engagements on CarTrade's platform is among the largest automotive data destinations in India
For Jun 2021 quarter, the company's BikeWale, CarWale, and CarTrade collectively had an average of 27.11 mn unique visitors per month. Of these 88.14% were organic visitors, which means the company didn't have to spend anything to get them
CarTrade is the only profitable online used car seller and car aggregator and the number of transactions and engagements on it's platform is among the largest automotive data destinations in India
Click To Tweet
Risks of CarTrade Tech
The slowdown caused in the mobility and auto sector due to the COVID-19 has had an impact on CarTrade. But that's not it. The changing market landscape of ownership, rentals, and ride-sharing services within these industries also pose a challenge to the company
The increasing push for electric vehicles and connected vehicles could hurt the used car segment of the business
As per the company, demand for the cars sold through their platforms moves in line with the demand for cars in general. So a decline in the latter can adversely impact CarTrade
Demand for certain used cars may witness unwarranted decline due to the introduction of new cars built with innovative technologies
Listing cars with new technologies on the platform would take several years before they are available in the market
The company has cited challenges regarding anti-pollution standards that require replacing commercial regularly
COVID-19 may affect the company's ability to execute growth strategies, expand their business, operations, cash flows, and financial situation
Do your own homework before subscribing to the CarTrade Tech IPO. If you find it a worthy investment option, ensure that you read up about subscribing to an IPO so you have a seamless experience.
Latest posts by Aradhana Gotur
(see all)