Last Updated on May 24, 2022 by Aradhana Gotur
It is the last month of Q3 and the IPO season is still on the run! Among other companies, Vijaya Diagnostic Centre Ltd. (VDCL) is making a head start by hitting the market on 1 September, 2021 with its initial public offering (IPO). Amidst COVID-19, hospitals and diagnostic centres boomed. One-stop radiology and pathology testing services, affordable prices and a wide variety of health packages give the company a competitive edge in Southern India.
Further, rapidly growing Vijaya Diagnostic Centre Ltd. reported a better profit after tax (PAT) in FY 2020 compared to the previous fiscal. However, the company has reported certain internal and external risks that might affect its future financials. Trawl through this article to access details for analysing Vijaya Diagnostics IPO.
About Vijaya Diagnostics
Vijaya Diagnostic Center Ltd. (VDCL) is Southern India's largest integrated diagnostic chain based on operating income and was one of the rapidly expanding diagnostic chains in FY 2020. Its broad operating network includes diagnostic centres and reference laboratories spanning across several geographical regions. They focus on providing clients with a one-stop solution for pathology and radiology testing services.
Operations of the company
The company's broad operating network includes 81 diagnostic centres and 11 reference laboratories spanning 13 cities and towns in Telangana, Andhra Pradesh, the National Capital Region, and Kolkata. Of these regions, Hyderabad, Telangana, and Andhra Pradesh account for 96.2% of the total revenue.
For the fiscal ending 31 March, 2021, the firm performed roughly 62 lakh pathology tests and 8.9 lakh radiology tests for approximately 26.3 lakh consumers.
Services of VDCL
Pathology tests on the company's menu range from basic biochemistry and clinical pathology to cytogenetics and high-end molecular diagnostic testing. The company lets customers choose from a variety of health and wellness packages tailored to their specific needs.
VDCL has adopted a strategy, in which specimens are collected from numerous sites within a catchment area or region and sent to reference laboratories. This methodology improves the uniformity of testing processes and outcomes while providing higher economies of scale. It also offers value-added services such as specimen collection at home, house calls, and a variety of delivery or access options.
Promoter and investors exiting their shares
The company's promoter is Dr S. Surendranath Reddy. It is worth emphasising that the issue is purely an offer for sale. Private equity investors Karakoram Limited and Kedaara Capital will be left with a stake of 10% after exiting via the IPO.
Below is a chart depicting the change in the pre- and post-issue promoter shareholding:
About Vijaya Diagnostics IPO
Vijaya Diagnostic Centre Limited's IPO is worth 1,894.26 cr
The subscription period for Vijaya Diagnostic IPO begins on 1 September, 2021, and ends on 3 September, 2021
The business is aiming for a market capitalization of Rs 5,414.39 cr based on the top price range
The IPO consists of an offer for sale of 35,688,064 shares
The size of the IPO lot is 28 shares, with a price band set at Rs 522-531
Book running lead managers and registrar of the IPO
ICICI Securities Limited, Edelweiss Financial Services Limited, and Kotak Mahindra Capital Company Limited are the lead managers for this issue. The registrar for this issue is KFin Technologies private Limited (KFintech).
Reservation of IPO for various investor categories
The maximum subscription amount reserved for retail investors is Rs. 2,00,000. The firm is providing an employee discount of Rs 52 per share. 1,50,000 equity shares are reserved for the eligible employees of the company. Rest, Qualified institutional buyers (QIBs) get 50%, 15% is reserved for High net worth individuals (HNIs) and 35% for retail investors.
Utilisation of the IPO proceeds
The proceeds from this IPO will completely belong to the two investors who are selling the shares. That means VDCL cannot use these funds for operations or expansion.
Financials of VDCL
The entire revenue reported by Vijaya Diagnostics was Rs 122.69 cr (Rs 51.70 cr for Q1 of FY 2021).
PAT for the same quarter was Rs 33.33 cr
In FY 2021, total revenue grew by 10% to Rs 388.59 cr, up from Rs 354.18 cr in FY 2018. This was attributed to the higher income from COVID RT-PCR testing and the opening of seven new diagnostic facilities.
PAT increased from Rs 62.51 cr in FY 2020 to Rs 84.91 cr in FY 2021.
Vijaya Diagnostics' balance sheet shows that the firm has no debt.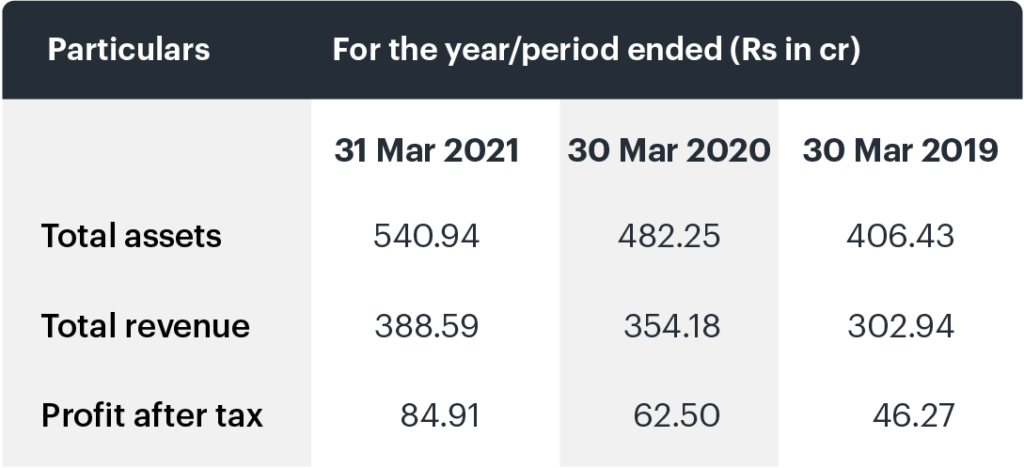 Peer comparison
The issue is valued at 41.10 times its earnings, with an annualised EPS of 12.92 per share computed at Rs 531 per share. The P/E ratio of the industry peer group is 90.8x, indicating that the issue is priced competitively. Price to Book Value (P/BV) is 13.78x with a NAV of Rs 38.53 per share.
Strengths of the company
VDCL is Southern India's largest and fastest-growing diagnostic network.
It provides affordable, one-stop solution diagnostics with an emphasis on excellent quality.
Technical prowess, cutting-edge diagnostic testing technologies, and a solid IT infrastructure.
Individual consumer business is being driven by increasing brand recalls.
All Vijaya Diagnostic Centre Ltd. laboratories have NABL certification as of 31 March, 2021, plus three diagnostic facilities have Patient Safety & Quality of Care accreditation.
Risks of the Vijaya Diagnostics
Although the firm's brand is reputed in South India, a failure to capture other regional markets due to COVID-19 would limit the company's growth.
The company, its directors and subsidiaries have a few outstanding legal proceedings.
Its CEO was named in a criminal proceeding.
The firm's subsidiaries have incurred loss in the past and the same may happen in the future.
The company cited that if procurement of testing machinery gets delayed, operations might get affected.
The company would need licenses to undergo expansion. Any delay in the receipt would affect the operations.
Prospects of the company
In the future, Vijaya Diagnostic Centre Limited wishes to expand to other states as well.
Before subscribing to Vijaya Diagnostic Centre Limited's IPO, do your own research. If you think it's a good investment, make sure you read up on how to subscribe to an IPO so you have a smooth experience.
Latest posts by Ayushi Mishra
(see all)