Last Updated on Oct 19, 2021 by Aradhana Gotur
This article is written by Jiten Parmar, the Founder of Aurum Capital and a passionate long-term equity investor. He has been investing since 1993 and in Indian equity markets since 2002. Check out smallcases from Aurum Capital.
We as human beings have an innate tendency to pile up resources to aid in our wellbeing. It, therefore, comes as no surprise when crores of rupees are invested in fantasy games with the hope of winning big! The mere idea of changing your financial situation overnight gets our neurotransmitters all perked up. This is why we are not too bothered about the thousands we lose on fantasy games; because after all, somebody has to win at the end of the day.
Well, the odds of you hitting that jackpot are heavily stacked against you and this may not be the best mode of investing your hard-earned money. Taking calculated risks and investing in the stock market is likely to be more lucrative in the long run. Jiten Parmar from Aurum Capital bets his chips on Cement, Paper, Real Estate, and Capital goods.
Jiten is an entrepreneur and a passionate long-term equity investor. He has been investing since 1993 and in Indian equity markets since 2002. He has started several successful ventures spanning multiple industries including real estate and flexible laminates industries.
In his own words:
Cement
The infrastructure sector has been doing well and will continue to do well. Real Estate has been picking up and it also augurs very well for sectors like cement and building materials. We expect cement capacity utilization to keep improving over the next 2-3 yrs as demand addition will be higher than supply addition.
Paper
This is a slight contrarian sector. The sector is in the midst of a turnaround and is expected to do well over the next 2-3 yrs. Schools re-opening and implementation of the National Education Policy (NEP) will act as tailwinds for the sector.
Real Estate
We turned positive on this sector from the end of the last year and the sector has done well. We expect good times to continue in this sector and the large organized players will keep on gaining market share at the expense of the unorganized players.
Capital Goods
This is a sector that has been in the downtrend for a very long period. We are seeing green shoots in this sector and it is poised for a turnaround. Invest in this sector from at least a 2-3 yrs view.
Jiten says, "Individual stocks shouldn't be the way to go. Keeping multiple options within the wealth-generating sectors is a wiser strategy. Single stocks aren't what drive the economy but industries do. Instead of putting your eggs in one basket or in this case a bunch of individual stocks, sectors would be the more efficient way for an investor to invest."
What better time to make use of this information than on the auspicious season of Diwali. Pick your stocks today and make sure you invite wealth into your house by investing during Muhurat Trading. Muhurat Trading falls on the day of Diwali, i.e, 04 Nov 2021, and the timings are yet to be disclosed. Toh soch kya rahe ho? #dimaaglaganekamuhurat aa raha hai.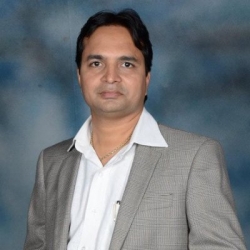 Latest posts by Jiten Parmar
(see all)