Last Updated on Mar 24, 2021 by Manonmayi
3 things define Bajaj Finance Limited: aggressive diversification, focus on sustainability, and products built based on the latest technology. The NBFC is mainly involved in lending and related activities, with focus segments of consumer finance, small and medium-sized enterprises (SME), wealth management. In addition, Bajaj Finance Ltd also offers varied types of fixed deposits and value-added services to its clients.
In this article, we scan the profile of Bajaj Finance Limited, one of the oldest and well-known non-banking finance companies of India.
The article covers:
Overview of Bajaj Finance Limited
Are Bajaj Finserv and Bajaj Finance same?
Milestones of Bajaj Finance Ltd
Board of Directors of Bajaj Finance
Partnerships of Bajaj Finance Limited
Business strategy of Bajaj Finance
Peers of Bajaj Finance Limited
Last 4 yrs' financials of Bajaj Finance
Recent developments in Bajaj Finance Limited
Overview of Bajaj Finance
Headquartered in Pune, Maharashtra, Bajaj Finance Limited was initially incorporated as Bajaj Auto Finance Limited on 25th Mar 1987 as a private limited company. At the time, the company's focus was to offer 2- and 3-wheeler finance. Later, on 20th Oct 1987, the entity became a deemed public company under section 43A(1) of the Companies Act, 1956.
On 24th Sep 1988, Bajaj Finance was registered as a public limited company and as a Non-Bank Company with the RBI on 5th Mar 1998. In 1994-95, Bajaj Auto Finance Limited went public by offering an initial public offer (IPO) and was listed on the BSE and NSE. It was in 2010 that Bajaj Auto Finance Limited got its name changed to what we know as Bajaj Finance Limited.
Having started off in vehicle finance, over time, Bajaj Finance Ltd ventured into the Durables Finance, Business, and Property loans as well. Thanks to such aggressive diversification, today Bajaj Finance is a household name for financial services in the entire country.
Are Bajaj Finserv and Bajaj Finance same?
Investors get confused with the various companies that are related to Bajaj Finserv. So, no. Bajaj Finance and Bajaj Finserv are not one and the same. Here's a snapshot of the Bajaj group structure to clear it all.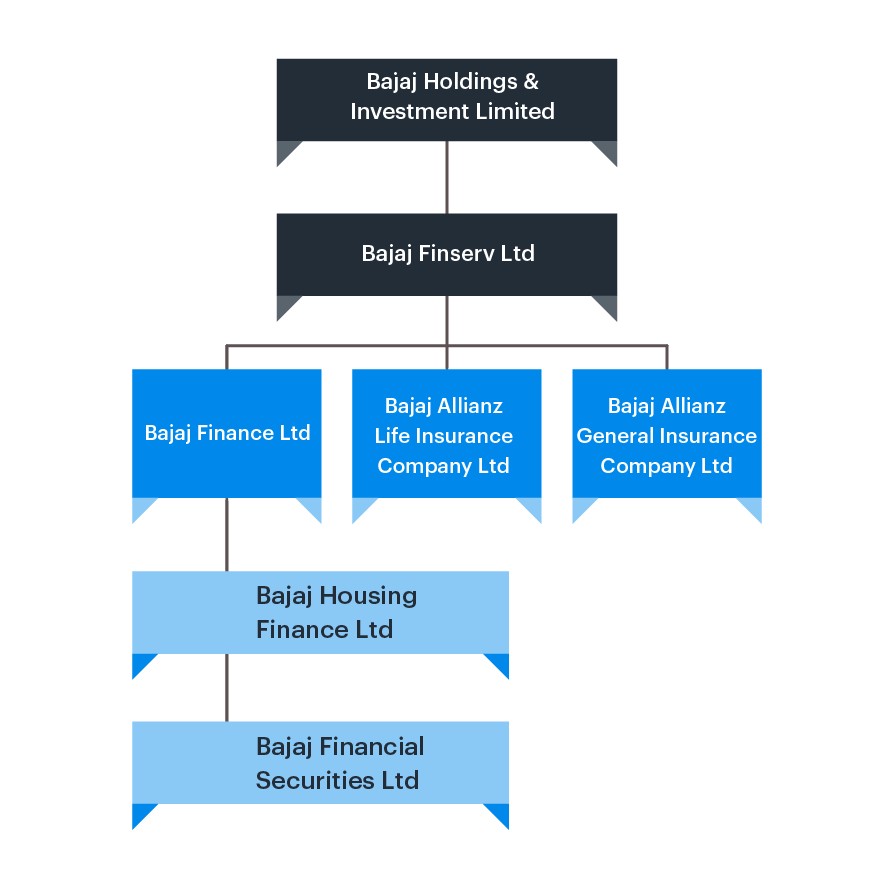 As you see, Bajaj Finance Limited is a subsidiary of Bajaj Finserv, the financial arm of Bajaj Holdings & Investment Limited. Bajaj Finserv Limited holds a 56.2% stake in Bajaj Finance, which gives it a controlling stake in the NBFC. The other major investors of Bajaj Finance Ltd include the Government of Singapore, Smallcap World Fund INC, Maharashtra Scooters Limited, and Axis Long Term Equity Fund.
Milestones of Bajaj Finance Ltd
From its inception to date, Bajaj Finance has grown exponentially, by founding its business on a sustainable model, conquering new business segments, striking strategic partnerships, capitalising on high-end technology, and contributing towards enhancing financial inclusion in India. Let's take a look at some of the innumerable milestones that Bajaj Finance Limited has achieved so far:
Bajaj Finance Limited completed its first real estate project for Nayan Co-operative Housing Society Ltd at Pune in 1995-96
It ventured into financing personal computers during 2003-04
In 2005-06, Bajaj Finance Limited opened Loan Shoppe to enhance its direct marketing activity and increase its brand awareness
On 1st Nov 2014, Bajaj Finance acquired 100% shares of Bajaj Financial Solutions from its parent company Bajaj Finserv for a consideration of Rs 17 cr
The resultant subsidiary is called Bajaj Housing Finance Limited today. It was registered on 2nd Oct 2015
In Jun 2015, Bajaj Finance offered a QIP via which it raised Rs 1,400 cr
On 8th Aug 2017, Bajaj Finance Limited invested Rs 225 cr in One Mobikwik Systems Private Limited (Mobikwik)
On 11th Oct 2017, Bajaj Finance and LG Electronics India announced the launch of an exclusive OEM co-branded card—LG Bajaj Finserv EMI card—that enables customers to buy LG products at no cost EMI across all LG formats
Bajaj Finance's market share has increased to 24.44% from 11.79% over the last 5 yrs
Board of directors of Bajaj Finance Ltd
Chairman: Rahul Bajaj
Vice-Chairman: Sanjiv Bajaj:
Managing Director: Rajeev Jain
Directors:

Madhur Bajaj
Rajiv Bajaj
Dipak Poddar
Ranjan Sanghi
D J Balaji Rao
Dr. Omkar Goswami
Dr. Gita Piramal
Dr. Naushad Forbes
Anami N Roy
Business segments of Bajaj Finance Ltd
Bajaj Finance has its business in 3 segments, namely:
Consumer finance
SME (small and medium-sized enterprises) and commercial lending and
Wealth management
Products of Bajaj Finance Limited
Following is the list of products that Bajaj Finance Limited offers under its various business segments:
Consumer finance:
2- and 3-wheelers loan
Consumer durables loan
Digital products finance
Retailer finance
Personal loans for salaried individuals
E-commerce consumer and seller finance
Home loan
SME finance:
Loan against property
Business loans
Commercial finance:
Loan against securities
Financial institutions group lending
Rural finance:
Personal loans
Personal loans for salaried individuals
Gold loans
In addition to the above lending and allied products, Bajaj Finance Limited also offers retail and wholesale fixed deposits and distributes life insurance, general insurance, and mutual funds to its large customer base.
Business strategy of Bajaj Finance
Sustainability is the founding stone of Bajaj Finance, based on which the NBFC has identified the following drivers of its strategy.
Bajaj Finance focuses on existing customers and believes in offering products that satisfy them. It believes in the power of referrals and word of mouth and hence offer products that encourage customers to maintain a long-term relationship
Innovation is the next driver of Bajaj Finance's business strategy. The NBFC believes that change is the only constant and that it gives opportunities for continuous improvement. Together, these call for reinvention and innovation, which push Bajaj Finance to do the best
Bajaj Finance understands the power of technology. And so, it strives to adapt to the latest technologies that improve its operations, thus offering better-than-yesterday digitised services to customers
Be it Microsoft, Future Group, or CRISIL, Bajaj Finance partners with the best parties to prove that it looks to offer the best to its customers without tolerating compromise in its ventures. In doing so, Bajaj Finance upholds its consumers' trust
Partnerships of Bajaj Finance Limited
Over the years, Bajaj Finance Limited has entered into several partnerships. These were aimed at expanding its prevailing customer base and offering easy financial solutions, the founding factor of trust and loyalty.
CRISIL
CRISIL is India's well-known Credit Rating agency. Via the partnership with CRISIL, Bajaj Finance Limited offers a host of benefits to its SME customers such as:
Preferential access to SME/SSI Credit Rating services at the doorstep
Hassle-free process, minimal documentation, and quick processing of loans
Option to avail a concessional Rating fee
Future Group
Bajaj Finance Ltd has also partnered with India's leading retailer, Future Group. This alliance powers customers to convert their purchases from Future Group centres into no cost EMIs. To avail this option, customers are required to purchase using Bajaj Finserv's co-branded Bajaj Finserv Future Group EMI Network Card.
By virtue of this alliance, customers of Future Group can use the Bajaj Finserv Future Group EMI Network Card to shop for everything in the retail segment, from groceries, gadgets and furniture to electronics and fashion apparels on no cost EMI. The Future Group brands under the ambit are Big Bazaar, Fashion at Big Bazaar (FBB), Central, Brand Factory, HomeTown, and EZone.
RBL Bank Ltd
Bajaj Finance's alliance with RBL Bank Ltd has helped it to achieve an India-first milestone, called the SuperCard. As you know, an NBFC cannot offer a credit card on its own. Therefore, in a smart move, Bajaj Finance Limited partnered with RBL to offer a co-branded credit card—SuperCard—that has allowed Bajaj Finance to tap the huge potential of the credit card arena. This alliance has also made Bajaj Finance an important contributor to enhancing financial inclusion in the country.
The Bajaj Finserv RBL Bank SuperCard comes in 10 variants and offers benefits beyond what a regular credit card does. These comprise No Cost EMI, deals across 80,000 merchants, cashback, offers, fuel surcharge waivers, airport lounge access, and reward program. The variants of the SuperCard offer customised benefits based on several consumer segments.
Peers of Bajaj Finance Limited
Muthoot Finance Ltd, AU Small Finance Bank Ltd, and Cholamandalam Investment and Finance Company Ltd are the 3 competitors of Bajaj Finance Ltd. Here's a snapshot that compares the valuation metrics of these companies.
To see how Bajaj Finance compares with its peers based on technicals and forecast, visit Peers tab on Bajaj Finance stock page on Tickertape.
Last 4 yrs' financials of Bajaj Finance Limited
Below are the comparisons of Income Statement, Balance Sheet, and Cash Flow Statements of the NBFC for the last 4 yrs
Bajaj Finance's Income Statement
Bajaj Finance's revenue, net income, and EBITDA from 2017 to 2020 have been consistently on the rise. Moreover, the stock has been generating revenue and net income higher than that of industry average over the last 5 yrs.
In addition to annual financials, Tickertape has also launched the quarterly financials feature, which allows you to do an in-depth analysis of Bajaj Finance. Here's how you can get there:
Bajaj Finance's Balance Sheet for 4 yrs
| | | | | |
| --- | --- | --- | --- | --- |
| Ratio | 2017 | 2018 | 2019 | 2020 |
| Debt to equity ratio | 5.64 | 4.35 | 5.31 | 4.08 |
| Current ratio | 1.6 | 1.7 | 3.1 | 2.9 |
As you can see, the debt to equity ratio has had a slightly rocky trajectory over the last 4 yrs. A high debt to equity ratio shows that creditors have a relatively higher stake on Bajaj Finance's assets than the shareholders. On the other hand, the current ratio has had a better trend, showing that the company is well-equipped to meet its short-term liabilities.
The above chart also shows that Bajaj Finance's debt to equity ratio is a matter of concern as it is higher than the industry average. On the brighter side, the company defeats the industry average of current ratio, which is a good point.
Bajaj Finance's Cashflow Statement for 4 yrs
Tickertape compiles 9 yrs' financial statements for every stock. Visit Bajaj Finance stock page to view the information for all the 9 yrs.
Subsidiaries of Bajaj Finance Limited
Bajaj Finance Ltd holds 100% shares in its subsidiaries Bajaj Housing Finance Limited (BHFL) and Bajaj Financial Securities Ltd. BHFL is registered under the Companies Act, 1956 and regulated by the National Housing Bank (NHB).
It is headquartered in Pune, Maharashtra, and has the following credit products:
Loans to individuals and corporates to purchase, construct, and renovate residential and commercial spaces
Loan against property for personal and business needs
Working capital finance for business expansion
Loans to builders and developers undertaking residential projects
Recent developments in Bajaj Finance Ltd
A few weeks ago, Bajaj Finance reported its Q1 FY2020 results. Clearly, COVID-19 and the resultant lockdown has impacted Bajaj Finance numbers. Not only did the pandemic limit the NBFC's new business, but it also made repayment challenging for its clients, which reflected on the numbers. While its consolidated profit fell by 19% to Rs 962.32 cr y-o-y due to higher provisioning, its total consolidated income increased to Rs 6,649.74 cr, up by 14% q-o-q. This can be attributed to Bajaj Finance's cross-selling efforts, which we discuss soon.
Further, its net interest income shot by 12% compared to a year-ago period. The NBFC also expects to see a 100-110% rise in its credit cost for FY21. The management also revealed that Bajaj Finance's current business strategy to overcome the impact of COVID is to focus on the opportunities that allow cross-selling to its existing customers. It has offered 5.33 health cards and sold health insurance to its existing customers, banking on the fear generated by COVID.
These activities have contributed profoundly to BFL's fee-based income. That apart, Bajaj Finance has also been offering its regular borrowers having good payment track record an option to convert term loans into flexi loans, which eases their repayment burden and instils trust in the business.
On the growth front, the management expects business to pick up from the second half of FY2021, provided there is no 2nd wave of coronavirus and a resultant lockdown. On the other hand, analysts opine that though the pandemic may impact Bajaj Finance's overall growth and asset quality in the short-term, the company's long term prospects look good.
Bajaj Finance Limited is the largest and one of the oldest NBFC in the country and a well-diversified one. Consistent good performance and a sustainable business strategy make it a fundamentally strong company. The objective of this article is simply to evaluate Bajaj Finance's business profile, financials, recent developments. It doesn't, in any way, reflect our opinion of whether you should invest in the stock or not. It is best to analyse a stock on your own based on the metrics that matter to you and only then buy or sell it.

Latest posts by Aradhana Gotur
(see all)