Last Updated on Feb 10, 2022 by Ayushi Mishra
When it comes to investing in the stock market, you would generally want to place your bets on well-established largecap and midcap stocks because they are relatively stable and less risky. While that's true in most cases, penny stocks can also make good investments. An apt description for these shares is "Chhota packet bada dhamaka" as they are volatile.
Let's look at what penny stocks are, their features, and when you should invest in them.
What are penny stocks?
Shares with current market price ranging from Rs 0.05 to Rs 10 are tagged as penny stocks in India. Such stocks also have low market capitalisation—typically less than Rs 500 cr. That's why penny stocks are traded infrequently, which make them highly volatile and illiquid investments.
Salient features of penny stocks
Penny stocks have more to them than just low prices and market cap. Below are some of the salient features of penny stocks to give you a better understanding of these avenues and whether they are fit for your investment portfolio.
Penny stocks are good bets for beginners
Penny stocks are priced low making them attractive avenues for beginners in stock investing. With no experience and thorough knowledge in the stock market, a new investor would find investing in penny stocks affordable and easy to experiment.
Some penny stocks yield high returns
Penny stocks are generally issued by smallcap companies, small businesses, and startups. Such businesses are young and fairly new in the industry and stock markets, which give them a huge potential to grow. If penny stocks unleash their growth potential, they can become profitable over time and generate handsome returns. Read more about market capitalisation and smallcap companies here.
Penny stocks can be risky
As is known, along with high returns come high risk. Since penny stocks are mostly issued by smallcap companies and startups, they can be risky avenues. This is because, although smallcap stocks have the potential to grow, they have fewer financial resources and smaller balance sheets. A key takeaway here is that you may have to hold penny stocks for a long time to optimise your returns (minimise risk and maximise returns).
Penny stocks with strong fundamentals can be good investments
Although smallcap companies are risky businesses, those with strong fundamentals, management, financials, and prospects can become profitable over time. So, when scouring for penny stocks in India, don't just look at the financial statements at their face value, try to guage their quality as well.
Penny stocks are generally illiquid
High volatility and low market capitalisation of penny stocks attract less investors. Further, since these are traded less frequently, penny stocks are illiquid. Meaning, matching buyers of penny stocks when you need to liquidate your holdings may be challenging. Ergo, you may refrain from investing your emergency funds in penny stocks.
Penny stocks have limited information
Since penny stocks are mostly issued by smallcap companies and startups, you may not get enough information about the business—stability, historic data, prospects—to make sound investment decisions. Ergo, you should only invest in penny stocks if you can access vital information about the company.
Prices of penny stocks can be manipulated
Given that penny stocks as traded in low volume, there is a risk of brokers and promoters manipulating their prices. As with any other share, penny stocks also have upper and lower circuits. Ergo, if a stock is locked in the upper or the lower circuit for a long time, without corresponding news, then chances are that the stock price is being manipulated. That's why it is best to confirm the driver of extreme trends in the price of a penny stock before transacting it.
Who can invest in penny stocks?
There are no special requirements for investing in penny stocks. You can buy or sell them on a stock exchange—if they are listed—like you do with any other stock. Nonetheless, you can look if you fit in one of the following categories of investors looking to bat on penny stocks:
You are a beginner and want to experiment stock investing
You have a low capital budget
You are willing to assume high risk
You are willing to stay invested for a long-term
You are looking to invest in multibagger penny stocks—those that generate returns higher than the investment amount
Asking meaningful questions like these also help in making better investment decisions:
Are the company's statements audited well?
Does the company disclose required information to market regulator and investors on time?
Do the management's words or plans match their actions and results?
Picking penny stocks with Tickertape
Now that you have a better understanding of such stocks, you may be eager to invest in penny stocks in India. If yes, start by filtering these on Tickertape. Here's how you can do it.
Under the left-hand side, set market cap from 0 to Rs 500 cr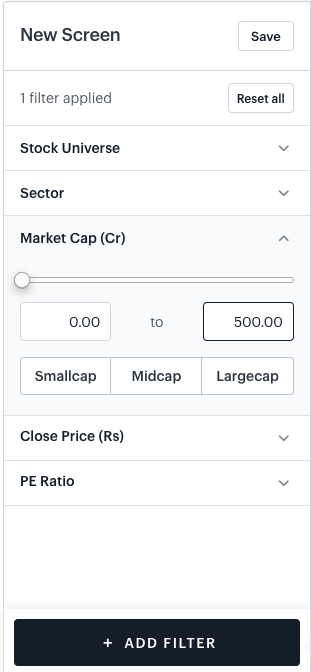 The screener returns the list of penny stocks listed in NSE. If you wish to screen these penny stocks further, apply your desired filters
Based on the filters that you set, Tickertape screener returns penny stocks in NSE that meet your criteria
Now click on your chosen penny stock in NSE to analyse it in detail. Let's assume you want to invest in Kelton Tech Solutions Ltd.
Once the stock page opens, evaluate the penny stock based on the metrics that matter to you and make an investment decision accordingly
Conclusion
Like any other equity shares, penny stocks are also risky and unpredictable. Thus, the best course of action is to pick fundamentally strong penny stocks, hold them for long-term, and monitor your investments.
Again, every investor has different financial goals, risk appetite, and return expectations. Therefore, evaluating your terms and doing your due diligence before investing in penny stocks instead of solely relying on what others have to say is prudent.
Latest posts by Aradhana Gotur
(see all)