Last Updated on May 24, 2022 by Anjali Chourasiya
It's official! PB Fintech IPO will open for subscription on 1 November 2021. Its opening date is the same as the closing date of the Nykaa IPO. Since the beginning of the year, there has been a frenzy among firms to go public. Many of the firms that were listed this year, such as Zomato and Paras Defence and Space Technologies, have done well, providing investors with substantial gains. And several firms that are waiting in the line to get listed, including Paytm and LIC, are likely to make FY 2022 a historic year for IPOs.
Now that the PB Fintech IPO is opening soon, you should know what this company does and the strengths and risks associated with it to analyse this investment opportunity. Read everything you need to know before deciding to apply for the PB Fintech IPO.
About, operations, and services of the company
PB Fintech is India's leading online marketplace for insurance and lending products according to Frost and Sullivan. This firm intends to raise awareness in India about the financial effects of death, sickness, and destruction.
Policybazaar, an online insurance distributor, and Paisabazaar, a loan comparison service, are both owned by PB Fintech. It was first incorporated as 'ETECHACES Marketing and Consulting Private Limited', a private limited company on 4 June 2008. Subsequently, the name of this company was changed to 'PB Fintech Private Limited', on 18 September 2020. And finally, its name was changed to 'PB Fintech Limited' on 30 June 2021.
It takes a consumer-centric approach to enable online research-based purchases of insurance and financing products, as well as boost transparency, allowing consumers to make educated decisions. This approach also helps financial services industry insurers and lending partners create and design customised products for consumers by utilising broad data insights and data analytics skills.
It has an asset-light capital strategy and does not underwrite insurance or hold credit risk on its books. Policybazaar is an IRDAI-registered and regulated direct (life and general) insurance broker.
Revenue streams
PB Fintech generates revenue from the following services it provides to its insurers and lending partners:
Online marketing and consulting services where the fee is based on the type of service provided.
Technology services for enhancing their tech capability, digitising and enhancing their platforms, and customer service.
Promoter and investors exiting their share
As per the offer documents, PB Fintech is a professionally managed company and does not have an identifiable promoter.
Through OFS, shareholder Softbank (SVF Python II Cayman) Limited would sell equity shares worth Rs. 1,875 cr.
The founders are selling shares worth Rs. 58 cr. which includes Rs. 30 cr. and Rs. 12.75 cr. from the Policybazaar's CEO, Yashish Dahiya and the CFO, Alok Bansal.
About PB Fintech IPO
It is a 100% book building offer.
The offer price includes a fresh issue worth Rs. 3,750 cr. and an offer for sale of Rs. 1,959.72 cr. The overall issue size is Rs. 5,709.72 cr.
The set price band of this issue is Rs. 940 – Rs. 980 and the face value of each share is set to be Rs. 2.
The lot size is 15 shares worth Rs. 14,700 at the upper range of the price band.
This IPO opens for subscription on 1 November 2021 and the closing date is 3 November 2021.
The issue constitutes 12.96% of the post issue paid-up capital of the company.
The allocation is expected to be finalised by 10 November, and refunds will be initiated by 11 November. Meanwhile, credit of shares in the Demat account is expected by 12 November.
The company is looking for a market cap of Rs. 44,051 cr. (based on the upper price band of the IPO).
Book running lead managers and registrar of the PB Fintech IPO
The joint global coordinators and lead managers of the PB Fintech IPO are Citigroup Global Markets India Private Limited, HDFC Bank Limited, ICICI Securities Limited, IIFL Securities Limited, Jefferies India Private Limited, Kotak Mahindra Capital Company Limited, Morgan Stanley India Company Private Limited.
The issue's registrar is Link Intime India Private Limited.
Reservation of PB Fintech IPO for various investor categories
10% is the maximum subscription amount reserved for retail investors.
15% is reserved for the Non-Institutional bidders (NII).
75% is reserved for the Qualified institutional buyers (QIBs), wherein 60% is for anchor investors, 1/3rd of which is reserved for domestic mutual funds only.
Objects of the PB Fintech IPO
Rs. 1,500 cr. will be used for enhancing visibility and awareness of the company's brands, including but not limited to "Policybazaar" and "Paisabazaar".
Rs. 375 cr. will be invested in new opportunities to expand the company's consumer base including offline presence.
Rs. 600 cr. will be used to fund strategic investments and acquisitions.
Rs. 375 cr. will be used in expanding presence outside India.
General corporate purposes.
Financials of PB Fintech
As of 31 March 2021, the net asset value (NAV) stands at Rs. 54.52.
As of 31 March 2021, PB Fintech has posted an EPS of Rs. 4.11 and RoNW of 7.54%.
And for the last three fiscal years, it posted a negative EPS of Rs. 6.95 and a negative RoNW of 23.57%.
For the first three months ended on 30 June 2021, it posted a loss of Rs. 110.84 cr. on a total income of Rs. 258.17 cr.
It has been posting negative earnings for all these years.
Following are the financials for 2019, 2020, and 2021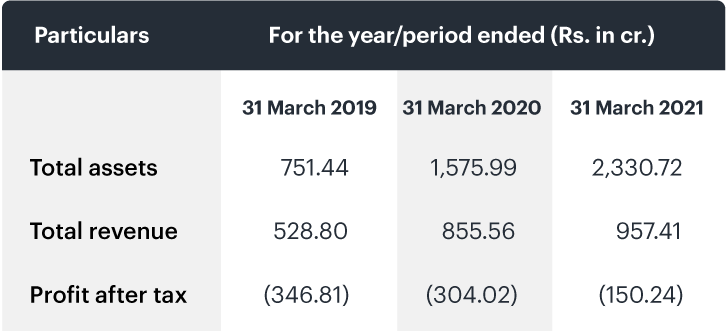 Peers of PB Fintech
As per the offer documents, PB Fintech has no listed peers in India that engage in a similar business.
Strengths of the company
The platform offerings of both, the Policybazaar and Paisabazaar addresses the enormous and underserved online insurance and loan sectors.
It provides customers with a wide range of options and openness when researching and selecting insurance and personal finance products.
It has superior data analytics and client service aided by proprietary technology.
It has collaborations with a variety of firms for insurance and financing products.
Both of its companies, Policybazaar and Paisabazaar platforms have strong network effects.
Its business model is capital efficient and has minimal operating costs.
Its founders and management have vast experience.
Risks PB Fintech IPO
Before investing in the PB Fintech IPO, you should thoroughly analyse the following risk aspects:
The company has been posting negative earnings to date.
The issue is exorbitantly priced, based on finance and other parameters.
If its insurer and lending partners fail to offer insurance and credit products catering to the evolving needs of consumers, it may not be able to retain existing consumers or attract new consumers.
It highly depends on cooperation with the insurer and lending partners. If their operations fail or the relationship of PB Fintech with these business partners breaks then the business might get negatively affected.
Its insurance broking business is subject to various laws and regulations, inability to comply with them may adversely affect the business, results of operations and reputation.
It has an easy-to-replicate business model. If replicated by other online insurance and credit distributors or product and service platforms, and internet companies, it might result in significant competition.
It relies on third-party vendors for payment processing services. Any failure by such vendors to provide these services or to maintain adequate controls could adversely affect the business.
Prospects of the company
The company has bright prospects. It has got its own set of competitive strengths and risks. If you are interested in this investment opportunity, make sure to do your own research properly before subscribing to the PB Fintech IPO. You may read the article on how to subscribe to an IPO so as to have a smooth experience.
Latest posts by Ayushi Mishra
(see all)