Last Updated on May 24, 2022 by Anjali Chourasiya
The Nykaa IPO is finally getting added to the list of the number of companies going public in 2021 in the Indian stock market. The company proposed an Rs. 5,351 cr IPO. Let's analyse some of its strengths and weaknesses along with financials and other details you need to know before applying
About Nykaa
Nykaa was originally incorporated as 'FSN E-Commerce Ventures Private Limited' on 24 April 2012. Subsequently, it was converted into a public limited company and the name was changed to 'FSN E-Commerce Ventures Limited' on 28 July 2021.
Nykaa was founded by Falguni Nayar. Based out of Mumbai, it is a beauty retail company that sells cosmetic products both online and offline. The company is not only limited to beauty products but also sells in fashion, jewellery, and accessories.
Nykaa has a presence of over 76 stores in India with a wide range of over 2,00,000 products across 2,000 brands. They have three different formats of offline stores, which are Nykaa Luxe, Nykaa On Trend, and Nykaa Beauty Kiosks.
Brands of Nykaa
Nykaa's beauty and personal care are extensive in their offerings primarily across haircare, skincare, bath and body, fragrance, and so on. They also manufacture their own brand products under the names of "Nykaa Cosmetics", "Nykaa Naturals", and "Kay Beauty". In 2018, the company also launched Nykaa Fashion, a curated marketplace for fashion and lifestyle choices.
Promoter and investors exiting their shares
Through OFS, promoter Sanjay Nayar Family Trust would sell up to 48 lakh equity shares.
Investors TPG Growth IV SF Pte Ltd and Lighthouse India Fund III will sell 54.21 lakh and 48.44 lakh equity shares, respectively.
Yogesh Agencies & Investments Pvt Ltd would sell 25.38 lakh equity shares.
JM Financial and Investment Consultancy Services would sell 9.14 lakh equity shares.
About Nykaa IPO
This IPO is a 100% book building offer.
The offer price includes a fresh issue worth Rs. 630 cr and an offer for sale of up to 41,972,660 shares worth Rs. 4,721.92 cr. The issue size is Rs 5,351.92 cr at the top of the price range.
The opening date for this IPO is 28 October 2021 and the closing date is 1 November 2021.
The face value of each share is Re. 1 and the set price band of this IPO is Rs. 1,085 – Rs. 1,125.
The allocation is expected to be finalised by 8 November, and refunds will be initiated by 9 November. Meanwhile, credit of shares in the Demat account is expected by 10 November.
One lot consists of 12 shares and is worth Rs. 13,500 at the upper range of the pricing band.
Book running lead managers and registrar of the Nykaa IPO
The joint global coordinators and lead managers of the Nykaa IPO are BofA Securities India Limited, Citigroup Global Markets India Private Limited, ICICI Securities Limited, JM Financial Consultants Private Limited, Kotak Mahindra Capital Company Limited, and Morgan Stanley India Company Pvt Ltd.
The issue's registrar is Link Intime India Private Limited.
Reservation of Nykaa IPO for various investor categories
10% is the maximum subscription amount reserved for retail investors – 10%
15% is reserved for the Non-Institutional bidders (NII).
75% is reserved for the Qualified institutional buyers (QIBs), wherein 60% is for anchor investors, 1/3rd of which shall be reserved for domestic mutual funds only.
Up to 2,50,000 shares are reserved for the eligible employees of the company which they may get at a discount of up to 10% (Rs. 100) of the offer price.
Objects of the Nykaa IPO
The company would invest Rs. 420 mn of the proceeds in certain of its subsidiaries, specifically FSN Brands and/or Nykaa Fashion, to support the establishment of additional retail outlets.
A total of Rs. 420 mn will be used towards capital expenditure to be incurred by the company, and investment in some of its subsidiaries namely, Nykaa E-Retail, Nykaa Fashion, and FSN Brands, to support the establishment of new warehouses.
For the repayment or prepayment of outstanding borrowings obtained by the firm and one of its subsidiaries, Nykaa E-Retail, Rs. 1,560 mn will be used.
Rs. 2,340 mn will be used to gain and retain consumers by increasing brand exposure and awareness.
General corporate purposes.
Financials of Nykaa
For three months ended 30 June 2021, it has earned a net profit of Rs. 3.52 cr. on a revenue of Rs. 821.71 cr.
For the last three fiscals, on a consolidated basis, Nykaa has posted an average EPS of Rs. 0.44 and an average RoNW of 2.82%.
As of 31 March 2021, its net revenue from operations stands at Rs. 163.01 cr.
As of 31 March 2021, its total equity and liabilities stand at Rs. 1,301.99 cr.
It has not declared any dividend in the last three and quarter financial years. It will adopt a prudent dividend policy post listing based on its financial performance and future prospects.
Following are the financials for 2019, 2020, and 2021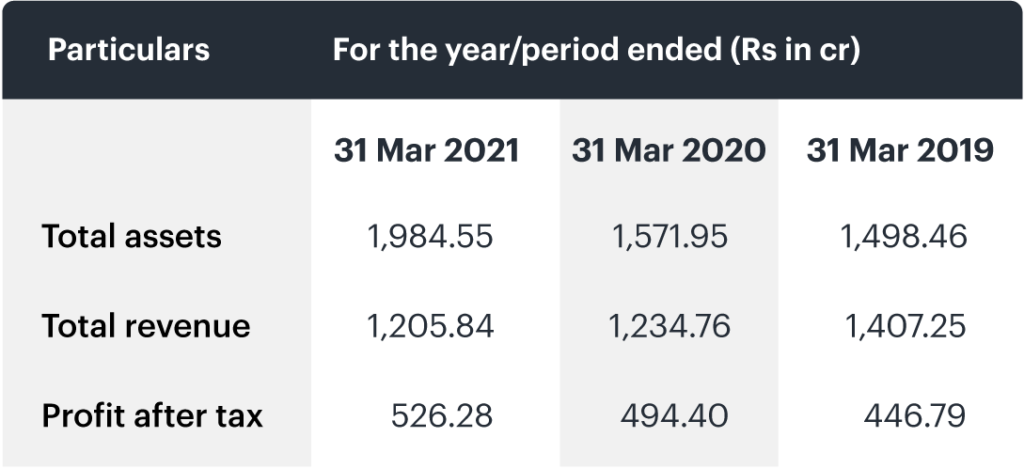 Peer comparison
As per the offer documents, Nykaa has claimed it has no listed peers to compare with.
Strengths of the company
One of the leading speciality beauty and personal care firms in India.
Major brands sell their items on Nykaa's platform.
A profitable and capital-efficient firm with strong growth.
The superior technology platform of the company.
Led by its founders and managed by an experienced management team.
Risks of the Nykaa IPO
Investments in equities and equity-related securities are risky. Before making an investment choice in an IPO, you should carefully consider the risk factors.
Q1 FY 2022 results were tepid – operating margins low.
Margins in online business look unsustainable.
If it fails to retain the relationships with brands, manufacturers, distributors and sellers, or attract new relationships, its business, financial condition, cash flows, and operations will be adversely affected as:
It is dependent on commercial relationships with third-party manufacturers to manufacture Nykaa's owned brand products.
It is dependent on international suppliers for certain raw materials or intermediates to be used in the manufacturing process.
If it fails to acquire new consumers or fails to do so in a cost-effective manner, it may not be able to increase revenue or maintain profitability.
If Nykaa or its brand relationships and sellers fail to identify and effectively respond to changing consumer preferences and spending patterns or changing beauty and fashion trends in a timely manner, the demand for products could decrease, causing its revenue and results of operations to decline.
There are pending litigations against the company, subsidiaries, and certain of its directors. Any adverse decision in such proceedings may render it liable to liabilities and penalties and may adversely affect the business, results of operations, cash flows, and reputation.
Nykaa is a well-known brand for sure. If you are interested in this investment opportunity, make sure to conduct thorough research before subscribing to Nykaa IPO. To ensure a pleasant experience, read the article on how to subscribe to an IPO.
Latest posts by Ayushi Mishra
(see all)