Last Updated on Jun 15, 2021 by Manonmayi
After Shyam Metalics IPO opened on Mon this week, joining the ranks of Fortis and Apollo Hospitals is Hyderabad-based Krishna Institute of Medical Sciences (KIMS). The company is set to make a debut in the market with its initial public offering (IPO) on 16th Jun 2021 along with Dodla Dairy.
Private hospitals have been at the war-front in the battle against the coronavirus and they continue to play a vital role in the immunisation drive in the country. KIMS is hoping this newly-gained special importance will attract investors to its shores while also banking on the bull run the stock market is witnessing to fan their growth. Here's all there is to know about the KIMS Hospitals upcoming IPO!
This article covers:
About Krishna Institute of Medical Sciences Ltd
Incorporated in the year 1973, KIMS is one of the largest corporate healthcare groups in Andhra Pradesh and Telangana in terms of patients treated and treatments offered. The Hyderabad-based hospital chain offers multidisciplinary healthcare services with primary, secondary, and tertiary care across 2-3 tier cities, and an additional quaternary healthcare facility in tier-1 cities. The company currently operates 9 hospitals across Andhra Pradesh and Telangana with an aggregative bed capacity of 3,000+ as of 31st Mar 2021.
Highlights of KIMS Hospitals
KIMS has grown from a single hospital to a chain of 9 multi-speciality hospitals within 2 decades through organic growth and strategic acquisitions. Here are some highlights of the hospital.
Their aggressive network expansion is relatively new. KIMS acquired hospitals in Ongole in FY 2017-2018, Vizag and Anantapur in FY 2018-2019 and Kurnool in FY 2019-2020
According to a CRISIL report, KIMS operates one of the largest private sector hospitals in one location in India – at Secunderabad – with a capacity of 1,000 operational beds
KIMS achieved a pre-COVID bed occupancy rate of 80.43% as of 2020
They have a strong strategic hold in the healthcare segment in South India wherein they understand the regional customer, the culture, mindset, and nuances
KIMS is one of the premier hospitals for the organ transplant in South India and is also one of the first in the country to invest in Robotic Sciences
They have been one of the front-runners for COVID treatment in Andhra Pradesh and Telangana
Services provided by KIMS
KIMS provides a comprehensive range of healthcare services across 25+ specialties and super specialties, including:
Cardiac sciences
Neurosciences
Gastric sciences
Oncology
Orthopaedics
Organ transplant
Renal sciences
Mother and child care
Subsidiaries of KIMS Hospitals
Arunodaya Hospitals Private Limited ("AHPL")
KIMS Hospital Enterprises Private Limited ("KHEPL")
Iconkrishi Institute of Medical Sciences Private Limited ("ICIMSPL")
Saveera Institute of Medical Science Private Limited ("SIMSPL")
KIMS Hospital Kurnool Private Limited ("KHKPL")
KIMS Hospitals Private Limited ("KHPL")
KIMS Swastha Private Limited ("KSPL")
KIMS Cuddles Private Limited ("KCPL")
KIMS Hospital (Bhubaneswar) Private Limited ("KHBPL")
Notable investors of the company
General Atlantic Singapore KH Pte Ltd.
Dr. Bhaskara Rao Bollineni
Rajyasri Bollineni
Bollineni Ramanaiah Memorial Hospitals Private Ltd.
About KIMS Hospitals IPO
KIMS is issuing an initial public offering (IPO) to raise Rs 2,144 cr. Here are the details of the IPO:
The IPO opens for subscription on 16th Jun 2021 and closes on 18th Jun 2021
The price band of the issue is Rs 815-825 per share
The minimum lot comprises 18 shares. Retail investors can bid for either one lot or its multiples thereafter. The maximum number of lots you can apply for is 13
The IPO includes a fresh issue of Rs 200 cr and an Offer For Sale (OFS) of up to 2.35 cr equity shares by the promoters and existing shareholders. This includes roughly 1.6 cr shares by the biggest investor in the company – General Atlantic Singapore KH Pte.
The issue may be listed on BSE and NSE on 28th Jun 2021
Promoters and investors exiting their share
The promoters of the company are:
Dr. Bhaskara Rao Bollineni
Dr. Abhinay Bollineni
Rajyashri Bollineni
Bollineini Ramanaiah Memorial Hospitals Private Limited
Adwik Bollineni
Through the OFS, Dr Bhaskara Rao Bollineni, Rajyasri Bollineni, Bollineni Ramanaiah Memorial Hospital Private Limited and other existing shareholders will be exiting a part of their position in the company.
Reservation of the IPO for various investor categories
75% of the offer is reserved for Qualified Institutional Buyers (QIBs), 15% is reserved for Non-Institutional Buyers (NIBs) and 10% is reserved for retail investors.
The offer also includes a reservation of up to Rs 20 cr worth of equity shares for the employees. An additional discount of Rs 40 will be provided to employees who bid in the reserved portion.
Utilisation of the IPO proceeds
The company plans on using the proceeds from the Rs 200 cr fresh issue as follows:
To repay its existing borrowings, which amounts to roughly Rs 150 cr
Use the remaining Rs 50 cr towards general corporate purposes including capital expenditure and partnerships, among other expenses
Book running lead managers and registrar of the IPO
Kotak Mahindra Capital Company, Credit Suisse, IIFL Securities, and Axis Capital have been appointed as book runners to manage the public issue. Link Intime India Private Ltd. has been appointed as the registrar to the KIMS' IPO issue.
Financials of the company
KIMS has recorded steady growth in revenues as well as profitability in the past few years. Here are some details:
The company observed an increase in the profits from Rs 115 cr in FY 2019-2020 to Rs 205 cr in FY 2020-2021
Revenue jumped from Rs 1,129 cr in FY 2019-2020 to Rs 1,340 cr in FY 2000-2021, roughly a 19% y-o-y increase
In FY 2020-2021, 18% of KIM's revenue came from cardiac sciences, 13% from neurosciences, 9% from renal sciences, and 5% from orthopaedics.
Here's a quick summary of the company financials: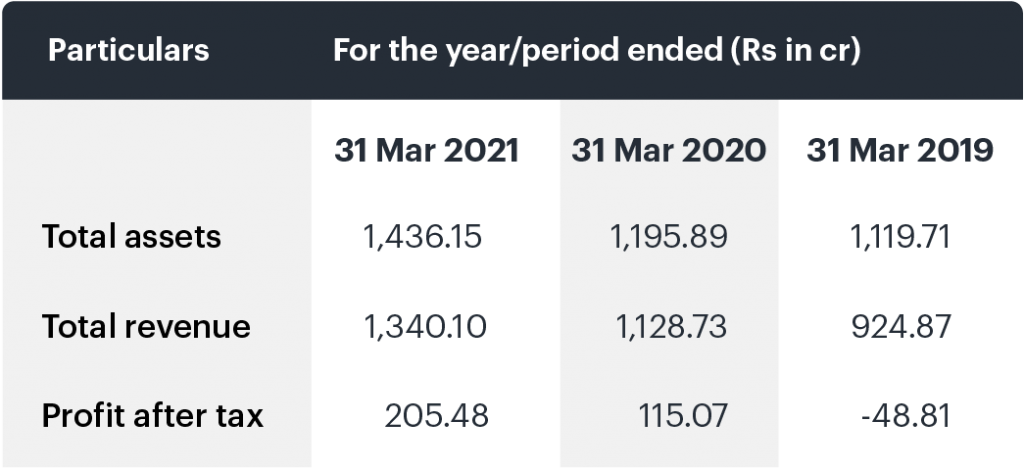 Peer comparison
KIMS competes with the likes of Narayana Hrudayalaya, Apollo Hospitals, Manipal Hospitals, and Healthcare Global. According to an Axis Capital report, the 3-yr compounded annual growth rate (CAGR) of KIMS is the best amongst major hospital players. Here's a chart depicting the same.
Competitive peers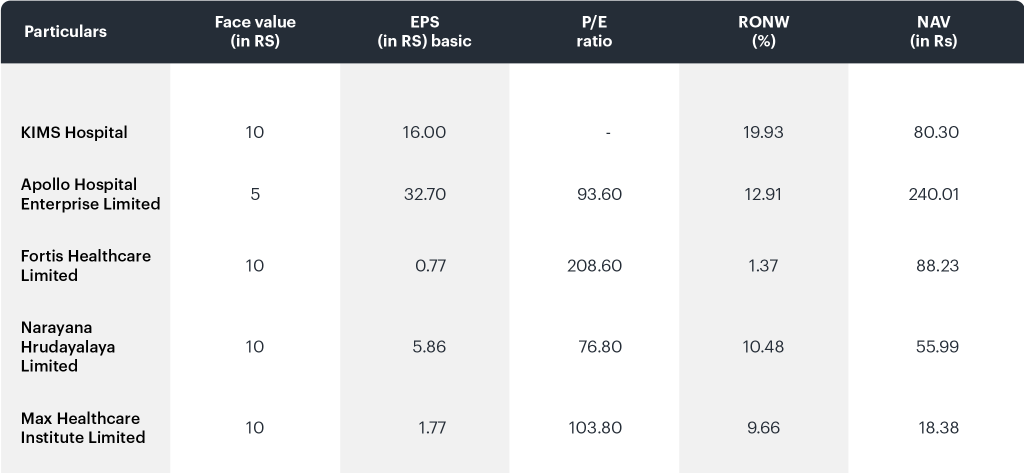 Strengths of the company
KIMS is one of the largest private sector healthcare groups in southern India with 3,064 beds, which is almost twice as many beds when compared to the 2nd largest healthcare provider in the same region
The company has shown exemplary growth from a single 200-bed hospital to a multidisciplinary super-speciality hospital chain with over 3,000 beds spread across 9 network hospitals
KIMS has expanded its business by successfully completing 4 significant acquisitions from FY 2017-2018 to FY 2019-2020 including KIMS Ongole, KIMS Anantapur, KIMS Kurnool, and KIMS Vizag, which further strengthens its hold on the healthcare sector in South India
They are the market leader in Andhra Pradesh and Telangana for providing affordable and quality healthcare services
Risks of the company
There is an extremely high level of dependency on healthcare professionals with the top 10 doctors contributing roughly 22% of the total receipts for the hospital chain
A major chunk of revenue comes from the company's operations in Hyderabad
According to the company, despite revenue and profit increase, the hospital experienced a degrowth of 3.96% in their outpatient volume due to COVID-related lockdowns, travel restrictions, and quarantine procedures
As always, we advise you to do your own research before applying for this IPO. Read up about the company and its operations extensively before applying!
Latest posts by Tickertape
(see all)