Last Updated on Apr 15, 2021 by Manonmayi
The year was 2010. The cost of a unit was barely a rupee. But most people considered it worthless and did not invest in it. A few months back, it topped Rs 40 lakh for the same unit. Most of those who were reluctant to invest back then rued the massive opportunity they missed. Yes, we are talking about Bitcoin.
But this article is not about it. It is about something that is way more convenient but has a halo of uncertainty similar to that of Bitcoin. The topic in contention today is multibagger stocks. For anyone investing in stocks, you may have come across a handful of them generating returns several times their price. Most of these are termed 'multibagger stocks.' Most investors eye some of these, but these are pretty elusive, and the chances of them being what you expect them to be, are minute.
This article covers:
How to identify potential multibagger stocks?
If we go by the meaning of the word 'multibagger,' it refers to a stock that generates over 100% return (or multiple bags). There are smallcap stocks that generate returns several times higher than the cost of acquisition in real life. We all wish that we had the power to tell the happenings of the future. It would allow us to gauge our chosen stock's performance and verify if it is a multibagger or not. Unfortunately, such things are only limited to reel life.
In real life, it is imperative to understand that such stupendous returns don't happen overnight. The transition from a smallcap to a midcap and finally becoming a large-cap share would demand your patience and perseverance. You also need an eye to unearth potential.
Here are some aspects that would help you identify potential multibagger stocks:
Look for what the industry has to offer
The first and foremost thing that you need to understand is not regarding the stock but the industry to which it pertains. Understand the upcoming trends and which sectors are poised to benefit the most from them. For example, there is an increasing drive to go electric in the vehicles sector. So electric mobility will seemingly gain traction (not that we are recommending it to you!). Make sure the company you are betting on belongs to one of these industries.

Look at the company's product portfolio
The next step is to look at a company's shares and delve deeper into its product portfolio. The motive is to understand their core competencies and if they have the potential competitive edge over others. To figure out the right companies, look for the latest developments in the sectors you are interested in and then look for the right companies that seem to be the biggest contender for growth and expansion.
Check the debt levels
The debt ratio signifies the debt portion of the total capital that an organisation utilises for its operation. Typically, a ratio of 0.5 or lower represents lower debt in the company's capital structure. Higher the debt, the more chances of the company's cash flow being unstable. A positive and free-flowing cash flow shows the growth potential.
Look into the earnings and valuation
The next step is to dive deeper into its recent financials and figure out its earnings growth. A growing EPS is an excellent indicator of the increase in wealth. After that, figure out the stocks that are undervalued. If the company's shares are underpriced, there is a high chance of becoming a multibagger stock.
Look for future potential
Looking into the past financial statements is an indicator of present performance, but it won't necessarily reflect the future. It is not an IPL auction, and you need not place your bets based on past performance alone. To find out true potential, look into the organisation's management and promoter holding. A strong management team is more likely to drive growth and bring about success. Also, look for companies with high promoter holding as it is an indicator of confidence in whatever they are trying to create. Tickertape's promoter holding filter allows you to check the percentage of the company's common stock held by promoters.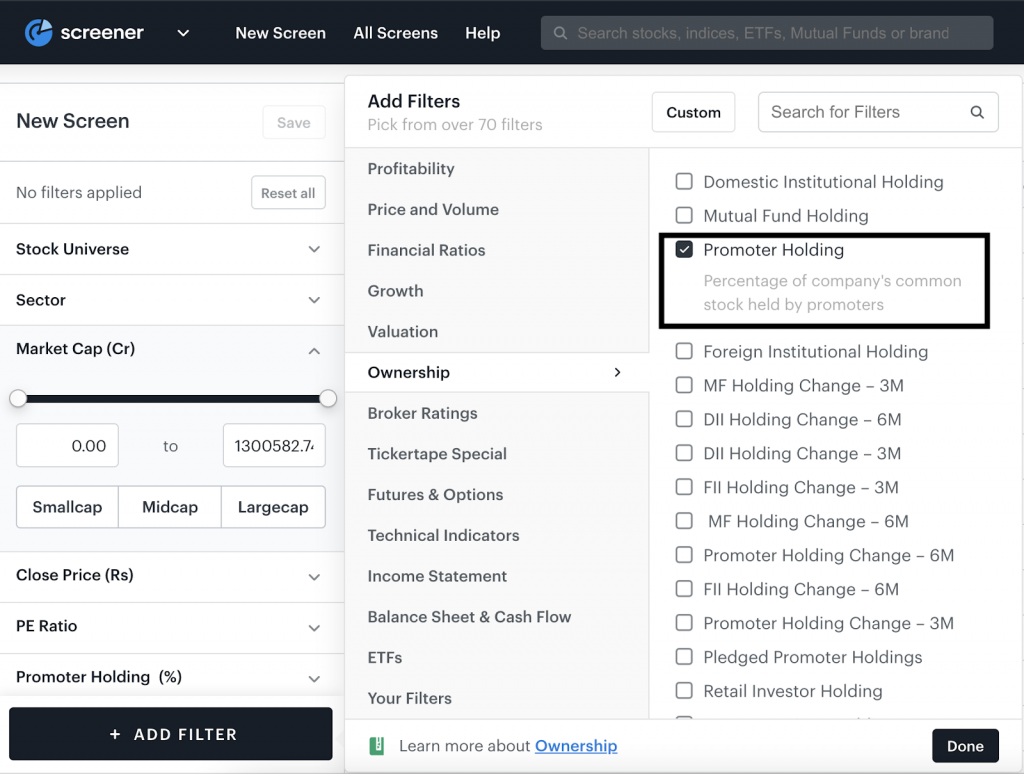 Risks of investing in multibagger stocks
Here are the potential risks involved in investing in multibagger stocks
It demands bulk purchase, exposing the investor to substantial risk if the stock collapses. The higher the risk is, the greater the reward: a notion that people follow while investing in penny stocks. But it can soon become a bane if the stock starts collapsing
Many people invest in a value trap or an economic bubble because of the high temporary demand for the underlying product/service. It is often caused by bulk investors to create an artificial bull setup and then pull off the trigger by short-selling
The investment is locked for a sizable time. Most multibaggers take over two decades to bloom, meaning that you will have to resist selling them in the upcoming few years. It also results in capital blockage for you
You can fall into trick trades, i.e., artificial inflation caused by others investing in it. Most of these are smallcap stocks with low market capitalisation, exposing themselves to the risk of being easily manipulative
These stocks suffer from low liquidity and performance issues in their initial days. It means that any rumour around them has the power to trigger a price collapse. Such stocks can take months to recoup.
Find multibagger stocks with Tickertape
There are a plethora of things to consider before you invest in a penny stock. These stocks have a higher risk factor than the largecap or most midcap stocks but can also bring home massive rewards and become a multibagger stock.
Instead of fighting with yourself and making a mess of your portfolio, get a range of tools to better understand the market and where it is headed. Make the most of Tickertape's Screener which helps you discover stocks based on the filters and metrics of your preference.
Latest posts by Tickertape
(see all)