Last Updated on Oct 19, 2022 by Anjali Chourasiya
If you have participated in the stock market, chances are you may have heard about Diwali Muhurat Trading. Traders and investors consider this one-hour trading window auspicious and it is expected to bring wealth and prosperity. This year's Muhurat Trading window will be open from 6:15 PM to 7:15 PM on 24th October 2022.
For those who may not know, Muhurat Trading has been observed since at least 1957 by the BSE and 1992 by the NSE. Traditionally, Gujarati and Marwari brokers, as well as investors, conduct 'Chopda Poojan', which means worshipping the books of accounts, during this day. There are various beliefs associated with this day, such as buying a few stocks as a token to mark the beginning of a new year.
Before participating in Muhurat Trading, however, it is essential to keep in mind the following points:
1. Liquidity may not be as deep
As Muhurat Trading is only a one-hour window, especially as a mark of auspiciousness, one should not over-trade. Since it is a festival period and not regular market hours, a lot of institutional investors who bring big money to the markets may not participate fully. This means the liquidity may not be as deep as during regular market hours. This is especially true of small and midcaps and their derivatives.
2. Have a genuine reason to invest during the session
It may make sense to buy a few stocks to mark the start of a new year, but trading with an expectation of an immediate profit only because the trade was executed during an auspicious hour of Diwali may likely lead to losses. Before you know it, the one-hour window will be over, and you may be forced to square off your positions or carry them over to the next day.
My point is you must know the reason behind your trade. If auspiciousness is the primary reason, then a small quantity of trade more than suffices. If profit is the reason, then only trade only if the technical analysis suggests so and you are willing to carry the position to the next day.
Few sectors for Shubh Aarambh
Large portfolio decisions should only be taken after conducting deep due diligence and research on the fundamentals of the stocks you wish to purchase. On that note, let's discuss which sectors are likely to do well over the course of the next few years.
One no-brainer sector that is seeing forced selling but whose fundamentals stay intact is banking. This sector has seen some of the largest Foreign Institutional Investors (FII) holding within the Nifty 50. For instance, HDFC Bank has seen its FII holding reduce from 38% in September 2021 to 32% in the June 2022 quarter. Similarly, ICICI Bank has seen FIIs reduce their stake from 47% to 43% and Axis Bank from 51% to 46%.

While ICICI Bank's stock has stayed strong owing to its robust recovery post the pandemic, HDFC Bank has been reeling under the weight of its merger with housing-finance arm HDFC and FII selling. Given that the credit growth remains on strong footing, growing at an 8-yr high rate in August, and bad loans remain low, the banking sector is poised to do well as soon as the global macro headwinds subside.
Another sector that may soon provide an attractive opportunity is IT. As of the results announced till 13th October 2022, TCS, HCL Tech, and Infosys have delivered strong quarterly numbers despite the ongoing recessionary outlook in the US and Europe. While this does remain a risk, along with the expensive valuation of some companies, any further dip in this sector may provide a ripe time to invest. The Nifty IT index is already down 30% from its all-time high and now sitting at support on monthly charts. This coincides with good quarterly results announcements as well.
One may also look at select stocks within chemicals or FMCG, which have been doing well despite an inflationary environment. For instance, Varun Beverages, which produces and markets PepsiCo products, have been clocking double-digit growth in beverage sales volume and also seeing robust price realisation. Barring any adverse developments in the domestic market, such select companies seeing strong demand uptake may likely do well in the next few years.
Of course, do your own research before investing in any stock. If you are new to the stock market, then Muhurat Trading is a good time to begin researching rather than investing – start with annual reports, analyst call transcripts, and investor presentations available on Tickertape's website. Filter stocks using Tickertape Stock Screener and its 200+ filters, for instance, stocks that are growing their revenues or operating earnings (EBITDA) strongly. This could truly make your forthcoming year auspicious.
No goal is too far away with the power of sharp data-backed investments! #LightYourGoalsUp this year with us. Get 10% off on Tickertape Pro now!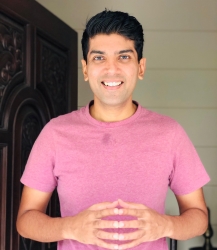 Latest posts by Harsh Vora
(see all)