Last Updated on Aug 5, 2021 by Aradhana Gotur
The D-street is bustling with IPOs and as many as four are opening for subscription on 4th August. In this article, let's discuss the IPO of Exxaro Tiles, a tilemaker known to have a widespread presence, offer an innovative range of tiles that redefine beauty and style, and putting in commendable efforts on the R&D front. Stay with us to read vital information that can help you evaluate the Exxaro Tiles IPO.
This article covers:
About Exxaro Tiles
Incorporated in 2008, Gujarat-based Exxaro Tiles started out as a partnership firm that manufactured frit, a raw material used in making tiles. After years of diversifying and expanding, the company has evolved to manufacture and market vitrified tiles, which are majorly used for flooring solutions.
The company's product portfolio consists of over 1,000 designs of tiles that are available in six sizes. Of these Topaz Series, High Gloss Series, and Galaxy Series are some of the well-established ones. Apart from manufacturing, Exxaro Tiles also gets wall tiles outsourced to supply them to their clients.
Manufacturing and other facilities
Exxaro Tiles has two state-of-the-art manufacturing facilities in Padra and Talod, Gujarat with a combined installed production capacity of 1,32,00,000 sq. mt. per annum. Their glazed vitrified tiles manufacturing plant is one of the largest in the country. Exxaro also has six display centres in six cities and two marketing offices located in Morbi and Delhi.
Product categories of Exxaro Tiles
Exxaro's products are broadly divided into two categories:
Double charge vitrified tiles: these are long-wearing tiles that find application in heavy traffic commercial projects
Glazed vitrified tiles: these are flat slabs manufactured using ceramic materials such as clay, feldspar, and quartz and are used in residences, corporate offices, and hotels due to their aesthetic appeal and high durability
Clients of Exxaro Tiles
As of Mar 2021, Exxaro had a large dealer network of over 2,000 registered dealers and a PAN India presence in 24 states and union territories. The company supplies their products to large infrastructure projects including residential, commercial, educational, hospitals, hotels, builders or developers, government, and religious institutions.
Exxaro Tiles also has a strong international presence, exporting to 12 countries including Poland, Bosnia, and the USA. For FY 2021, their revenue from exports contributed 13.88% to the total revenue.
Promoters of Exxaro Tiles
Mr. Mukeshkumar Patel
Mr. Kirankumar Patel
Mr. Dineshbhai Patel
Mr. Rameshbhai Patel
Exxaro Tiles IPO details
The Rs 161.09 cr-worth IPO is slated to open on 4th Aug and close on 6th Aug
While the face value of each equity share is Rs 10, the IPO price band is set at Rs 118 to Rs 120 apiece
The minimum bid lot is 125 shares and the maximum lots permitted for applying is up to 13 lots
The company is looking to list on both BSE and NSE. The likely date of the issue is 17th Aug 2021
Of the IPO, up to Rs 134.23 cr will be a fresh issue and up to Rs 26.86 cr will be offer for sale (OFS)
Book running and lead manager of the issue
Pantomath Capital Advisors is the book running lead manager to the issue and Link Intime India Private Limited is the registrar.
Category-wise reservation of the IPO
Up to 25% for qualified institutional buyers
35% for non-institutional buyers and
Up to 40% for retail investors
Valuation of Exxaro Tiles IPO
Based on FY 2021, the IPO is priced at a PE multiple of 26.43. On the other hand, their peers Kajaria Ceramics Ltd commands a PE of 59.96, Asian Granito India Ltd of 13.58, Somany Ceramics of 124.65, Orient Bell Ltd of 44.46, and Murudeshwar Ceramics Ltd of 88.
At the upper end of the price band, Exxaro Tiles commands a valuation of Rs 537 cr.
Click To Tweet
Changes in the promoter holding
Utilisation of the Exxaro Tiles IPO proceeds
Exxaro Tiles wants to utilise the funds raised via the IPO to:
Repay or prepay secured borrowings
To meet working capital requirements
For general corporate purposes
Financials of Exxaro Tiles
In FY 2021, the company reported revenue of Rs 259.85 cr compared to Rs 244 crore in FY 2019
The profit grew from Rs 8.9 cr in FY 2019 to Rs 15.22 cr in FY 2021[MOU5]
In FY 2020, Exxaro Tiles' EBITDA margin was 18.3% and PAT margin was 5%, in line with peers
Following is the table of restated consolidated financials for three years.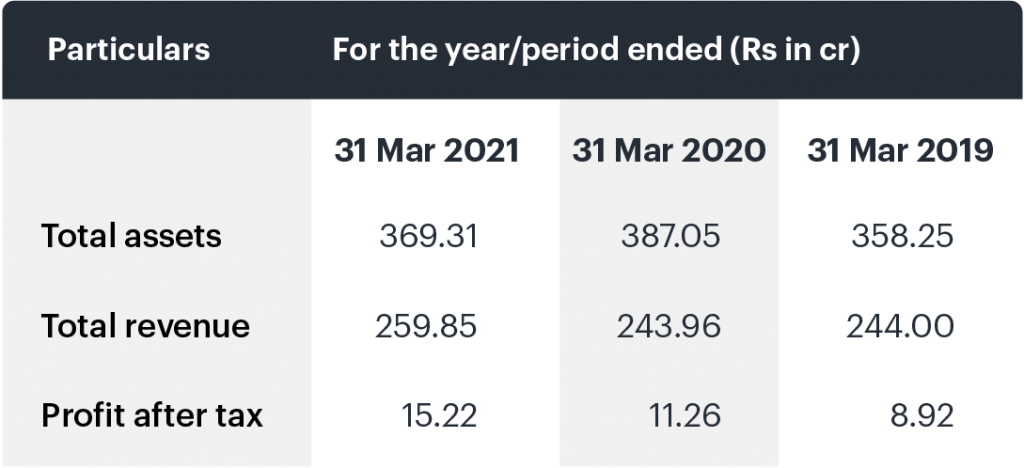 Strengths of Exxaro Tiles
The company has a large dealer network with more than 2,000 registered dealers
Exxaro strives to meet stringent quality and technical specifications
They introduce innovative designs to meet the evolving preferences of customers
Exxaro has state-of-the-art manufacturing facilities and upgrades in-house processes to enhance efficiencies
The company puts significant efforts towards R&D
Strategies of Exxaro Tiles
The company is looking to improve operating efficiencies through technology enhancements and expand their dealer network in existing and new markets. They are also looking to increase domestic sales and exports by enhancing their manufacturing capacities and procuring materials on an outsourced basis. Moreover, Exxaro is also looking to set up their own gas station.
Risks of Exxaro Tiles
Any changes in the cost and supply of raw materials will harm the company's revenue
Exxaro's manufacturing activities are vital for their operations. Situations that require their manufacturing facilities to shut down can hurt the business· Exxaro needs consistent working capital for sustained growth. If the company faces issues on this front, the business would be severely impacted
Like with any other initial public offer, you should do your own homework before subscribing to the Exxaro Tiles IPO. Once you decide to subscribe, ensure that you know how to about subscribing to an IPO so you have a seamless experience.
Latest posts by Aradhana Gotur
(see all)