Last Updated on Jun 14, 2022 by
Campus Activewear Pvt. Ltd (CAL) is one of the popular and largest sports and athleisure footwear brands in India. It is not considered large just in terms of volume but also value in fiscal 2021. With good recognition in India and withstanding competition from the international brands, Campus Activewear enjoys a 17% market share in branded sports and athleisure footwear industry. We've put together everything you need to know about Campus Activewear IPO and the brand.
About Campus Activewear
Campus Activewear Ltd was incorporated in 2005. They offer a wide range of footwear that caters to the needs of every individual in a family. It offers running shoes, walking shoes, flip flops, casual shoes, slippers, casual footwear, and more in multiple colours, styles, and price points.
Currently, having a pan-India trade distribution network, with over 400 distributors in 28 states and 625 cities, Campus Activewear Ltd plans to establish its presence in the international market as well. They have both online and offline stores in India with 18,200 retailers. Campus Activewear Ltd owns and runs five manufacturing units across India, and as of 30 September 2021, these units have an installed annual capacity for assembly of 25.60 mn pairs.
Campus Activewear works with the mission to establish itself as the most preferred sports and athleisure footwear brand in India and also become an essential part of every Indian's lifestyle. Taking this into consideration, they made an eventful market debut in May 2022.
Campus Activewear IPO
After a decade of being in the business, Campus Activewear entered the market by releasing its IPO in 2022. The details are as follows.
Campus Activewear IPO opened on 26 April 2022 and closed on 28 April 2022.
The face value was Rs 5 per share.
The offer included an offer for sale(OFS) of up to 47,950,000 shares of Rs 5. The issue size was aggregating up to Rs 1400.14 cr.
The Campus Activewear IPO price was Rs 278 to Rs 292 per share.
Each lot consisted of 51 shares.
The proceeds from the Offer for Sale will not be received by the company.
During the IPO listing days, Campus Activewear saw a positive sign where the stock jumped from the base price of Rs 295 by almost 30%. On 9 May 2022, it settled at Rs 378.60 (higher by 29.65%) on the BSE and recorded at Rs 372.65 (Higher by 27.61%) on the NSE. On the same day, the market valuation of Campus Activewear stood at Rs 11,521.78, as per the BSE's data. Overall, at the BSE, 34.99 lakh shares were traded, while 5.87 cr. shares were traded on the NSE. On the last day i.e. 28 April 2022, it was subscribed 51.75 times.
Campus Activewear Management and Promoter Holdings
The Chairman and Managing Director of Campus Activewear is Hari Krishna Agarwal. He has more than 37 yrs of experience in the footwear industry.
Nikhil Agarwal is the Whole Time Director and Chief Executive Officer of Campus Activewear. He carries about 14 yrs of experience in the footwear manufacturing and trading departments.
Before the Campus Activewear IPO release, the promoters' shareholding was 78.21%. Post the IPO release, the shareholding of the promoters is 74.1%.
Financials of Campus Activewear Ltd
| | | | |
| --- | --- | --- | --- |
| Particulars | For FY 2019 (Rs in cr.) | For FY 2020 (Rs in cr.) | For FY 2021 (Rs in cr.) |
| Total revenue | 489.6 | 669.5 | 788.1 |
| Total assets | 438.6 | 651.9 | 610.5 |
| Profit after tax | 40.2 | 60.3 | -16.5 |
Peer comparison
As per the offer paperwork, Campus Activewear listed Relaxo Footwears Ltd and Bata India Ltd as their peers. However, it is to be noted that there is no like for like basis comparison.
Strengths of Campus Activewear
By March 2020 the market share of Campus Activewear was 15%, which rose to 17% by March 2021.
It is the fastest-growing sports and athleisure footwear in India and is in the business for over one and a half decades now.
They have a good presence all over India, which is helping them reach further heights.
Has a well-experienced management team.
They introduced 583 new footwear designs in 2021 and made about 7.05 mn sales during that period.
FAQs
1. What is Campus Activewear IPO?
Campus Activewear is one of the largest footwear brands in India. They made their market debut in May 2022 through BSE and NSE. The total shares offered were 47,950,000 with a face value of Rs 5 per share.
2. What was the lot size of Campus Activewear IPO?
The lot size of Campus Activewear IPO is 51 shares, where the minimum lot is 1 and the maximum lot is 13.
3. How many shares could a retail investor buy from Campus Activewear? 
A retail investor can buy a maximum of 13 lots that is 663 shares in Campus Activewear. 
4. How to buy Campus Activewear shares? 
Campus Activewear shares can be easily bought on Tickertape by logging in to the website. Visit Tickertape Campus Activewear stocks page where you can find details such as the stock forecast, peer information, and key metrics. You can also analyse the financials of the company, which is essential to check before investing in a stock. Before investing in any stocks make sure you evaluate your investment goal and the risk appetite.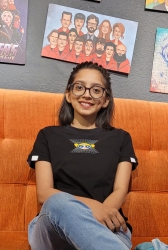 Latest posts by Anjali Chourasiya
(see all)