Last Updated on May 24, 2022 by Aradhana Gotur
September started with Vijaya Diagnostics IPO and is ending with Aditya Birla Sun Life AMC Ltd. IPO. The company is going public by way of an offer for sale. Why is this company going public? Are there any risks associated with this IPO? What are its strengths? Let us read about the company, its operations, and much more so you can analyze this opportunity.
About, operations, and services of Aditya Birla Sun Life AMC Ltd.
Aditya Birla Sun Life AMC Ltd. (ABSLAMC) is a part of the multinational conglomerate Aditya Birla Group. Over the last 7 decades, the Aditya Birla Group has grown to become one of India's largest corporate groups. According to the CRISIL report, ABSLAMC is ranked among the 4 largest asset management companies (AMCs) in India by quarterly average assets under management (QAAUM) since 30 September 2011.
ABSLAMC has assets under management (AUM) of Rs. 2,93,600 cr. The services offered by this company include mutual fund, portfolio management, and offshore and real estate offerings as of 30 June 2021. It manages a total of 118 schemes out of which 37 are equity, 68 debt, 5 ETFs, 6 domestic Fund of Funds (FoFs), and 2 liquid schemes.
The two flagship schemes of ABSLAMC include Aditya Birla Sun Life Frontline Equity Fund and Aditya Birla Sun Life Corporate Bond Fund.
Through its pan-India network and customer solutions, it caters to a diverse range of customers, from individuals to institutions. The company is well-positioned to attract a significant portion of the Indian mutual fund market with diverse client requirements and risk profiles.
Over the years, it has maintained a market-leading position in beyond the top 30 geographical locations (B-30) penetration, which has facilitated the development of the individual investor base as well as improved profitability. Its systematic transactions have grown as well. The number of outstanding SIPs has more than tripled from 0.86 mn on 31 March 2016 to 2.80 mn on 30 June 2021.
Promoters and investors exiting their share
The promoters of the company are Aditya Birla Capital Limited (ABCL) and Sun Life (India) AMC Investments Inc. ABCL is selling up to 2,850,880 equity shares and Sun Life (India) AMC Investment Inc. is selling 36,029,120 equity shares.
About Aditya Birla Sun Life AMC Ltd. IPO
ABSLAMC's maiden IPO by way of pure offer for sale of a total of 38,880,000 equity shares opens on 29 September 2021. The face value of each equity share is Rs. 5 and the price band is Rs. 695 – Rs. 712 per share.
This issue will close on 1 October 2021 and it is likely to get listed on the 11th of the same month.
Investors can apply for a minimum of one lot, which is 20 shares and a maximum of 14 lots.
As this issue is a pure offer for sale, the Rs. 144 cr. paid-up equity of ABSLAMC will remain the same post issue. This means all the funds will go to the promoter and not the company.
Book running lead managers and registrar of the IPO
Kotak Mahindra Capital Co. Ltd., IIFL Securities Ltd., Axis Capital Ltd., HDFC Bank Ltd., BoFA Securities India Ltd., Citigroup Global Markets India Pvt. Ltd., ICICI Securities Ltd., JM Financial Ltd., Yes Securities Ltd., SBI Capital Markets Ltd., and Motilal Oswal Investment Advisors Ltd. are the 11 book running lead managers to this issue. The registrar to the issue is KFin Technologies Pvt. Ltd.
Reservation of IPO for various investor categories
50% of this issue offer is reserved for Qualified Institutional Buyers (QIBs).
35% is reserved for Retail Investors.
And the remaining 15% is reserved for Non-institutional Investors (NIIS).
Objects of the issue
Via the IPO, ABSLAMC wants to achieve the benefits of listing on stock exchanges.
To carry out the offer for sale of 3,88,80,000 shares by selling shareholders stake.
Financials of Aditya Birla Sun Life AMC Ltd.
For the last three fiscals, ABSLAMC has posted an average earning per share (EPS) of Rs. 17.44 and an average return on net worth (RoNW) of 34.05%.
Aditya Birla Sun Life AMC's revenue from operations fell for the third straight fiscal year.
As of 30 June 2021, the company's total financial liability stands at Rs. 144.28 cr. and non-financial liabilities amount to Rs. 139.44 cr.
As of 30 June 2021, company's total financial assets was reported to be Rs. 1942.83 cr. and non-financial assets was ​​Rs. 143.03 cr.
Following are the financials for 2019, 2020, and 2021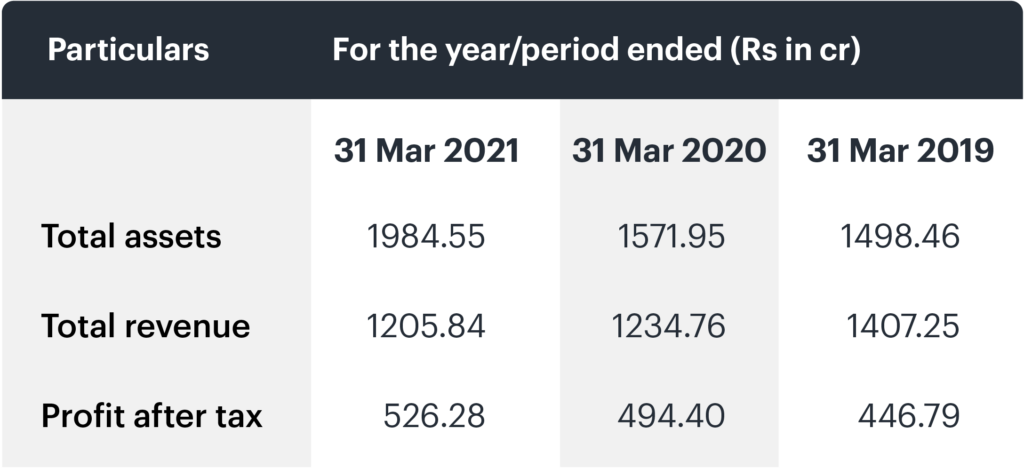 Peers of Aditya Birla Sun Life AMC Ltd.
In its offered documents, ABSLAMC has shown the following companies as its peers:
Strengths of the company
It has a rapidly growing customer base that includes both individuals and institutions.
It has automated and digitized operations for the customer application process, online transactions, and video facility for KYC process.
It has a well-diversified product portfolio and innovative schemes.
It is the largest non-bank affiliated AMC of India.
It is a well-recognised and trusted brand with experienced promoters.
Risks of Aditya Birla Sun Life AMC Ltd.
The company's revenue is dependent on the assets under management of the mutual fund schemes.
It is dependent on third-party distribution channels for the distribution of mutual funds. And problems with these distribution channels could adversely affect the business and financial performance.
It does not own branch offices, registered, and corporate offices. And the failure to renew the lease could affect operations.
Volatility in the stock market could cause investors to reduce their investment in its funds and eventually reduce the company's AUM.
Credit risks associated with the debt portfolio of its funds may expose its funds to losses, which may have a negative impact on its operations, cash flows and financial condition.
Growth of AUM may be hampered if adequate investment opportunities are unavailable, or if the firm stops or discontinues part of its schemes or services.
Prospects of the company
Aditya Birla Sun Life AMC Ltd. sure is a big brand. If you are interested in this investment opportunity, make sure to do your own research properly before subscribing to this IPO. You may read the article on how to subscribe to an IPO so as to have a smooth experience.
Latest posts by Ayushi Mishra
(see all)