Last Updated on Dec 13, 2022 by Anjali Chourasiya
Picking the right stocks from 1000s of stocks available in the stock market is time-consuming and stressful. That's where a stock screener comes in handy. It makes it easy to filter, select, and track stocks based on your preferred parameters. Hence, in this article, let us look at the top benefits of a stock screener and how Tickertape Stock Screener can help you make better and quicker investment decisions.
What is a stock screener?
A stock screener is an investor/trader's best friend. It is a tool that allows them to filter and list their preferred stocks among thousands of others available in the market.
Benefits of using a stock screener
A stock screener saves time
Thousands of stocks are listed on bourses, which makes screening a handful of them tedious. Studying the financials of each stock thoroughly, evaluating its historical performance and future prospects, and analysing the impact of current events and news on the stock would take forever.
Thanks to the stock screener, this lengthy process of evaluating stocks is narrowed down to simply applying a couple of metrics that complement your investment objective. Once you select the metrics you want to apply, the screener filters out stocks that don't meet your requirements. The result? You are only left with a list of stocks that fit your criteria.
For instance, if you are looking for stocks heavily funded with equity instead of debt, you can apply the debt-to-equity ratio. If you are looking for undervalued stocks, applying a low Price-to-Earnings ratio (P/E) level makes sense. Similarly, if you are interested in stocks with a comfortable short-term liquidity position, you can set a high current ratio as one of the metrics.
Hence, with the help of filters, you can get stocks based on your preference within minutes. Tickertape Stock Screener offers over 200 filters to help you screen stocks based on different themes or preferences. And in case you didn't find the filters you are looking for, you can create one using the 'Custom Filter' feature. Isn't that great? Let's look at more benefits of the stock screener.
A stock screener eliminates emotional-biased decisions
Next in line is the one an investor/trader needs to remember and cannot eliminate.
When evaluating stocks, it is easy to steer away from our objective and make decisions based on emotions instead. Rarely are such illogical decisions fruitful, which ultimately impact your returns on investment.
For instance, investing or staying invested in a stock simply because you like its product doesn't make sense if the company has unattractive prospects. Fortunately, a stock screener eliminates such biases and illogical decisions and filters out stocks based on logical parameters.
A stock screener presents new investment opportunities
Since a stock screener filters out stocks that meet your criteria from a large database, it presents certain opportunities that you may not have considered or were not aware of in the first place. Meaning you may discover unpopular stocks, which may have the potential to grow but are often overlooked.
A stock screener allows you to save screens
When you have filtered the best stocks based on your parameters, you can save that screen for future reference. Tickertape allows you to do that with ease. This way, you can quickly load a saved screener when evaluating stocks and accelerate the screening process based on metrics and filters that you use often.
Tickertape offers 18 pre-built screens with different themes to make your life easier. Planning for your retirement? We have a screen for you – Retire in Style. Planning a trip for next year? – Get, Set, Fly! screen is for you. Looking for stocks with strong price momentum? – the Jamaican Sprinters screen is there to help you. When you have pre-built screens, why put efforts into screening stocks separately?
A stock screener updates current information
Most screeners update current events and information regarding stocks regularly. For instance, Tickertape displays stock price movements to help you better analyse their performance. It also provides regular updates on annual and quarterly financials and corporate actions, which are crucial to investing in stocks and their performance.
How to use Tickertape to screen stocks?
Now that you know the benefits of using a stock screener, let us look at how to use Tickertape's screener.
1. Launch Tickertape Stock Screener. By default, the screener loads "New Screen", which returns stocks based on a set of pre-loaded filters. Note that you can either retain these default filters or remove them.
2. Then, determine the metrics and filters based on which you want to screen stocks. You may start with the sector, market capitalisation, P/E, etc. You may further screen stocks based on over 200 filters.
3. Do this by clicking the "Add Filter Button" at the bottom of the "Filter Panel" on the left-hand side of the screen. What's more, Tickertape also allows you to create a custom filter by using the "Custom" option.
Once the screener filters stocks that meet your criteria, evaluate them further. You may want to do fundamental analysis and detailed market research before investing in stocks. Tickertape also allows you to save this screen for future reference. Click the "Save" button on top of the Filter Panel. Give your screen a suitable name and description. You can access all your Saved Screens under "All Screens".
Let's understand how to use the Tickertape Stock Screener with an example.
How to look at the shares traded by the promoters of the company?
Now, let's understand how to look at the cumulative number of shares traded by promoters of the company over the previous 1 month/3 month/6 month.
Step 1: Go to Tickertape Stock Screener.
Step 2: Go to 'Add Filter'. Click on 'Ownership'.
Step 3: Under 'Ownership', there is an option for 'Insider Trades' with 1M, 3M, and 6M variants.
You can select based on your preference and sort the result from highest to lowest to get the top companies whose promoters are repurchasing the shares. There can be various reasons for a promoter of a company to buy back the shares.
To conclude
Screening is just the first step to narrowing down stocks that may interest you. It doesn't guarantee returns. To ensure that the stocks are worth a long-term investment, you need to evaluate them individually. That's why Tickertape equips you with meaningful information on the stock's overview, financials, peers, price forecast, and news and events. Such information equips you to make better investment decisions.
To learn more about Tickertape Stock Screener, read How To Use Tickertape Stock Screener To Discover Stocks? – A Complete Guide
FAQs
How to find top FMCG companies in India?
You can use Tickertape Stock Screener to get the list of top FMCG companies in India based on their market cap.
– Open the
Stock Screener
– Search for 'FMCG' under the sector and select the sub-sectors
– Select 'Market Cap' and select 'Largecap'.
– Sort the list according to market cap (highest to lowest)
What are the benefits of a stock screener?
Stock screeners are investors/traders' all-time companions. They make the process easy and save time. All the information an investor/trader needs is available with a few clicks and all in one place. They also help eliminate emotional biases and assist investors in making rational decisions.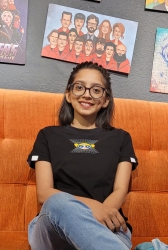 Latest posts by Anjali Chourasiya
(see all)