Last Updated on Apr 13, 2021 by Manonmayi
"Know what you own and know why you own it." The person who originally came up with the quote is now worth about $450 mn. He's possibly among the greatest investors of all time and it's none other than Peter Lynch.
He understood the need to invest and how investments can change the course of your life by fast-tracking the time taken to reach your initial financial goals.
His most popular investment principle is 'Invest in what you know', which is also good writing advice (write what you know). He wrote what he knew in his first book, "One up on wall street", where he coined the word 'Multibagger' or 'Multibagger stocks'.
This article covers:
What are multibagger stocks?
Multibagger stocks are shares that generate a return of over 100% on the initial investment.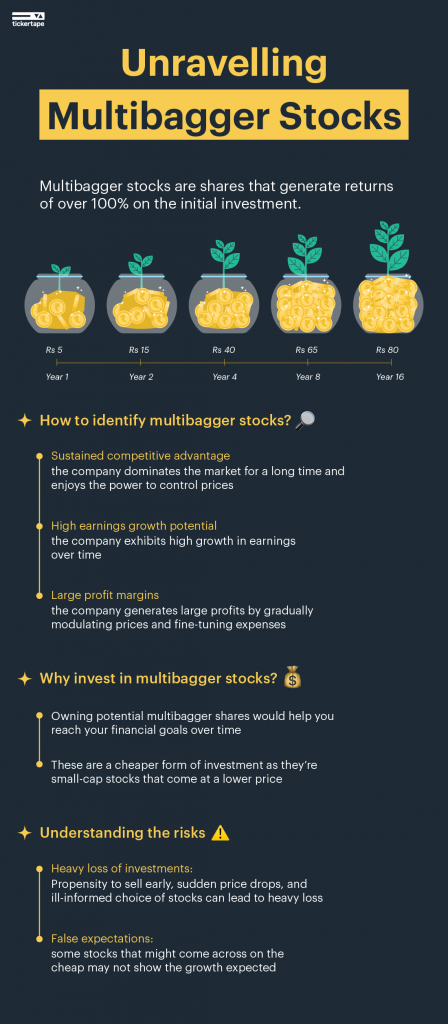 Types of multibagger stocks
A stock that gives twice the returns is called a double-bagger, and one that offers 10 times the returns is called a ten-bagger. While penny multibaggers trade at a very low price and are called nano-cap stocks, multibaggers are mostly smallcap stocks or stocks of companies with a market cap of less than Rs 5,000 cr. Multibaggers are also known to cross into mid-cap and large-cap categories over time because of their companies' high growth.
More than 50 stocks have given multibagger type returns in the last 10 yrs alone. Some of them are well known, including Berger Paints, Eicher Motors, Info Edge (Naukri), Bata India, and Titan Company Ltd.
Some well-known multibagger stocks
Info Edge, which has popular subsidiaries like Naukri internet services and Jeevansathi.com, had a share price of Rs 103.50 as of 2nd Jan 2009. Over the last decade or so, their rapid growth under the leadership of Sanjeev Bikhchandani grew their share price to Rs 4,750 as of 23rd Mar 2021, a staggering return of 4,511%.
Founded in 1931 during the rule of the British, popular footwear brand Bata India captured the hearts of a large number of customers and investors. Beginning with a share price of Rs 83.39 in Jan 1999, their price of Rs 1,489.90 as of 23rd Mar 2021, works out to a massive 1,611% return. Buying 100 shares in 1999 would have given you a return of around Rs 1.4 lakh. It's no secret that investing in Titan Company Ltd. turned Rakesh Jhunjhunwala into one of the country's wealthiest. Drooping at less than 150 paise in Oct 2001, their shares have risen to Rs 1,491 as of last week for an incredible return of over 1 lakh %.
How to identify multibagger stocks?
Picking multibaggers from countless stocks can be tricky, but understanding their features helps identify them better.
Sustained competitive advantage
The longer a company dominates the market, the bigger its share and the more power it can impose on controlling prices. Both of these are barometers of a highly profitable company that pushes its share price consistently over time. For instance, Coca Cola's share price has risen from around Rs 18 per share in 2003 to Rs 50.86 as of Feb 2021. They are still the dominant force in the soft drinks market. 
The key principle here is knowledge. Understanding market dynamics and company values give you the belief to pick a stock near-guaranteed to provide multibagger returns on your investment while assessing which companies are likely to fail.
High earnings growth potential
Even if growth is not sustained over endless years like the above example, you can bag a multibagger if it consistently has high earnings over time. If you try to find patterns in multibagger stocks, you'll notice they show high growth in earnings over time. Keep in mind, most companies take more than 2 yrs to earn enough to reach 10x or more of their stock price. The key principle here is having the patience to not sell off your stocks for sizable returns like 35% but wait to get multibagger type (over 100%) returns.
Large profit margins
Multibagger companies generate large profits by gradually modulating prices and fine-tuning expenses. This positive revenue is fed back into improving the mechanics that make them profitable, which further increases their profit, generating sustained cycles of profitability long enough to capture as much of the market as they can.
No principle here, just logic
The equation goes like this – more profit = more money for the company = more growth = more market share = more returns for you. Logic also helps recognise and weed out risky companies who sometimes falsify their income and revenue statements.
Continued trends
The economy and the market are dependent on people's needs, and a large portion of modern needs are seasonal or trend-based. There's a high probability you're reading this from a type of smartphone which did not exist a few years ago. You might even get a WhatsApp text a few moments from now and when you do, remember that shares of their owners, Facebook, opened at $38 in 2012 and stand at $290 as of 19th Mar 2021. 
The key principle here is perceptivity and being open to how the world at large is responding to a company or a sector. While not all trends are sustained, staying up to date on the news and understanding a bit of psychology also helps predict a sector's sustenance and the performance of key players operating in it. A good place to start is by filtering multibagger stocks on Tickertape, an investment analysis platform, which collates all news, dividends, corporate actions, and announcements of a company in its Stock Page. Here is the stock page of Tata Motors Ltd for example.
A key factor underlying the above characteristics is the people behind the company. Business is about people, and a strong management team of capable and driven people is a common theme in all multibaggers. Weak management teams tend to drive companies and stocks into freefall.
Why invest in multibaggers?
Owning a good amount of shares in just one multibagger would likely help you reach your financial goals within 10 yrs. Buying a potential multibagger and watching it give multifold returns is a sound investment strategy. It is also a cheaper form of investment as they are primarily small-cap stocks that come at a lower price.
Understanding the risks
Although it is tempting to jump into the stock market searching for the next multibagger, you must keep in mind the risks associated with them. Falsified financial statements, propensity to sell early, sudden price drops due to market sentiments or sector-wide issues, government intervention, pandemic, and ill-informed choice of stocks can all lead you to heavy loss of investments.
Some stocks might also come across on the cheap, tempting you to buy them but never quite show the growth expected. It is essential to do a thorough investigation into any stock before you buy them, regardless of if they have multibagger potential or not.
Other options of investment
Multibaggers are, of course, not the only path to get good returns. Investing in dividend-paying stocks, ETFs, mutual funds, and underpriced stocks are also great alternatives.
Conclusion
The general advice on successfully bagging a multibagger is knowing, waiting, and acting when the moment is right. Knowing everything that makes a stock a multibagger and being constantly updated on market movements also helps pick your path to investment success.
Latest posts by Tickertape
(see all)