Last Updated on Apr 6, 2023 by
One of the goals of a stock market investor is to get huge returns from the investment, and identifying such stocks is not a walk in the park. Whilst multibagger stocks are the ones that give manifold returns, it should not be the only metric to discover them. In this article, let's explore the best multibagger stocks in India (2023) and learn how to identify multibagger stocks, their features and the risks involved.
What are multibagger stocks?
Multibagger stocks are equity shares of a company that have generated multiple times higher returns than its associated cost of acquisition. In simple terms, a stock that doubles its price is called a two-bagger. Similarly, a stock that has risen multiple times its initial investment value is called a multibagger stock.
The wealth creation with a multibagger stock can happen over a long horizon of time through gradual compounding. These stocks are generally small-cap or mid-cap with a significantly high potential to grow.
Best multibagger stocks in India (2023)
Note: To find out the best multibagger stocks of 2023, we used Tickertape's intuitive Stock Screener with the following filters.
Stock Universe: Nifty500
5Y CAGR of 50% and more
Net income – Sorted from high to low
Note that the data discussed is as of 6th April 2023, and we have only used a few metrics to screen multibagger stock; you can use others based on your preference. For instance, if you want to look for multibagger penny stocks below Re. 1, you can set the close price to less than Re. 1.
Details of the top multibagger stocks of 2023
1. Varun Beverages Ltd
Incorporated in 1995, Varun Beverages Ltd is a large-cap company that produces, bottles and distributes beverages. The company operates as a franchisee of PepsiCo. Varun Beverages has 30 manufacturing plants in India.
In the last 5 yrs, the stock has clocked 665.06% absolute returns. The company has a 5-yr CAGR of 50.05%.
2. Adani Enterprises Ltd
A large-cap company, Adani Enterprises has a diversified portfolio spanning coal trading, coal mining, oil and gas exploration, ports, power generation, multi-modal logistics, and transmission and gas distribution. Operating in a diversified sector, Adani Enterprises' share has delivered attractive returns to shareholders.
In the last 5 yrs, this large-cap stock has 1,033.89% absolute returns, and the 5-yr CAGR is 62.94%.
3. Tube Investments of India Ltd
The company was founded in 1959 by merging TI Cycles of India and Tube Products of India. Tube Investments of India Limited is an India-based mobility-focused manufacturing company. It operates through three segments: engineering, metal-formed products, and mobility.
The company has a 5-yr CAGR of 60.59%. In the last 5 yr, the stock has clocked 983.93% absolute returns.
4. Tanla Platforms Ltd
Incorporated in 1995, Tanla Platforms Ltd is an end-to-end solutions provider in the telecom infrastructure. The company also develops and markets computer software while offering messaging, voice, Internet of Things (IoT), and other cloud communications solutions. Tanla Platforms have a development centre in Hyderabad and a worldwide marketing office in the United Kingdom, catering to a global audience.
Over the last 5 yrs, this midcap stock has clocked 1,381.62% absolute returns and a CAGR of 73.18%.
5. Linde India Ltd
One of the oldest companies, Linde India was established in 1935. It was formerly known as BOC India Limited, which is engaged in the manufacturing of liquefied or compressed inorganic industrial or medical gases and the construction of utility projects.
Over the last 5 yrs, this midcap stock has clocked 751.61% absolute returns and a CAGR of 54.25%.
6. Alkyl Amines Chemicals Ltd
Incorporated in 1979, Alkyl Amines Chemicals is a global supplier of amines and amine-based chemicals to the pharmaceutical, agrochemical, rubber chemical and water treatment industries, among others. It became one of the world's leading amine manufacturers.
The stock has clocked 802.11% absolute returns in the last 5 yrs and has a 5-yr CAGR of 54.96%.
Features of multibagger stocks
Growing sales and profit: Consistently growing sales and profit of a company are healthy indicators. A growing Earning Per Share (EPS) is an excellent indicator of the increase in the wealth of a company.
Low debt: Too much debt can sink a company. Therefore, it is wise to check a company's debt and related ratios. A higher debt-to-equity ratio indicates that the company is aggressively financing its growth with the help of external funds.
Competitive advantage: The company should have a sustained competitive advantage in the market. The quality of the underlying business is a crucial factor in determining if the company can survive the storms and emerge from them.
Ability to expand: The company should have the capability to expand free cash flow in order to fund future expansions or dividends. Multiple factors play a role here, from strong leadership and management to the quality and scalability of the products/services of the company.
Better returns: There are various metrics that help understand a company's operational efficiency and the resulting future growth potential. Two such metrics are Return on Equity (ROE) and Return on Capital Employed (ROCE). They should be observed to check if the stock is performing well or not.
High-profit margins: Another good indicator of a multibagger stock is improved profit margins. If the company is gradually adjusting prices and fine-tunes its expenses, its profits are likely to increase.
How to identify multibagger stocks?
If we go by the meaning of the word 'multibagger,' it refers to a stock that generates over 100% return (or multiple bags). There are small-cap stocks that generate returns several times higher than the cost of acquisition in real life. We all wish that we had the power to tell the happenings of the future. It would allow us to gauge our chosen stock's performance and verify whether it is a multibagger. Unfortunately, such things are only limited to reel life.
In real life, it is imperative to understand that such stupendous returns don't happen overnight. The transition from a small-cap to a mid-cap and finally becoming a large-cap share would demand your patience and perseverance. You also need an eye to unearth potential.
Here are some aspects that would help you identify potential multibagger stocks:
Look for what the industry has to offer
The first and foremost thing that you need to understand is not regarding the stock but the industry to which it pertains. Understand the upcoming trends and which sectors are poised to benefit the most from them. For example, there is an increasing drive to go electric in the vehicles sector. So electric mobility will seemingly gain traction (not that we are recommending it to you!). Make sure the company you are betting on belongs to one of these industries.
Look at the company's product portfolio
The next step is to look at a company's shares and delve deeper into its product portfolio. The motive is to understand their core competencies and if they have the potential competitive edge over others. To figure out the right companies, look for the latest developments in the sectors you are interested in and then look for the right companies that seem to be the biggest contender for growth and expansion.
Check the debt levels
The debt ratio signifies the debt portion of the total capital that an organisation utilises for its operation. Typically, a ratio of 0.5 or lower represents lower debt in the company's capital structure. The higher the debt, the more likely the company's cash flow will be unstable. A positive and free-flowing cash flow shows growth potential.
Look into the earnings and valuation
The next step is to dive deeper into its recent financials and figure out its earnings growth. A growing EPS is an excellent indicator of an increase in wealth. After that, figure out the stocks that are undervalued. If the company's shares are underpriced, there is a high chance of becoming a multibagger stock.
Look for future potential
Looking into past financial statements is an indicator of present performance, but it won't necessarily reflect the future. It is not an IPL auction, and you need not place your bets based on past performance alone.
To find out true potential, look into the organisation's management and promoter holding. A strong management team is more likely to drive growth and bring about success. Also, look for companies with high promoter holding, as it is an indicator of confidence in whatever they are trying to create. Tickertape's promoter holding filter allows you to check the percentage of the company's common stock held by promoters.
Risks of investing in multibagger stocks
Here are the potential risks involved in investing in multibagger stocks
It demands bulk purchases, exposing the investor to substantial risk if the stock collapses. The higher the risk is, the greater the reward: a notion that people follow while investing in penny stocks. But it can soon become a bane if the stock starts collapsing.
Many people invest in a value trap or an economic bubble because of the high temporary demand for the underlying product/service. It is often caused by bulk investors to create an artificial bull setup and then pull off the trigger by short-selling.
The investment is locked for a sizable time. Most multibaggers take over two decades to bloom, meaning that you will have to resist selling them in the upcoming few years. It also results in capital blockage for you.
You can fall into trick trades, i.e., artificial inflation caused by others investing in it. Most of these are small-cap stocks with low market capitalisation, exposing themselves to the risk of being easily manipulative.
These stocks suffer from low liquidity and performance issues in their initial days. It means that any rumour around them has the power to trigger a price collapse. Such stocks can take months to recoup.
On a closing note
Multibagger stocks are investors' favourites. They give multifold returns and keep your portfolio green. However, before making any investment decision, it is better to do your research or consult your financial advisor.
FAQs
How to find multibagger stocks?
To find multibagger stocks, you need an intuitive stock screener like Tickertape Stock Screener. It has over 200 filters to help you sort and list the best multibagger stocks of 2023 with utmost precision in less time. Most multibaggers take over two decades to bloom. Hence, before investing in any potential multibagger stocks, it is always worthwhile to ask your financial advisor.
Are multibagger stocks risky?
Yes. Multibagger stocks can be very risky. Hence, investors with high-risk tolerance can invest in it. Further, multibagger stocks provide good returns when invested in them for the long term. Therefore, investors with long-term investment goals can also look out for the best multibagger stocks.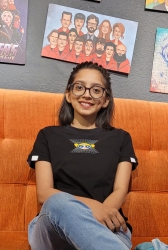 Latest posts by Anjali Chourasiya
(see all)