Last Updated on Jun 22, 2022 by Anjali Chourasiya
Employees in their entire work lifecycle contribute a percentage of their salary to a fund called Employees' Provident Fund (EPF). It acts as their retirement fund. To access the fund, manage it, and make transactions, a UAN number is provided to employees and employers. Let's discuss UAN, its importance, and the UAN Member portal, which you can use to perform all EPF-related activities.
What is UAN?
A Universal Account Number or UAN is a 12-digit identification number under which you and your employer can contribute to the EPF. While the Ministry of Labour and Employment issues the number, it is generated and appointed by the Employees' Provident Fund Organisation (EPFO). The EPF acts as the retirement fund.
Two separate UANs are assigned to you and your employer by the EPFO. It stays constant for the company throughout their years in business and for you throughout your employment years, irrespective of the number of jobs you change. You can find all the information about your Provident Fund (PF) on the UAN Member E-Sewa portal.
Importance of UAN
UAN is vital for several reasons. They are:
It is essential to check the credits and debits in the PF account.
Using UAN, individuals can withdraw and transfer funds hassle-free without relying on the employer.
With an online PF account, individuals can track monthly deposits.
It ensures streamlined transactions and additional security.
UAN Member portal for employees
To access services as a UAN member, you need to log in to your profile on the E-Sewa portal. The UAN Member portal is a one-stop resource for accessing EPF requests and using services online.
There is a wide variety of helpful information regarding PF contributions on the portal. Further, you can carry out several activities like checking PF balance, details of past employers, managing PF balance, carrying out transactions, and many more.
Services provided by the UAN Member portal
The UAN Member portal offers comprehensive services related to your EPF account. Here's everything you can do with your UAN Member portal account-
View
The EPF Member portal allows you to view four types of information-
Profile
Your entire EPF profile is available on the portal, and you can check it under the 'View' tab. When you click on the 'Profile', it will lead you to your profile page that contains the following information:
UAN
Name
Date of Birth
Gender
Father's/Husband's Name
Mobile Number
Email ID
Whether you are an international worker
Qualification
Marital Status
Differently-abled or not
Remember, you can only update the mobile number and email ID from the information mentioned above.
Service History
You are allotted only one UAN in your lifetime, irrespective of the number of companies you work with. Hence, every organisation you work with has to create a new PF account under the same UAN for you. This helps you manage your entire EPF contribution systematically and more transparently.
The 'Service Details' section of the portal shows you the information you have previously worked with, including the one you are currently working with. It shows the following details:
Member ID
Name of the Member
Name of the Establishment
Date of Joining EPF
Date of Ending EPF
Date of Joining EPS (Employee Pension Scheme)
Date of Ending EPS (Employee Pension Scheme)
Date of Joining FPS (Family Pension Scheme)
Date of Ending FPS (Family Pension Scheme)
UAN card
You can easily view and download your UAN from the 'View' section of the UAN Member portal. You can present this at the PF office during offline transfer or withdrawal.
EPF passbook
Under this section of the 'View' tab, you can view your passbook. However, to access this service, you will be redirected to the website – www.epfindia.gov.in. On the website, you can enter your UAN and password, which is the same as the E-Sewa portal. After that, click on the 'Member ID' of your current PF account, and access the passbook easily.
Manage
Under this tab of the UAN Member portal, you can manage and modify details:
Email ID and mobile number registration
You can update your email address and mobile number on the portal via this section. To change your registered mobile number, an authorization pin will be sent to the new number. After you put the pin in the space provided, your mobile number will be updated. To update your email address, similar steps have to be followed.
KYC
Know Your Customer (KYC) is the mandatory process of identifying and verifying the client's identity when opening an account and periodically over time. It is a significant process in the fight against financial crime and money laundering.
Through the KYC section of the 'Manage' tab, you can update your KYC details such as:
Bank Account
PAN
Aadhaar
Passport
Whenever you update any of the details mentioned above on the platform, it first verifies with the concerned authorities and then updates against your UAN.
Online Services
There are many online services that you can avail yourself from the portal, such as,
Claim (Form 31, 19, and 10C)
Since February 2017, the EPFO has introduced a new composite claim form to avail full or partial withdrawal of PF. The section has three forms – Form 31, 19, and 10 C. But, to avail of the services through the Composite Claim Form, your Aadhaar must be linked to UAN.
Transfer
With this service, you can easily transfer your PF amount from the previous account into the current one. Before you apply for a PF transfer on the portal, make sure your KYC details and bank account details (previous and current) are updated in the UAN database. It is necessary to keep in mind that only one transfer request can be claimed on the previous PF account.
Track EPF claim status
You can track the EPF claim status on the UAN login portal under the 'Track Claim Status' section. There is no need to enter any acknowledgement number, PF account number, or any detail to access the status.
How to find your UAN?
There are two ways to find your UAN number.
You can ask your employer or check your salary slip to find your UAN.
Follow the below-mentioned steps to find your UAN number:
Step 1: Visit the UAN member portal which looks like this –
Step 2: Under the 'Important Links' section on the right side of the page, click on 'Know your UAN'.
Step 3: Provide your mobile number and captcha for verification. After you fill in the details, click on the 'Request OTP' button to proceed further.
Step 4: You will receive a six-digit one-time password (OTP) on your mobile number through SMS. Enter this OTP and click on the 'Validate OTP' button.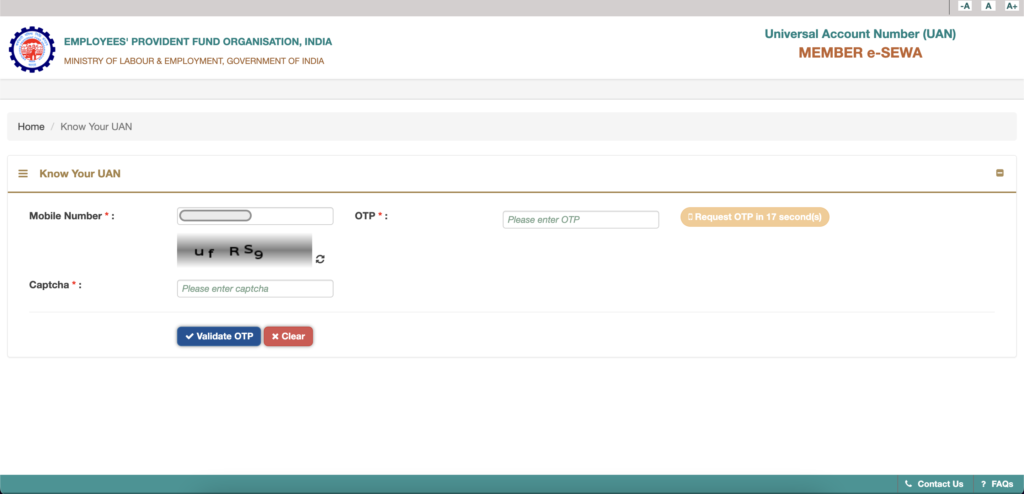 Step 5: You will receive a pop-up alert when your OTP validation is completed. Once done, click 'OK' to proceed.
Step 6: This step requires you to enter some details such as name, date of birth, and an ID for verification. You can choose either your Aadhaar number, PAN, or member ID. Enter the details, fill in the captcha, and click the 'Show My UAN' button.
Step 7: Your universal account number will be visible on the screen.
If your UAN application is processed, you will receive your EPF UAN Status on your registered mobile number.
UAN customer care
If any member of EPF is facing any difficulty in logging in to the UAN Member portal, they can reach out to the customer care team via the following methods:
Kindly note that the help desk service is available from 9:15 AM to 5:45 PM.
In a nutshell
The UAN Member portal is an essential resource for individuals registered with UAN. They can manage, transact, update, and view their account from the portal. It provides easy access to the users and keeps track of their accounts in a simplified and transparent manner.
FAQs about UAN Member portal
1. What is a member ID in the UAN portal?
Member ID, often referred to as the PF account number, is the number given by Employee Provident Fund Organisation (EPFO) to allow the employer to submit the Provident Fund (PF) contribution for the employees. You will have as many member IDs as the number of employers who contributed to your PF. 
2. What is a UAN Member portal?
The UAN Member E-Sewa portal is an all-encompassing resource for accessing Employee Provident Fund (EPF) requests, managing EPF accounts, and using online services with the help of a Universal Account Number (UAN).
3. How can I log in to my UAN account?
Follow the mentioned steps to log in to the UAN Member portal for employees:
a. Visit the EPFO website.
b. Go to the 'Services' section and click on 'For Employees'
c. From the page 'For Employees', navigate to 'Member UAN/Online Services'.
d. On the redirected page, enter the required information such as UAN, password, and the captcha code.
e. Click on 'Sign in'.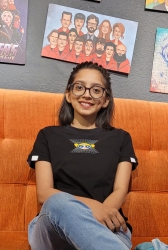 Latest posts by Anjali Chourasiya
(see all)