Last Updated on May 12, 2023 by Anjali Chourasiya
"Every once in a while, a new technology, an old problem, and a big idea turns into an innovation."- Dean Kamen.
During the two years of restricted global markets under the wide spread of COVID-19, professionals from all industries were envious of the ones serving the tech industry. The life of a tech nomad looked like a dream come true in the Information Age. All topped up by super fancy pay. For us as analysts, the maths didn't work out, and we were waiting for some shakedown. However, we could not speculate about the mass layoffs and shrinking order books for sure.
In recent years, the field of artificial intelligence (AI) has seen stupendous growth, and new innovations are being developed at a breakneck pace. From natural language processing to generative AI systems that create content that mimics what humans can produce, AI is being used to develop algorithms and systems that can analyse vast amounts of data and make calculated and intelligent decisions.
Since the acceptance of ChatGPT, a generative AI, launched as a prototype on 30 November 2022 has garnered attention for its detailed responses and articulate answers across many domains of knowledge globally, there is an anomaly that we have observed in the globally listed tech space.
It's not just the employees the Web-3 innovation is haunting, it's also an entire industry down here in India.
The Nasdaq100 – Technology Sector Index, NDXT (Index of 35 top technology businesses listed on the NASDAQ) is up by 14.5% in over 140 days. On the other hand, Nifty IT (Top 10 IT Businesses of India) is down by 11%.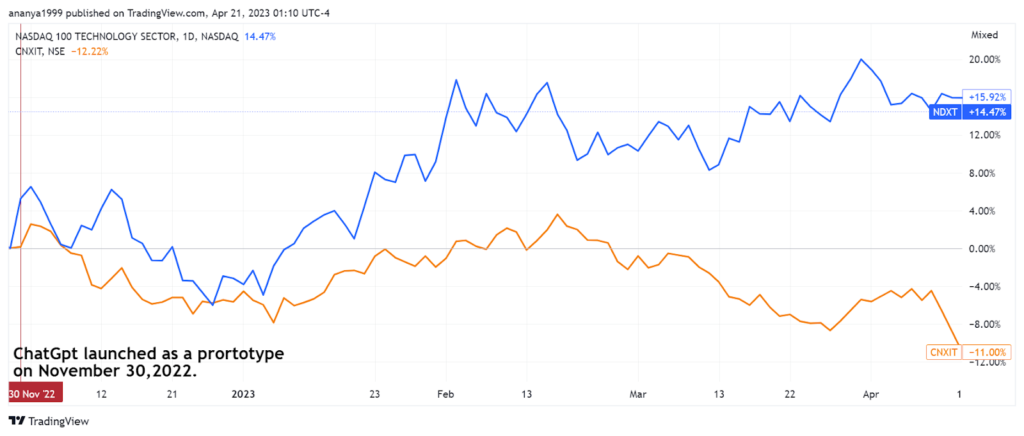 Source – Trading View
The Driving Forces Behind it!
The Tech Space in the US is innovation-driven, while the IT Space in India is outsourcing driven. India has oddly become the back office of the world over the last two decades and faces the highest threat from technological innovation like generative AI (ChatGPT).
According to IBEF, the IT and BPM (Business Process Management) market accounts for 9.3% of India's GDP and 56% of the global outsourcing market. Revenue is expected to show an annual growth rate (CAGR 2023-2027) of 12.42%, resulting in a market volume of US$12.47 bn by 2027 but has seen a significant decrease in percentage change of revenue since 2017 (Source: Statista). (LINK MISSING)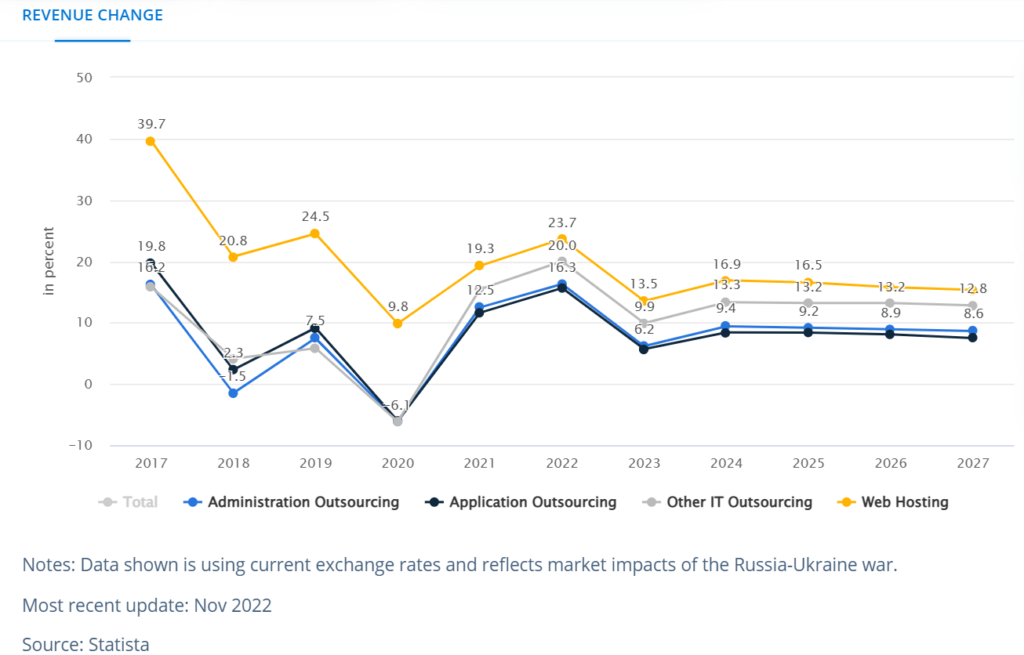 A report from JP Morgan says that generative AI could "deflate legacy services" and hurt the market share and pricing of Indian IT companies.
Companies that innovate new and disruptive technologies will always have a competitive edge over the ones that maintain and outsource existing technologies and software and provide ongoing support and updates to products that already exist in the market.
India is a hub of over 5 mn coders, the largest number in the world. They are facing the challenge of adapting to the dawn of artificial intelligence, which could displace many software engineering jobs in the future. We no longer need assembly lines of coders to get software out; we have AI & ML to crunch.
Wild speculation
Probably the following stack to get bulldozed might be the Indian Finance – KPO industry, which is a similar replica of the Indian IT outsourcing space. The Indian finance KPO industry covers over 70% of the KPO industry worldwide. These huge houses recruit masses at a premium and align them with their foreign clients or counter offices abroad. Performing non-core finance dailies. No Funds raised, no funds managed, no funds redeployed. Focusing majorly on just Operations, Admin, and information relay. It provides services including accounting, bookkeeping, payroll processing, tax preparation, data sorting for financial analysis, and back-office support.
All a new SAAS or a GPT-like innovation away from oblivion
What happens next is unknown at all stages. All one can do is prepare for the odds. Crafting a business strategy or a career path based on the current ecosystem looks duped. What we know is that the individuals and the institutions that can constantly improvise and innovate shall survive. In storms, survival is a success.
(Note: The article is co-authored by Emmanuel Suraj)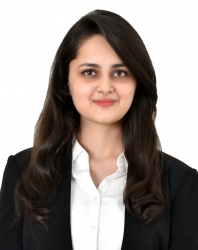 Latest posts by Ananya Milwani
(see all)