Last Updated on May 31, 2022 by Neera Bhardwaj
Tata Motors is mapping Indian roads at breakneck speed, filing 125 patents, cracking their previous record, and receiving 56 patent grants during the same period. And that's just the start!
The mobility giant has a market cap of $21.58 bn, propelling the stock market higher by ~3%. Factors influencing the trade higher than the 5-day, 20-day, 50-day, and 200-day moving averages include the following:
Historic patents
Tata Motors' commitment to utilise its engineering prowess to develop world-class mobility solutions to meet customers' changing needs is setting the pace. The Company's patent portfolio includes traditional and new energy powertrain technologies, safety, connected vehicle technologies, body in white (BIW), trim, and other vehicle systems.
Acquisition on cards
Recently, the Tata Group auto firm signed a Memorandum of Understanding (MoU) with the Gujarat government for the potential acquisition of Ford India's Sanand vehicle manufacturing facility.
This will aid Tata Motors in augmenting its production capacity by an additional 2,40,000 units per year, on top of its ability to produce 4,80,000 units per annum, spread across three of its existing plants. Also, it will boost production for its CNG manufacturing plans for internal combustion (IC) vehicles, especially electric vehicles (EV).
Tata and Ford will ink a definitive transaction agreement in the coming weeks. The land and buildings, the vehicle manufacturing plant, machinery and equipment, and all eligible Sanand plant's manufacturing operations employees would be transferred as part of the deal. On the other hand, Ford India will operate its powertrain manufacturing facilities by leasing back the powertrain unit's land and buildings from Tata Passenger Electric Mobility.
Greening up
Tata Motors doubles down on the plans to electrify commercial vehicles as it has invested Rs 1,000-2,000 cr. in capital expenditure (capex). The company also unveils big plans to become the leading player with a long-term goal to make up 20% of total sales. Launching 10 new EV models by FY 2026 is paving the wind.
Market race
Tata Motors' share in the Indian car market stands at a little over 14%, with the company trailing at the third spot behind South Korean auto major Hyundai, whose share is at 15%, as of April 2022. The race between India's second and third-placed car manufacturers is heating up, particularly in the last few months, amid chip shortage and shifting consumer trends.
In April 2022, Tata Motors sales in the domestic and international markets stood at 72,468 vehicles, compared to 41,729 units during April 2021, showing a jump of 81% y-o-y basis.
Overview
Tata Moto's stock is surging in the stock market, reaching an intraday high of Rs 443.9, up 3.33% on the BSE. The stock opened at Rs 436.35, up from the previous close of Rs 429.60. The stock gained 38.67% in one year but has lost 8.3% since the start of this year. On the BSE, the company's market capitalization increased to Rs 1.46 lakh cr. A total of 10.17 lakh shares were traded, resulting in a turnover of Rs 44.76 cr.
Catch more about the performance of Tata Motors Ltd and gain an overall insight to make stronger, smarter, and sharper analysis by using Tickertape's Stock Screener!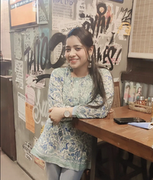 Latest posts by Neera Bhardwaj
(see all)