Last Updated on Mar 24, 2021 by Manonmayi
Union Budget 2021 is one of its kind. First, it is the first paperless Budget in Indian history. Second, it is more like a prescription to "get well soon" from the impact of the pandemic. Let us look at some of the proposals that can impact individuals and businesses.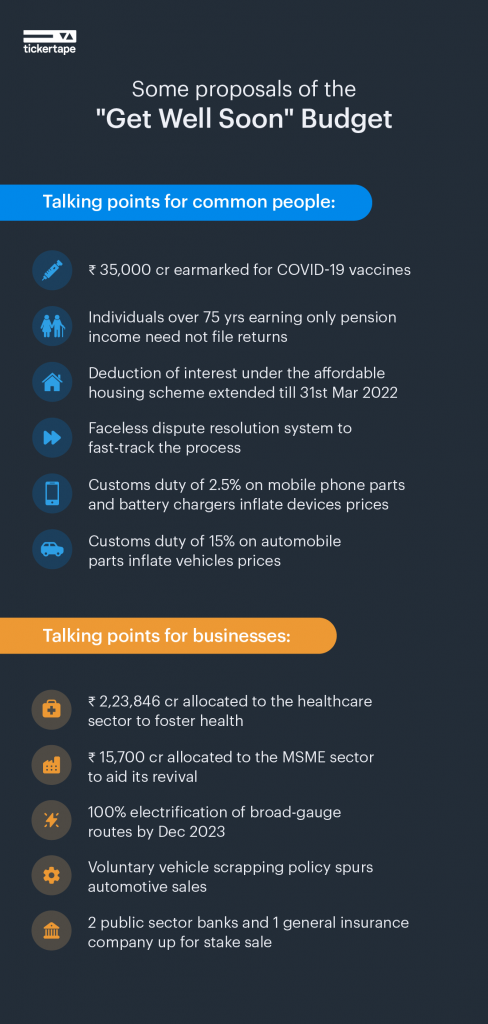 Proposals impacting individuals
Better healthcare facilities
With a total outlay of Rs 2,23,846 cr as opposed to Rs 94,452 cr last year, the healthcare sector truly stole the show. Of the total outlay, Rs 35,000 cr is expected to be earmarked for COVID-19 vaccines. Well, its high time we realise health is wealth!
Affordable rail travel
Union Budget 2021 has proposed introducing 2 new technologies: metro lite and metro neo in tier II and tier III cities. If these are accepted, you would enjoy relatively cheaper metro services with the same convenience and ease.
Suraksha kavach for bank deposits
Thanks to the previous bank-related scams, Union Budget 2021 proposed a measure to protect depositors of funds from default risk. The proposal is to offer a cover of up to Rs 5 lakh per depositor on their deposits in stressed banks. In addition, streamlining the provisions may also be on cards so you have timely access to the cover.
Wealth creation for retail investors
LIC IPO has been long overdue now. But the FM has reassured that necessary amendment will be made to the law so as to divest LIC this year. In addition, 2 public sector banks would also be up for divestment during the year. If this happens, retail investors would get an opportunity to participate in wealth creation.
Tiny steps to fight pollution
In a bid to address the pollution, Budget 2021 has proposed a voluntary vehicle scrappage policy. As per this, personal vehicles and commercial vehicles would undergo fitness tests after 20 yrs and 15 yrs of usage, respectively. The policy would also spur the demand in the automobiles sector. On taking the year 1990 as the base, approximately 52 lakh passenger vehicles and 37 lakh commercial vehicles are eligible for voluntary scrappage as of now.
Because cleanliness is next to Godliness
The Budget 2021 also proposed 'Swachh Bharat 2.0' campaign for which Rs 1.41 lakh cr has been allocated for 5 yrs from 2021. This mission would focus on wastewater treatment, complete faecal sludge management, reduction in single-use plastics, and segregation of garbage. Ultimately, it would result in a reduction in air pollution.
Shell out more for mobile phones
Budget 2021 has proposed to increase the customs duty on mobile phone parts from 0 to 2.5% and that of a battery charger from 10% to 15%. Although mobile phones would get costlier, the move would create opportunities for domestic manufacturers and promote the Make in India campaign.
Kyuki apna ghar apna hota hai
Budget 2021 has proposed to extend the tax holiday on affordable housing projects for a year more till 31st Mar 2022. Similarly, the additional tax deduction of Rs 1.5 lakh on home loans availed up till 31st Mar 2022 to buy a house under the affordable housing scheme would also be extended up till 31st Mar 2022. This will spur demand for housing and aid the related sectors.
On the tax front
Budget 2021 has exempted those aged 75 and above earning only pension income from filing returns, reducing the burden of senior citizens. Further, individual taxpayers are also relieved as the income tax rates are unchanged, if not reduced. What's more, the Budget 2021 has also proposed a faceless dispute resolution system to fast-track the process.
Proposals impacting businesses:
More foreign money and control in the insurance sector
Budget 2021 increased the FDI limit in the insurance sector from 49% to 74%. This proposal would not only attract more capital inflow into the sector but also aid the growth of the entire economy. It would also encourage new insurers to step into the market and create competition. Thanks to this, you may get access to new, innovative, and better insurance products.
Indian Railways to boost infrastructure
₹ 1.1 lakh cr is proposed to be allocated for the Indian Railways. Not only will this boost the railway sector, but also enhance the infrastructure. Further, 100% electrification of broad gauge route by December 2023 is also proposed.
Recapitalisation of public sector banks
Union Budget also proposed to infuse Rs 20,000 cr in public sector banks in the FY 2022. This move would replenish their capitals and enhance their lending capability. Further, the creation of Asset Management Companies to take over bad loans is also a welcome move for banks as it will improve the health of the overall sector.
Increased income for farmers
Budget 2021 proposes a change in the MSP (minimum support price) regime to assure that the price of commodities is at least 1.5 times the cost of their production, thus increasing farmers' income.
Double resources to the MSME sector
Union Budget 2021 has doubled the allocation to MSMEs to Rs 15,700 cr for FY 2022. The allocations are proposed to be made to the Emergency Credit Line Guarantee Scheme, entrepreneurship and skill development programmes, and the launch of new technology centres for the MSME units. These proposals are directed to aid the MSME sector's revival, which was severely impacted by the pandemic.
Because infrastructure development is crucial for the economy
Union Budget has proposed setting up a separate Development Financial Institution (DFI) to exclusively fund infra projects and help create required resources via InvIts and REITs. In addition, the National Infrastructure Pipeline has also been expanded to 7,400 projects. Further, the capital expenditure target for FY 2022 is set at Rs 5.54 lakh cr, a sharp increase from last year to boost the infrastructure sector and fuel the growth of the economy.
Promoting rural infrastructure development
Thanks to the Union Budget, the allocation to rural infrastructure development has been hiked from Rs 30,000 cr to Rs 40,000 cr for the next financial year. Further, 1,000 more mandis will be linked to the electronic national market. And just like how a DFI would fund infrastructure projects, an agriculture infrastructure fund will be launched to fund APMCs and enhance infrastructure facilities.
Let us know what you think of the Union Budget 2021 in the comments section below 🙂
Latest posts by Aradhana Gotur
(see all)