Last Updated on May 24, 2022 by Anjali Chourasiya
Overspending around the holidays may seem inescapable, but there are several things you can do to help keep your budget under control. We've all been there, and overspending is so easy to do. So, with Christmas and the holidays right around the corner, here are some tips for avoiding holiday overspending!
Make a budget and stick to it
Make a budget for the holiday gifts you plan to purchase. Make a realistic Christmas spending plan to avoid last-minute purchasing. This will keep you from spending money you don't have and raise awareness of your spending patterns.
Before you start hunting for Christmas bargains, look at your income and figure out how much you can afford to spend on gifts this year. Financial experts recommend spending no more than 1.5% of your annual income on holiday presents. Check to see whether this amount fits into your budget. If you believe you might be able to stretch your budget a little farther, that's fantastic! But don't go crazy buying holiday gifts. Spend just what is truly beneficial to you and your financial situation.
Don't buy just because it's on sale
We frequently use sales as a rationale for purchasing. Those emails promising an exclusive, limited-time offer on attractive things have a way of drawing you in. You can feel as though you're missing out if you don't go shopping. Of course, that's exactly what sales are for. They persuade us that we need to buy something, even if we don't.
However, just because something is on sale "because it's a great deal" does not mean you will save money. If you go for the short-term pleasure without considering your needs and total expenses, you'll wind up spending more than you need to. This may soon get out of hand.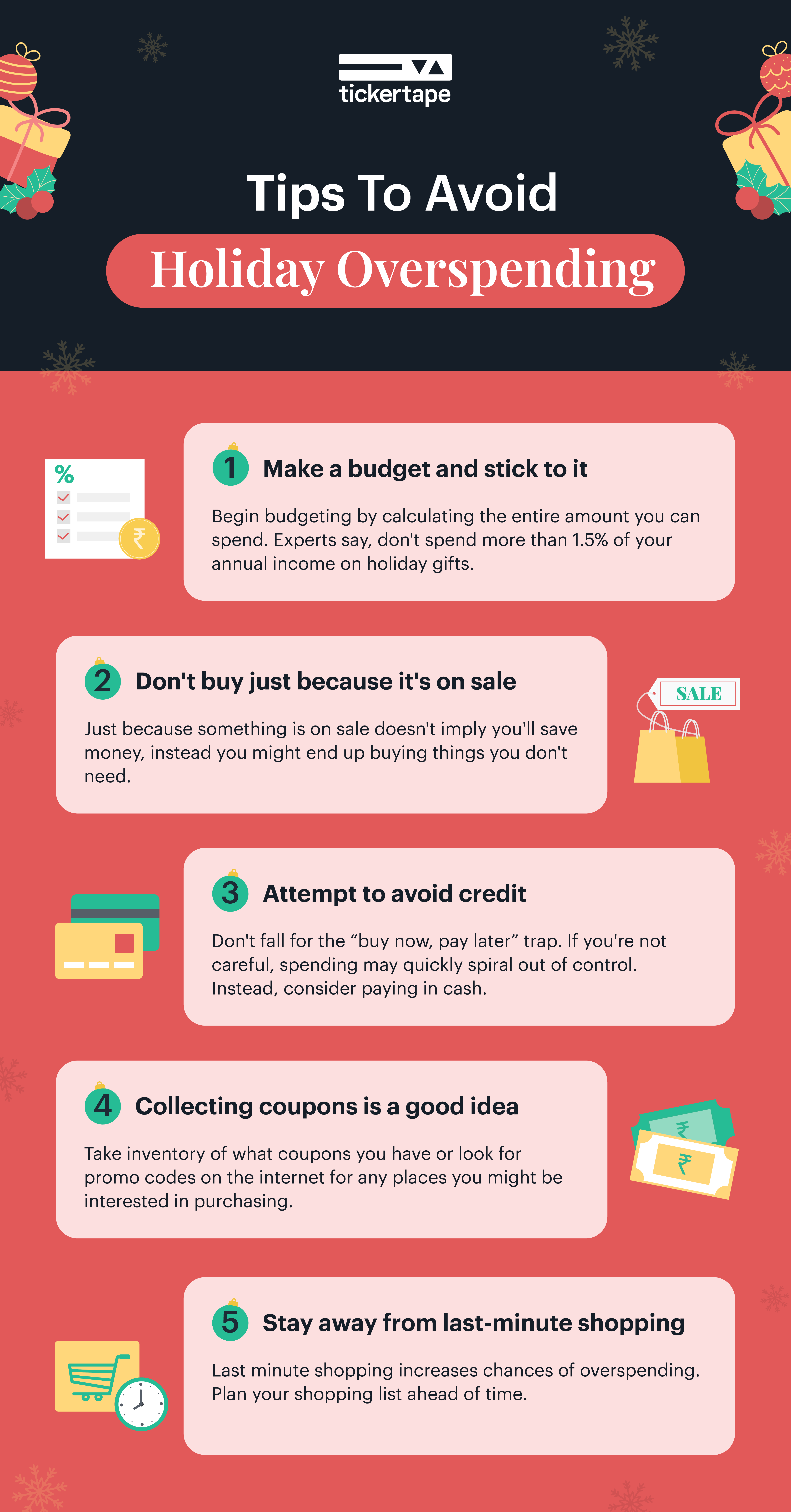 Attempt to avoid credit
According to studies, the majority of consumers lose sight of their monthly budget since the cost of the gifts exceeds their budget. Due to the "buy now pay later" option they are compelled to purchase things on credit. This sometimes can lead to regret and takes away the joy of gift giving. Always be careful about whether or not something is worth the extra credit you'll get, as well as whether it is within your budget.
Shopping habits are often the start of a financial mess. Shopping addiction is closely linked to impulsive and unexpected purchases. Loans are a terrible burden that shackles people's legs. They're also known as "buy now, pay later" loans. Getting out of the holiday spending rush and achieving financial independence is tough, and for most people, it will be pretty tricky if we add this additional debt.
Instead, pay in cash! One of the most effective strategies to avoid overpaying during the holidays is to pay in cash. It's all too simple to whip out a credit/debit card and charge it to your account. If you're not careful, spending may quickly spiral out of control. When you pay for things with cash, you can see the actual physical money you're dealing with, and you're more likely to stick to your budget.
Collecting coupons is a good idea
How often do you utilize online coupons that you've accumulated from online businesses or your credit cards? Take inventory of what you now have and plan on how you can start using them to save your money. You may go through the coupons you already have before going shopping at a local store to find a good deal. This helps save a significant amount of money.
If you're looking for a present, go online to places like Amazon or Flipkart. In internet businesses like these, you may acquire brand new things for far less than you would spend in a conventional store. Also, look for promo codes on the internet for any places you might be interested in purchasing. Simply google the store's name along with the phrase "coupon code", and you could just discover a bargain.
Stay away from last-minute shopping
We've all done it before, and it's important to know that waiting until the last minute to buy increases your chances of overspending. Especially in today's age, where time is money, this is also true for shopping. You won't have time to look for the best price if you wait until the last minute to buy gifts, and you could have to pay more for expedited delivery.
You'll be tempted to make a quick decision since you won't have time to compare shops during the frenzy of activity. Many shops boost the pricing of certain items over the Christmas season since it is a great way to make more money. You can take advantage of deals, compare prices, and find the best deals if you plan ahead of time.
Also, do not forget that the holidays are a time to rejoice, both for yourself and for others you care about. Make sure you look after yourself. It's the finest present you can offer to individuals you care about. Wish you a Merry Christmas and a Happy New Year from the tickertape family.
P.S. If you are too unsure about what to give your loved ones this Christmas, how about gifting them something that might be more attractive? Like… Stocks! You can screen stocks with good fundamentals on tickertape Screener and gift them to your loved ones. #DimaagLagana #tickertapeHaiNa
Latest posts by Ayushi Mishra
(see all)