Last Updated on Dec 13, 2021 by Aradhana Gotur
Jatin has over 10 yrs of experience in investment analysis and portfolio management. Prior to founding Stalwart Advisors in 2014, he was working with a Delhi-based family office as the head of research. He is a CFA (US) Charter holder, earned MBA in Finance from Christ University, Bangalore, and graduated in commerce from Delhi University.
Christmas is almost here which means it's time for jingles, lights, Santa Claus, and gifts too. But amidst all the expenses, you would also wish to put some money into assets that would offer lucrative returns. This Christmas, be your own Santa and gift yourself handsome returns by investing in sectors that have been waiting to blow off the lids.
In this article, investment expert, Jatin Khemani talks about sectors that could potentially help you reap lucrative rewards. Talk about a perfect Christmas gift!
There are just a few pockets in the Indian Market that still trade at reasonable valuations and present favourable risk-reward for investors. Some of them are:
Real estate
The sector is coming out of a decadal down cycle and consolidation phase. The survivors have a strong balance sheet and capable management teams to ride the ensuing up-cycle. We prefer developers who are predominantly into residential space and are leaders in their micro markets.
Anti-'ES'G
Environmental, Social & Corporate Governance (ESG) has gained enormous popularity over the last few years. Exorbitant amounts of money are being invested in companies from this sector despite having very low scores on some rudimentary parameters. Electric vehicles, for example, have gained admiration but thermal energy has been ignored. The irony of it is that the electricity that powers the EV is still mostly produced by burning coal.
In this Anti-'ES'G portfolio, one factor which isn't bypassed is G (Governance). There are several businesses being punished unfairly on ESG grounds while still being attractive businesses and scoring decently on most key parameters including corporate governance.
Travel and entertainment
Businesses that operate in this value chain shall make a strong comeback. Within this space, we prefer entertainment services like Casinos and Amusement Parks. Given how desperate people are to step out and engage in outdoor entertainment after being on house arrest for 18 mths, these businesses shall witness their best quarters ahead.
Within the Travel and Entertainment space, you may prefer entertainment services like Casinos and Amusement Parks. Given how desperate people are to engage in outdoor entertainment, these businesses shall see their best quarters ahead.
Click To Tweet
Check out Stalwart Advisors smallcase here.
It can be quite a tedious task to spend time researching on sectors that have the potential to be lucrative. With our Christmas stock picks, you can stay on top of your trades and investments this holiday season. Utilize the power of a financial expert's insight and make the most of your investments.
Now that you know the sectors that could help bring massive returns, don't just keep waiting. Plan your strategy accordingly and start watchlisting the stocks on the Tickertape. But always make sure to research properly before investing. Read about how you can do fundamental and technical analysis on stocks. It's never too early or too late to start your investment journey. So start now!
Merry Christmas and happy investing.
Disclosure: We are a Security Exchange Board of India (SEBI) registered research analyst (RA). We, along with our clients, have exposure to stocks from all the three themes shared above. This is not investment advice. Markets are risky, please consult your financial advisor.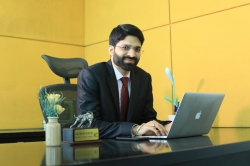 Latest posts by Jatin Khemani
(see all)