Last Updated on Feb 10, 2022 by Ayushi Mishra
Ever since the pandemic started, the pharmaceutical industry has been in the limelight, you can read the details in an earlier article that we wrote. Among other Indian players, Divis Laboratories, one of the well-known pharma companies in Hyderabad, stands out for more than just one reason. Divis share price has zoomed 112% in the last year. In recent times, Divis Laboratories share price has gained quite some traction on reporting impressive Q1 FY2021 results and being included in the Nifty 50 index.
Let's take this opportunity to evaluate Divis Laboratories Ltd's business profile, financials, and understand why it is included in the Nifty 50 index.
The article covers:
Overview of Divis Laboratories
Board of Directors of Divis Laboratories
Subsidiary companies of Divis Labs
Business segments of Divis Laboratories Ltd
Products of Divis Laboratories
Peers of Divis Laboratories Ltd
Divis Laboratories share price
Last 4 yrs' financials of Divis Labs
Income statement of Divis Laboratories Ltd
Cashflow statement of Divis Labs
Recent developments in Divis Laboratories Ltd
Overview of Divis Laboratories
Divis Labs has been a crucial player in the arena of manufacturing active pharmaceutical ingredients (API). Today, the 30-yr old drug firm has established itself as one of the top 3 API manufacturers of India and also as one of the recognized global leaders in the domain.
About Divis Labs
Started in Hyderabad in 1990, Divis Labs owns 2 manufacturing units, one in Hyderabad and the other in Vizag. These have been inspected several times by various health authorities including USFDA, EU GMP, TGA, HEALTH CANADA, TGA, ANVISA, and COFEPRIS.
Divis Laboratories is considered to be a 'Reliable Supplier of Generic APIs' and a trustworthy 'Custom Manufacturer' to 'Big Pharma', the global pharmaceutical industry. It is backed by highly competent management, 11,000 highly-trained professionals, and 350 scientists, together who work to offer world-class products that adhere to the highest compliance levels to over 95 countries.
Milestones of Divis Laboratories
Following is a timeline displaying various achievements of Divis Laboratories Ltd:
1990: Established Divi's Research Centre (DRC)
1995: Set up its 1st manufacturing facility operations at Choutuppal, near Hyderabad
1997: Filed its 1st first USDMF
1999: Filed its 1st Certificate of Suitability (CoS) in Europe
2000: 1st USFDA inspection
2002: Started its 2nd manufacturing facility at Chippada, near Visakhapatnam
2005: Won a National Award for Excellence in Water Management by the Confederation of Indian Industry (CII)
2007: Launched a Nutraceutical facility at Chippada unit
2008: 1st MFDS (Korea) inspection
2010: Started a new Research Centre in Hyderabad
2011: 1st EU GMP and Japan PMDA inspection
2012: MD was given the India Business Leader Award by CNBC TV18
2012: 1st TGA inspection
2012: Received CNBC TV 18's India Business Leader Award 'First Generation Entrepreneur of the Year'
2013: 1st Slovenian Medicines Agency inspection
2013: Ministry of Commerce & Industry awarded the "Premier Trading House" certificate
2014: Won The Golden Peacock Award for CSR initiatives2014: Crossed sales revenue of Rs 2500 cr with 18% growth rate
2014: First COFEPRIS inspection
2015: Inaugurated its Corporate Office in Hyderabad
2016: Crossed sales revenue of Rs 3,700 cr with a 22% growth rate
2017: Made it to the top 3 API manufacturers in the world and top API companies in Hyderabad
2018: Reached the market capitalisation of $5 bn
2018: Added more to the product portfolio to reach the mark of over 30
2019: Commenced expansion of manufacturing facilities with Rs 1800 cr
2019: Joined the list of the largest API manufacturers in the world
Board of Directors of Divis Labs
Divis Labs' board comprises of 12 members
Managing Director: Dr. Murali K. Divi
Executive Director: N. V. Ramana
Whole-time Director & CEO: Dr. Kiran S. Divi
Whole-time Director (Commercial): Nilima Motaparti
Whole-time Director (Projects): Madhusudana Rao Divi
Independent Director: R. Ranga Rao
Independent Director: K. V. K Sheshavataram:
Independent Director: Dr. S. Ganapathy
Independent Director: Prof. Sunaina Singh
Independent Director: K. V. Chowdhary
Subsidiary companies of Divis Labs
Divis Labs has two fully-owned subsidiary companies:
Divi's Laboratories (USA) Inc.
Divi's Laboratories (Europe) AG.
Business segments of Divis Laboratories Ltd
Generic APIs
Custom Synthesis
Nutraceuticals
Products of Divis Laboratories Ltd
Divis Labs' products are known to be of high quality and pass through stringent quality checks. It offers over 30 products including:
Capecitabine
Carbidopa
Diltiazem HCl
Dextromethorphan Base
Dextromethorphan HBr
Fosphenytoin Sodium
Gabapentin
Iopamidol
Pregabalin
Beta-Carotene
Canthaxanthin
Vitamin D
Vitamin A
Vitamin E
Lycopene
Lutein
Astaxanthin
Peers of Divis Laboratories
Divis Labs competes with peers including Syngene International Ltd, Dishman Carbogen Amics Ltd, Vimta Labs Ltd, and Brooks Laboratories Ltd. Here's a snapshot of the valuation metrics of these companies.
You can also see how Divis compares with its peers based on technicals and forecast, on the Peers tab of Divis Labs stock page on Tickertape.
Divis Laboratories share price
As mentioned, Divis share price has zoomed 112% in the last year. Here's a chart comparing Divis Laboratories share price movements with that of Syngene International, and Dishman Carbogen Amics from 28th Aug 2019 to 25th Aug 2020. You can compare Divi's Labs with any other stock that you wish here.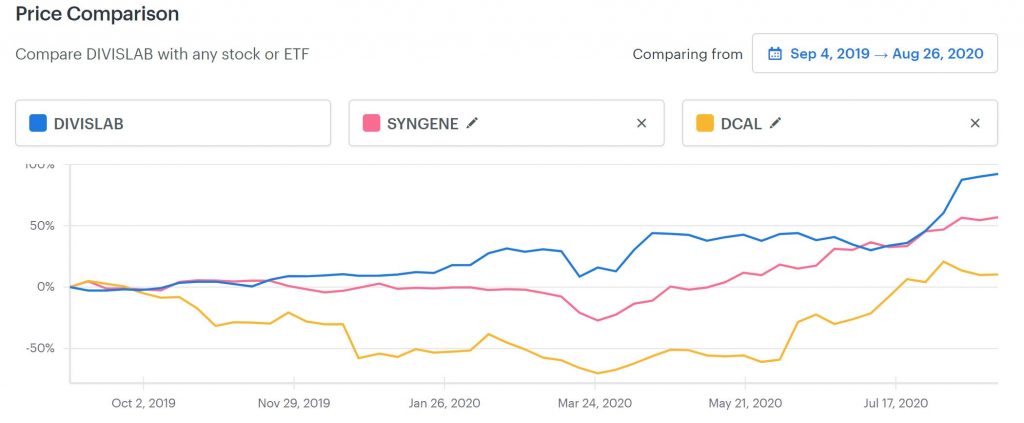 Last 4 yrs' financials of Divis Labs
Below is the comparison of Income Statement, Balance Sheet, and Cash Flow Statements of the drug firm for the last 4 yrs.
Income statement of Divis Laboratories Ltd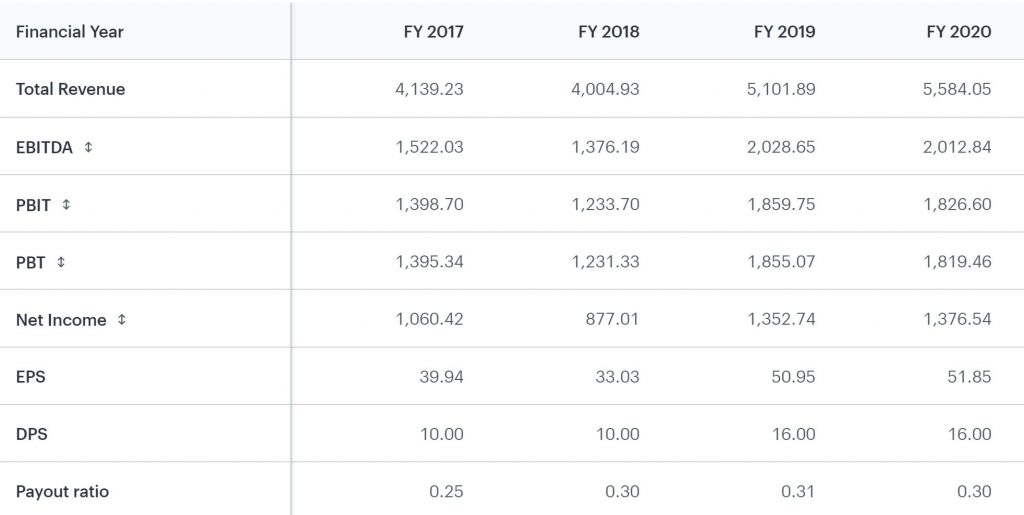 The above table shows that Divis Labs' revenue has been steadily rising except in the FY2018. However, its net income and EBITDA have remained more or less stable for FY2017, FY2019, and FY2020, and not shown significant change, again except for 2018. This may be because the drug firm incurred Rs 1,800 cr capital expenditure in that year.
The above chart shows that Divis has been generating revenue and net income lower than that of industry average over the last 5 yrs. But if you wish to do an in-depth analysis of Divis Labs, you can check out the quarterly financials feature of Tickertape, which allows you to analyse the short-term performance of the stock. Here's how you can get there: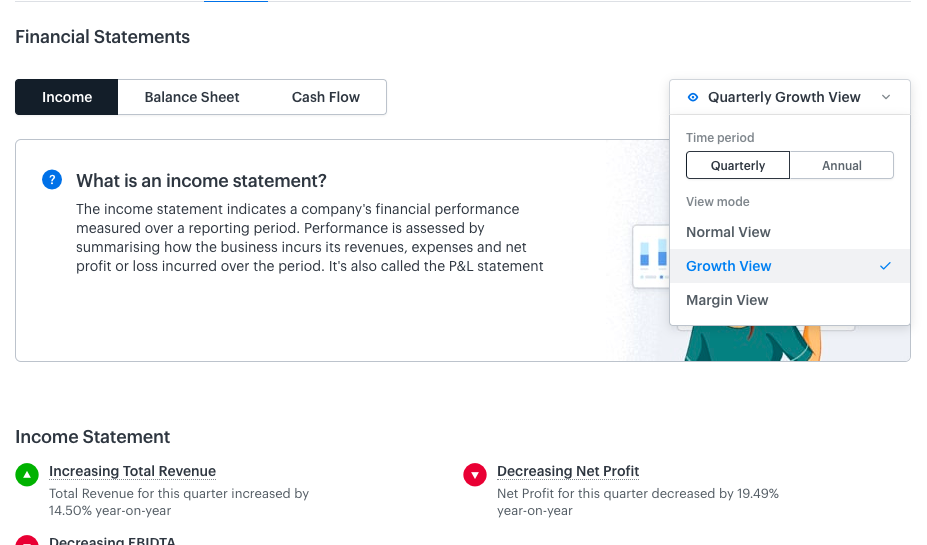 Balance sheet of Divis Labs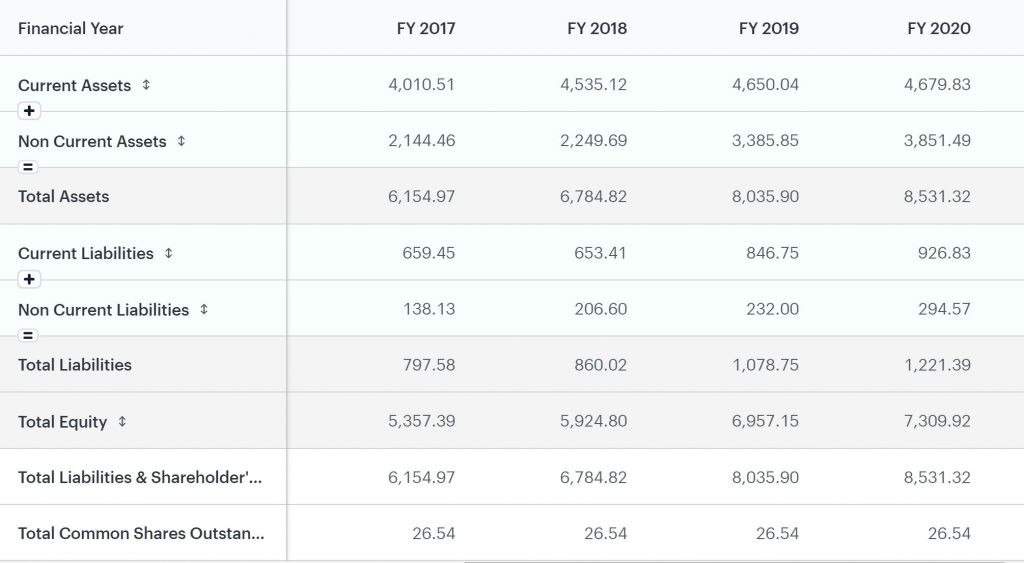 | | | | | |
| --- | --- | --- | --- | --- |
| | 2017 | 2018 | 2019 | 2020 |
| Debt-to-equity ratio | 0.15 | 0.14 | 0.15 | 0.17 |
| Current ratio | 6.08 | 6.94 | 5.50 | 5.05 |
Generally, a high debt-to-equity ratio shows that the company is highly leveraged and can be risky for investors, depending on the industry it belongs to. It also means that creditors have a relatively higher stake in a company' assets than the shareholders.
Thankfully, Divis Labs' debt-to-equity ratio is less than 1. This means that the company is not heavily financed by debt and that the shareholders have a higher stake on its assets than the creditors. Further, the current ratio has mostly been declining over the years. Still, Divis Labs has ample current assets to meet its current liabilities, which is a good indicator.
When compared to the 5-yrs' industry average of the debt-to-equity ratio of 14.23%, Divis Laboratories has exceeded the metric with an impressive 0.95%. On the other hand, the company defeats the industry average of current ratio just slightly.
Cashflow of Divis Labs

Tickertape compiles 9 yrs' financial statements for every stock. Visit Divis Labs' stock page to view information for all the 9 yrs.
Recent developments in Divis Laboratories Ltd
Recently, Divis Laboratories reported impressive Q1 results for FY2021 following which the stock hit a fresh 52-week high. The drug firm, which is one of the top pharma companies in Hyderabad, reported a consolidated net profit of at Rs 492.06 cr, an 80.61% increase y-o-y. This was, however, courtesy of its robust sales, not an advantage of the pandemic. Further, its total income rose to Rs 1,747.80 cr from Rs 1,193.20 cr y-o-y and EBITDA zoomed 80.8% y-o-y.
Another important point to note is about Divis capital expenditure. As per experts and analysts, Divis' major capital expenditure of Rs 1800 cr on the expansion of manufacturing facilities would be completed in FY2021 and would start reaping commercial benefits in FY2022. This would also boost earnings in the near future. But what makes this point significant one is because, in the past, the drug firm has incurred a capital expenditure only when they saw strong growth visibility.
Opportunities for Divis
Talking of opportunities, Divis Laboratories has a situational advantage gifted by the pandemic, given most global pharma companies are looking to diversify their supply chain outside China. With ample governmental support in the form of policies and reforms and Divis' continued efforts, the drug firm may have new milestones lined up in the near future.
Risks of Divis Labs
Despite all the sheen that Divis has, the drug firm is not free of risks:
It earns about 47% of its revenue from top-5 molecules, which signifies that the drug firm faces concentration risks
Even though Divis Labs stands to benefit from the situational advantage of the pandemic, it may have to resort to price discounting to overcome stiff competition from global and domestic players
Conclusion
Divis Laboratories is a strong company having growth opportunities. But as an investor, it is your responsibility to do an overall-analysis of stock before making a buying or a selling decision. We are merely an informational entity who offer tools to facilitate in-depth analysis and smart investment decisions.
Happy investing!

Latest posts by Aradhana Gotur
(see all)