Last Updated on Jun 16, 2022 by
With Jio- bp's electric vehicle, your next delightful Zomato order is ready to be delivered!
Zomato Ltd has inked a pact with Jio-bp to electrify Indian roads, accelerating the company's objective of having a 100% electric vehicle (EV) fleet by 2030. Jio-bp will provide EV mobility services to the food aggregator and access to branded 'Jio-bp pulse' battery switching stations for last-mile delivery.
Why is EV gaining traction?
According to the Mordor Intelligence report, the Indian electric vehicle market is expected to reach the US $15,397.19 bn by 2027, with an estimated compound annual growth rate (CAGR) of 47.09% during the forecast period (2022-2027). This gives good leverage to Reliance Industries Limited (RIL) and Jio-bp to facilitate the electrification of Indian roads with EVs.
Jio-bp driving the EV wave!
Jio-bp is moulding an ecosystem that will benefit the all-electric vehicle value chain and stakeholders. Previously, Jio-bp built and launched two of India's largest EV charging stations.
The Jio-bp pulse brand represents the JV's electric mobility company, which provides charging infrastructure to Indian consumers. This is a significant step in India's mobility roadmap, as customers can now use the Jio-bp pulse mobile app to identify nearby charging stations and charge their EVs seamlessly.
Zomato follows Amazon and Flipkart
Zomato joins EV100, a global campaign of firms dedicated to transitioning their fleets to electric vehicles by 2030, following in the footsteps of Amazon and Flipkart. As a result, the Jio-bp relationship will assist them in resolving the last mile delivery challenge with high-performance batteries that provide an improved on-road range!
The partnership is anticipated to speed EV adoption in India's fast-increasing delivery and transportation sectors!
So, whether it's ordering scrumptious Biryani or finger-licking burgers – it's all convenient in a sustainable way with Zomato x Jio-bp now.
And, in case you're wondering what impact this partnership has on the two businesses? #Tickertapehaina, start screening stocks using Tickertape's Stock Screener, keep an eye on upcoming market trends and choose top stocks to add to your investment portfolio. Easy!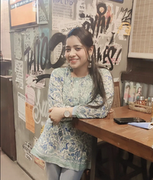 Latest posts by Neera Bhardwaj
(see all)