If I tell you that you can research all your favourite stocks, invest in them, manage your stock and mutual fund portfolio, rebalance them, and get information like forecasts, experts' opinions, red flags, and so much more about any stock at one place, would you believe it? Well, you have to! Because Tickertape provides you with all of it and so much more in one place. Let's explore how to invest in the stock market and how you can use Tickertape to enhance your journey of stock investing.
How to invest in the stock market?
Before you begin investing in the stock market, you need to create a Demat account and set it up with the help of a professional. Below is a brief of what you need to know.
Select an intermediary (broker)
The direct buying and selling of shares in the stock exchanges are not allowed. Only an authorised company or individual by the Security and Exchange Board of India (SEBI) is permitted. The individual can be a broker. These companies or brokers act as intermediaries and can trade shares in a stock exchange on your behalf. For the intermediary service provided, the broker charges a fee from you.
Open a Demat account
A Demat account is used to hold shares and securities in electronic format. Earlier, the process was offline, i.e. the shares were issued in paper format. Listed below are the documents you need to open a Demat account.
Photo ID proof like a PAN card, Aadhaar card, driving licence or voter ID card.
Address proofs like driving licence, passport, utility bills, etc.
Proof of the bank account, like a bank passbook or account statement
Whether you go online or offline, you will need these documents to open a Demat account. To open the account online, follow the below-mentioned steps –
Visit your broker's website and open a Demat account for free.
Fill out the Demat application form.
Scan and submit the required documents.
Provide your bank account details to transact.
Once your account is verified, the Demat account will be opened.
Start analysing, buying and selling
After your account is created, you can transact on the stock exchanges in India. But imagine this, you check the price of a stock on one platform, and by the time you log in to your broker account, the price has changed, and now, you can't place your order. To make the process and your life easier and better, Tickertape allows you to connect your broker account with the platform and transact from the platform directly without any extra charges.
Tickertape is your one-stop solution for all your stock research and investment needs. From researching your best stocks to adding them to your portfolio, rebalancing, and tracking their performance, all of it can be done without even exiting the app/web. Let's look closely at how you can use Tickertape to enhance your stock investing experience.
Tickertape Stock Screener – Your stock investment buddy
To smoothen your process of filtering stocks, Tickertape presents an intuitive Stock Screener loaded with various features such as –
Over 200 filters: Tickertape offers you over 200 filters to help you screen stocks based on different themes or preferences.
Custom filters: In case you can't find the filter you are looking for, you can create one using the custom filter option.
Custom Stock Universe: Nifty 50, Nifty 500, Nifty 100, and more are stock universes available on the platform. You can create a custom universe of any stocks that you are tracking to make the process easier.
Pre-Built Screens: When you have pre-built screens, why put efforts into screening stocks separately? At Tickertape, we have 18 pre-built screens with different themes to make your life easier.
Take data offline: Tickertape allows you to export your shortlisted stocks in CSV format.
Now that you have a basic understanding of the Tickertape Stock Screener, let's look at how you can use it to research stocks effectively.
Example 1: Screen top Nifty 500 stocks based on their net profit margin.
Step 1: Go to Tickertape Stock Screener, and select 'Nifty 500' universe from 'Stock Universe'.
Step 2: Click on '+Add Filter' and click on 'Profitability' and select 'Net Profit Margin'. Alternatively, you can search for it in the search bar.
Step 3: Sort the list based on the 'Net Profit Margin' from highest to lowest.
The list now is the top Nifty 500 stocks based on their net profit margin. Easy peasy, right?
Now you can add any other filter that you want to sort the list of top stocks with.
Example 2: Screen low-risk, large-cap stocks that help in achieving market-beating returns
Step 1: Go to Tickertape Stock Screener and click on 'All Screens'. There are various screens in front of you.
Step 2: Click on 'Basic' and select 'Limited Variability'. Click on Load.
There you go! You get the list of low-risk, large-cap stocks. You can sort them based on default filters or can add filters of your preference.
Individual stock analysis made easy
To deepen your understanding of any stock, we have introduced a 'Scorecard'. Get quantitative insights for quick stock analysis with Scorecard.
The Scorecard assigns scores or ranks to important parameters you would look at when evaluating a stock. The scores are as follows:
Performance and financial score: First four cards, namely, Performance, Valuation, Growth, and Profitability, summarise the performance and financials of the company with scores on a scale of 0 to 10.
Entry point based on fundamentals and technicals: These cards help evaluate if a stock is worth buying at the current price relative to its intrinsic value and at the current price (based on technical indicators).
Red flags: These are divided into five separate metrics to give you clarity on what exactly the red flags are.
With a transparent scoring system, these scores give actionable information and allow you to make quicker, data-backed conclusions on whether a stock is good to invest in or not. Moreover, these take the stock's peers into consideration, so you know how a particular stock is faring in the industry.
Enhance your portfolio
After you have invested in your best stocks, it is a matter of weeding out the underperformers and holding on to or adding the best performers based on your current portfolio status. To help you analyse and enhance your portfolio, we offer the following benefits in our 'Portfolio' feature:
You can view your investments across sectors and market caps through the flow chart, making it easy to get an instant peek into how your funds are invested across sectors and market-cap categories.
Know how well-diversified your portfolio is using the diversification score. The Diversification score also indicates how volatile your portfolio is. Ranging from 1 to 100, the higher the score, the more diversified and less volatile your portfolio is.
View your top holdings and their weightage in your portfolio in a jiffy.
You can monitor your smallcase portfolio on Tickertape. We have integrated a 'smallcase' section under Portfolio to give you a sense of how they are performing from Tickertape itself. This helps you identify the top-performing smallcases and the laggards as well and thus helps you make better decisions based on the performance of the portfolio.
You can easily understand how your portfolio is valued, along with its volatility.
Score your portfolio based on key fundamental and technical indicators to weed out the underperformers. There are four kinds of scores: valuation, momentum, growth, and quality. In all cases, the higher the score, the better the stock is.
Identify stocks with potential red flags in your portfolio.
See how your portfolio is expected to perform in the next one year. Price forecasts give you a rough idea of how much returns you can expect from your investment portfolio in a given period.
So, what are you waiting for? Connect your portfolio with Tickertape NOW!
Plan your retirement with Tickertape
Yes, you can plan your retirement by investing in stocks that can provide long-term returns and growth to your portfolio. To discover such stocks, follow the below-mentioned steps:
Step 1: Go to Tickertape Stock Screener and click on 'All Screens'.
Step 2: Click on the 'Premium' screens and select 'Retiring in Style' by clicking on 'Load'.
The list in front of you displays the stocks that are of long-term growth companies. It can help you plan for your sunset years. Don't trouble yourself in your golden years. Start your investment journey today with Tickertape!
Conclusion
To wrap up, you can easily invest in the stock market using Tickertape. It helps you ease the research process, gives deep insight into each stock, helps you manage and rebalance your portfolio, and allows you to view smallcases from the platform, connect your broker account and invest directly in stocks. There are many more surprises waiting for you when you sign up with Tickertape. Don't wait; sign up today!
FAQs
How to invest in the stock market?
To begin investing in the stock market, you need to create a Demat account via any intermediary (broker). After the account is created and verified, you can start your investment journey via Tickertape. From getting the best stocks at your fingertips to identifying red flags in your portfolio, you can connect your broker account and invest from the platform directly. Explore it today!
How to identify red flags in any stock?
Tickertape allows you to identify red flags in stocks using the 'Scorecard'. The red flag feature combines five indicators – promoter pledged holding, ASM and GSM lists, probability of default, and unsolicited messages. With a clear picture of any red flag present in the stock, you can make data-backed decisions. 
How many people invest in the stock market in India?
India has ~11 cr. Demat account holders as of January 2023 as against 8.4 cr. in 2022. But even with these massive figures, it is estimated that only 3% of Indian households are actively investing in the stock market, started Choice India in one of its articles. The number is really low in comparison to other countries. For instance, the USA is at 55%, the UK at 33%, and China at 13%.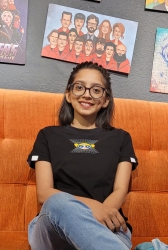 Latest posts by Anjali Chourasiya
(see all)