Last Updated on Apr 6, 2021 by Manonmayi
Imagine your bank account is credited with money that wasn't intended for you. Ethically, you should be reversing the transaction. But then, you may choose not to….. for the right reason. Could there be a right reason? Well, yes. If the law states, who has a say?
Now, let's paint a picture for you. A global bank, acting as a loan agent, accidentally transfers millions of dollars to its customer's creditor. The creditor refuses to repay the funds. To worsen the situation, the parties have legal backing. But that's not all. The fund that the bank has mistakenly paid is from its own pockets. What a bummer! Now, which bank are we talking about? The sophisticated, global Citibank. Interesting, right? Wait for the deets.
The article covers
What is the rule and what is the ruling?
A boon in disguise for the asset managers
So did Citibank really lose $500 mn?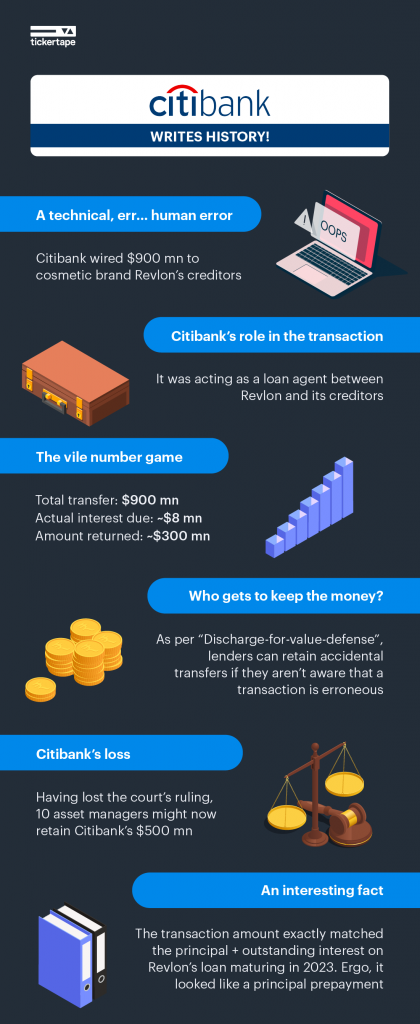 The great human error
Last year, Citibank had to pay $8 mn in interest to cosmetic brand Revlon's group of lenders. Unfortunately, in what it calls a human error, Citibank wired $900 mn to the creditors! We aren't even talking change, we are talking hundreds of dollars. Naturally, Citibank, as anyone else would do, reached out to the group of lenders asking for refunds.
Did Citibank regain or lose?
While some lenders returned their share to Citibank, 10 asset managers simply refused to pay back $500 mn! Naturally, the bank knocked on the doors of the law seeking justice: a full refund. Sadly though, US District Judge Jesse Furman ruled that the transfers were "final and complete transactions, not subject to revocation." Meaning, Citibank may have to simply forget its $500 mn.
On the face of it, the ruling looks unfair. Citibank also contends the same and now intends to file an appeal. But what's to say when the law has a different rule in place? One that allows the lenders to keep the wrongly credited money—LEGALLY (thankfully, only keep the funds and NOT spend).
What is the rule and what is the ruling?
Wrong transfers should ideally be detected by banks and avoided as these institutions have stringent approval procedures. Ergo, the Judge said that believing the reputed Citibank's claim of the transaction of $900 mn is a result of human error would be irrational. Surprisingly, this error is the first of its kind in banking history!
Secondly, New York has something called "discharge-for-value-defense", which entitles creditors of an unintended fund transfer to retain the money if they weren't aware of its erroneous nature. Incidentally or coincidentally, Revlon's lenders claim that they thought the funds to be towards the prepayments of a loan due in 2023. And, it seems like the accuracy of the amount transferred only tipped the scale in their favour.
A boon in disguise for the asset managers
Although this is a sticky situation to Citibank that has paid from its own pockets, the event is rather a boon in disguise for the lenders. The recipients of the wrong transfer have been battling with a struggling Revlon over a 2016's term loan that was restructured in May 2020. The loan will now mature in 2023. Ergo, the transfer which was the exact match hardly looked like an error but more like a prepayment.
So did Citibank really lose $500 mn?
Well, not yet. Citibank refuses to budge; says it wants to appeal. Ergo, as of now, there is a restraining order in place.
The takeaway
Whether Citibank wins or loses its appeal, the accidental transfer should teach banks a valuable and evergreen lesson. That is, banks should have stringent internal controls to review transactions before they are approved. Banks have a maker, checker, and approver process to validate a transaction before it is completed.
By virtue of this, transactions of a sizable amount typically pass a strict and layered approval process before the funds are sent out. This internal control can detect errors at any stage and prevents accidental wires. Ergo, banks need to be more vigilant in these matters to avoid ugly events such as Citibank's.
Latest posts by Aradhana Gotur
(see all)