Last Updated on May 12, 2023 by Anjali Chourasiya
Carysil Limited (formerly known as Acrysil Limited) was incorporated in 1987. Mr Ashwin M. Parekh founded it in collaboration with a German company Schock GMBH. Mr Chirag A. Parekh currently runs the company.
Revenue Streams of the company
Kitchen sinks
Until FY 2022, the company had its major revenue coming in from the sink business, about 91% of the revenue. The sink industry is dominated by stainless steel sinks which are 90% of the total sink market, and Quartz sinks comprise the remaining sink industry. Sinks are sold by Carysil globally in more than 50 countries, including USA, UK, Europe, and Germany, through subsidiaries and multi-brand outlets like Ikea Menards Grohe. After FY 2022, there was an acquisition of Tickford Orange Limited (TOL), which is the wholly owned subsidiary of Sylmar Technology Limited (STL)
Quartz sinks – The major revenue contributor is the Quartz sink which is about 53% of the top line. The Quartz sink is a composite of granite and acrylic resin used in the production, which makes these sinks durable and gives them a good look. It sells its Quartz sinks through distributors like Ikea, Menards, B&Q, and Grohe. It also sells these sinks through its subsidiaries in the UK (Homestyle). Domestically it sells Quartz sinks through its brand like Carysil.
The company saw a 5-yr volume CAGR of 20% between FY 2017-2022. The realisation has remained in the same range (grew at a 5-yr CAGR of 4%).
Stainless steel sinks – These are very commonly seen; most people use this sink as it is comparatively cheaper. Carysil calls these the Press Sinks was always a commodity product. Still, as stated earlier, Carysil is focused on making high-margin products, so they have introduced Quadro sinks, a modified stainless sink that is more costly than the Quartz sink.
Appliances and others
The appliances' product line includes chimneys, dishwashers, cooktops, wine chillers, etc. These products are sold under the brand 'Carysil', which also sells bathroom fittings like quartz tiles, concrete tiles, ceramic tiles, etc. These products are sold under the brand 'Sternhagen'.
Solid surface sinks
CARYSIL entered this product category by acquiring Tickford Orange, UK, for Rs. 110 cr. (~0.9x sales). TOL is the holding company of STL, a manufacturer, distributor and customiser of high-quality solid surface products for kitchens and bathrooms for both domestic and commercial use. TOL enjoys an estimated 35% market share. STL has three key brands – Maia, Minerva and Metis. This was a strategic acquisition in terms of strengthening the UK business while expanding its product portfolio. It would also give them more cross-selling opportunities.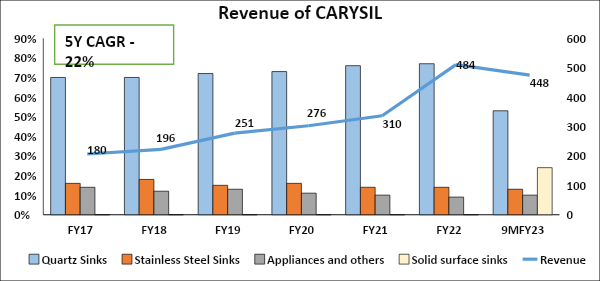 Business Model (Value Chain)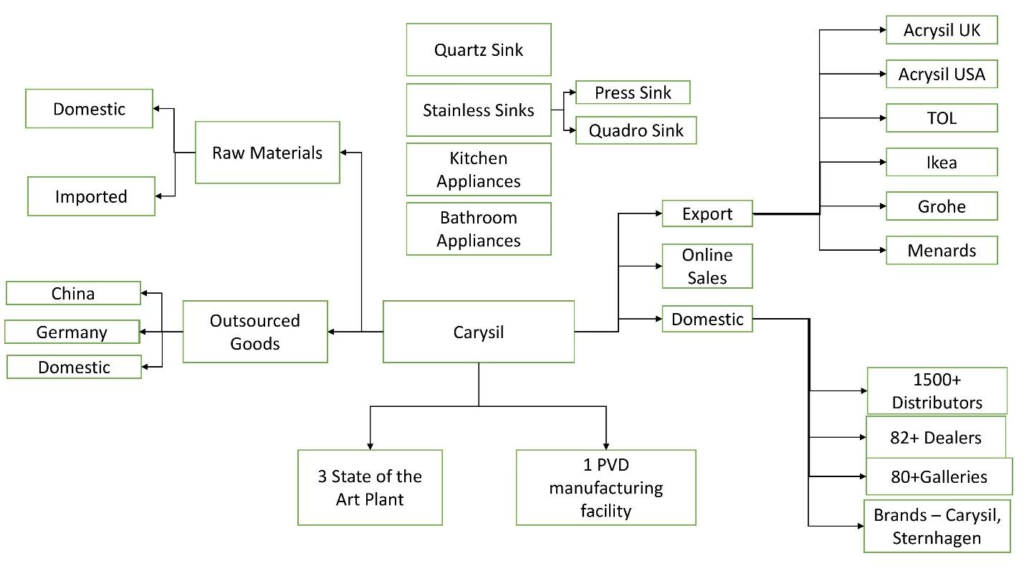 Supply side
The company imports raw materials as well as buys from domestic suppliers. The major raw materials are Coated Silica, Granucol (Quartz sand), Polymethyl Methacrylate, Methyl Methacrylate, and Colour Pigments. These raw materials are used in manufacturing quartz sinks.
The company has 3 manufacturing facilities which can produce 10 lakh Quartz sinks, and about 2.7 lakh stainless steel sinks a year.
The kitchen and bath segment has most of the goods which are outsourced to different suppliers in recent times; Carysil is trying to bring some kitchen and bath products in-house.
Demand side
Major revenues come from the export markets. They sell through their subsidiaries in the export markets, and retail chains like Ikea Grohe Menards are selling their products. The company has opted for FOB contracts (Free on Board means the seller has to bear the freight costs), so they have lesser risks and costs once shipping is done. Grohe, one of the big retail chains in the USA, has identified Carysil as a single supplier of sinks and Carysil. The company has been in contract with Ikea since 2020, and Ikea doubled the quartz sinks requirement in 2022. These retail chains have a very strong customer base, so doing contract manufacturing and giving the best quality sinks to these chains makes Carysil stand out. As cost structures in India are frugal, it gives Carysil a good edge as sourcing sinks becomes cheaper for these retail chains.
In India, they sell under their own brand (Tek Carysil, Carysil and Sternhagen). They have about 2,800 dealers, 80+ galleries and distributors. The products made by Carysil are in the higher range when it comes to pricing, and India is a market where the consumer is aware of prices, so domestic sales are not growing in line with the company's revenue. In the last 5 yrs, the company's revenue grew at 21% CAGR while domestic sales grew at just 13% CAGR.
As trends in India change and more people aspire to use premium products, this number might increase. As the company knew that most people use steel sinks, they even introduced affordable press sinks to maintain the stickiness of dealers and distributors.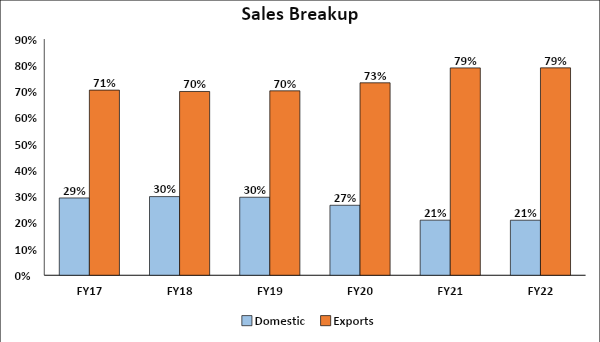 Growth drivers
Quartz sinks – The dynamics of the sink industry have been changing, and consumers in the West have started shifting from steel sinks to quartz sinks due to the aesthetic appeal of Quartz sinks. Though the shift is slow as fewer players in the Quartz sink industry, these players benefitted. The margins for these sinks were higher, driving the bottom-line growth. Carysil has about 15% market share in the global quartz sink market. These sinks are made by the German Schock technology, and only 4 players globally make sinks with this technology.
Housing demand – The American housing market saw very strong growth. About 6 mn houses were sold in the year 2021. The prices of houses have skyrocketed by 20% through the third quarter compared to a year ago. The boom in the housing market had bought a boom in the home décor sector. The company Carysil Limited produces high-quality composite Quartz sinks which are aesthetically pleasing. Now people who buy houses see sinks as a part of home décor, and they have started using composite Quartz sinks.
Tie-ups with retail giants – Amidst this housing market boom, the company made some meaningful tie-ups with retail giants like Ikea Grohe and Menards. After the tie-ups with these retail chains, the company has seen really massive growth. The strong product met strong distribution, and this caused great disruption.
Capex – The capex of FY 2022 was a greenfield capex which expanded the capacity of the Bhavnagar Plant from 8.4 lakh quartz sinks to 10 lakh Quartz sinks. Carysil had also planned to increase by more than 2 lakh units, but because of the tough environment, they had to postpone it. The asset intensity has been increasing for Carysil.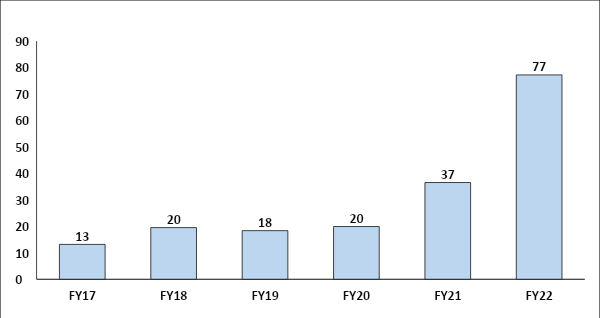 Competitive Advantage
Strong partnerships – As explained above, the partnerships with Ikea Grohe, Menards, and other retail chains have worked well for the company.
Pricing power – In previous years, Carysil has been able to pass on all raw material price hikes to its customers. Carysil is one of the four players making Quartz sinks with this technology, so the pricing power is with Carysil.
Competitiveness of industry – Carysil operates in an industry selling a premium product; hence competition is on innovation and not pricing.
Strategic acquisition – By acquiring UK companies, it has also entered new products. They are able to introduce their products to the customers of the companies they acquired.
Risks
Real estate slowdown – Carysil grew because of the booming real estate cycle, but as the real estate cycle slowed down, you would see a slowdown in the business. Also, we see the company has also postponed its plans for expansion due to the slowdown.
Raw material fluctuations – The majority of MMA is imported from China. Hence, there is a risk of a levy of ADD on some imports from China. There is also a risk of shutting down chemical factories in China due to environmental reasons, leading to supply issues for MMA.
The concentration of manufacturing units – The company has all its plants in the Bhavnagar district. Coastal areas like Bhavnagar are prone to heavy rainfall, cyclones and earthquakes. There have been 10 major disasters due to heavy rainfall from 1982 to 2021.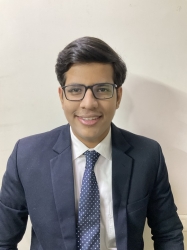 Latest posts by Dhruv Rathod
(see all)