Last Updated on Mar 11, 2020 by Komal Roy
On a bright sunny morning in Wuhan, China; someone craving for hot and spicy fish went to the fish market and became a carrier. Little did they know of the impact.

China is the manufacturing hub of the world and has reported a 2% reduction in output on an annual basis. This cut has ripple effects on the global economy and thus far has caused an estimated drop of about USD 50 billion across countries.
How much does it impact India?

India is among the top 15 economies most affected by the slowdown of manufacturing in China. In figures, the losses stand to be at 348 million dollars.

The impact is so huge that RBI governer Shakitkanta Das has made a note it. He has assured the RBI will co-operate should a situation arise where intervention is required. He also mentioned there are enough resources to fight the crisis, given the robust forex reserves, he also called for the IMF to launch currency swap lines to ease the liquidity pressures globally.

Indian Economy had been suffering from a slowdown way before coronavirus hit the market. GDP growth had slowed down for six consecutive quarters, descending to 4.5%. and the global market slump couldn't have come at a worse time.

Make hay while the sun shines
Experts never fail to look at the silver lining, do they? believe the current scenario presents an opportunity for achieving a high growth rate by increasing exports. India stands a chance to become the knight in shining armour for companies needing manufacturing hubs, provided the government is quick enough to modify the trade policies, bring down the commodity prices and contain the pandemic.

Let's not ignore the series of challenges India faces. Pharma companies, mobile handset, consumer electronics and automobile sectors in India may witness lower production due to clogged supply from China. There could be an indirect impact on producers who source their raw materials or components from China.

Raining masks with a chance of recession
China accounts for 12% of the world's GDP. There was a brutal drawdown in global financial markets might, this may indicate we're on our way. The best to measure this is by tracking the valuations of risk assets. An HBR author very rightly said, "Though market sentiment can be misleading, the recessionary risk is real".

Recession or not, a crisis is on its way and the road to recovery depends on the degree to which production and demand will be delayed.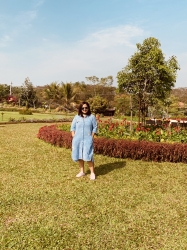 Latest posts by Komal Roy
(see all)