Last Updated on Feb 8, 2023 by Anjali Chourasiya
Investing in the stock market can be a lucrative opportunity, but it requires careful consideration of market fluctuations and a deep understanding of market conditions. One useful metric in evaluating potential investments is the 52-week high/low, which reflects the highest and lowest prices of a security over a 52-week period. In this article, we will explore the significance of the 52-week high/low, how to find 52-week low stocks, if you should buy those stocks and how to discover stocks near 52-week lows using Tickertape Stock Screener.
What is a 52-week high and low?
The price of securities in the stock market are recorded at their highest and lowest values. Thus, the 52-week high/low is the highest and lowest price point at which a security has traded over the past year. It is based on the daily closing price for the security.
The 52-week high/low is a technical indicator of a stock's performance in the market. It helps in analysing the current value of a stock and its future price movement. It helps investors determine an entry or exit point for a given stock.
Significance of 52-week high/low
Traders show increased interest in a stock that nears its 52-week high or low. This is because traders use the 52-week high/low indicator to determine a stock's entry or exit point. The 52-week high can be used as a resistance level and the 52-week low as a support level.
However, a stock may surpass its 52-week high and continue an upward streak, representing a bullish market sentiment and trend continuation. This scenario indicates that certain factors have caused enough momentum to take the stock price above its 52-week high. As a result, traders believe that the upward momentum will continue, making it ideal for initiating a new long position.
The same logic applies to a stock that falls below its 52-week low. In this case, the trader can go short and sell the stock. However, believing that such an undervalued stock will go higher in the future may be a risky bargain.
What does a 52-week low indicate?
The 52-week low is the lowest price of security recorded over the past year. It is a vital parameter to consider before investing in a particular stock. Many traders consider the 52-week low price as support and devise a strategy accordingly. However, it is possible for a stock to go below its 52-week low. It indicates a downward trend.
Hence, the reason for a stock touching a 52-low week should be critically evaluated to understand if it makes for a sound investment. Though a stock near its 52-week low gives an opportunity for future growth, investors must not confuse the 52-low week of stock with undervalued stocks.
Consider a stock XYZ trades at Rs. 100. The result of the company is stated to be realised. Results come out tepid, and the price of the stock crashes. Now, an internal factor caused the stock to crash to its lowest. But sometimes, external factors can contribute to stocks touching their 52-week low. The Covid-19 market crash can be a prime example where major stocks touched their 52-week low.
How to find stocks near 52-week lows?
Are you considering an investment with no clue where to find stocks near 52-week lows? Well, Tickertape Stock Screener has got you covered. The online Screener lets you apply various filters and customise your search for stocks quickly and conveniently.
With the Screener, you can be sure of getting accurate results. All you need is a smartphone or computer and an active internet connection.
How to use Tickertape Screener to discover stocks near 52-week lows?
Navigating your way around 52-week low stocks can be challenging. Tickertape Stock Screener lets you discover fundamentally strong stocks near their 52-week low so that you can take investment decisions on the fly. Below are the steps to find stocks near 52-week lows on Tickertape:
Browse Tickertape website. 
Click on the downward arrow next to the Tickertape logo on the top left. Choose 'Stock Screener' from the drop-down menu.
On the Screener, click on 'All Screens'. Then, under 'Basic', select 'Near 52W Lows'. The Screener applies the following filters to display the top near 52W lows stocks.
Market Cap (>5,000.00)
5Y Historical Revenue Growth (>15.00)
5Y Avg Return on Equity (>15.00)
% Away From 52W Low (<20.00)
You can add or remove over 200 filters to customise your search. Click on 'Add Filters' to add a filter and customise its value based on your preference.
There you go! All the stocks near their 52-week low are in front of you. Based on the steps mentioned above, here are the top 5 stocks in their 52-week low stage as of 7th February 2023 –
Note: The data is sorted using the PE ratio (high to low).
Is it good to buy stocks nearing the 52-week low?
If the stock is bottoming out due to its own performance, like a weak quarter or entry of new competition, you may not want to invest in it. Simply because there is a chance that the stock may fall further and club it along with bear market conditions, you can lose your entire capital.
Take a look at the following example.
Central Depository Services (India) Ltd (CDSL) saw an exponential jump of over 200% in their profits to Rs. 312 cr. in FY 2022 from Rs. 107 cr. in FY 2020 due to the share jump in Demat accounts and crazy trading volumes in 2021. The stock reached a high of ~ Rs. 1,700. Here's a 5-yr graph of the stock.
However, in 2022, due to rising inflation and low-interest rates in the global markets, the central government had to increase the interest rates to control the situation. As a result, a sharp fall was observed in the Indian stock market, and From May 2022 to December 2022, FII pulled investments worth Rs. 41 lakh cr. from the Indian market. Consequently, CDSL fell over 30% in the last year.
Now, the investor needs to understand and question a few things –
Why has the stock been falling continuously?
Is market condition the only factor for the accelerated downfall?
Does the company's books look good, and is the market fair in dumping the stock?
What does the chart look like under technical analysis?
Lastly, what would be the fair price to enter this stock in normal market conditions?
Things to remember when buying 52-week low stocks
If your analysis is correct and the market is unfair to the stock, you can expect the price to rise in the near future. But picking up any 52-week low stock in disguise of it being undervalued can be extremely risky. It may just fall further.
If you are a risk-averse investor, picking up 52-week low stocks may not be suitable for you. The risk is higher with upswings and downswings. The stock can fall below its 52-week low if market conditions turn sour.
It is extremely tricky to choose stocks that have hit a 52-week low. The reasoning becomes paramount here. Adequate knowledge and research skills are required to be right on the bet.
Market conditions can bring the best of stocks down or celebrate overpriced stocks. You need to steer clear through the market games and see deeply if the stock is truly undervalued and can make a good investment.
Avoid market noise and tips, especially when dealing with 52-week low stocks.
Conclusion
Traders usually compare the current price of stocks with their 52-week high/low before finalising an investment. Moreover, the 52-week high/low is a critical technical indicator that aids analysts in predicting the future price movement of stocks. The 52-week high/low value also indicates the volatility of a stock over the past year.
Use Tickertape's Stock Screener to simplify your search for fundamentally strong stocks near 52-week lows. The process is quick and hassle-free, and it only takes a few steps to curate stock lists based on applied filters. Smooth your research, watch, and investment process with Tickertape and build a strong portfolio!
Frequently asked questions (FAQs)
What is 52 weeks high?
A 52-week high is the highest price that a security/stock has been traded over a year, i.e. 52-week period. It is one of the technical indicators used to analyse a security's current price.
What does a 52-week high signify?
A 52-week high indicates a strong chance of significant gains ahead. However, it is always worthwhile to consult a financial advisor and take various measures before investing instead of relying on one factor.
Why is the 52-week high/low important?
52-week high/low is a technical indicator. Investors may use the 52-week high/low metric to determine an entry or exit point for a stock. A 52-week high is considered resistance, and a 52-week low is considered support.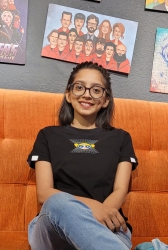 Latest posts by Anjali Chourasiya
(see all)