Last Updated on Jul 13, 2021 by Aradhana Gotur
The long-awaited Zomato IPO is finally set to open tomorrow. What makes the IPO special is that Zomato will be the first Indian online food aggregator and one of the first Indian unicorn startups to go public. What's more, due to the pandemic, people of all ages including middle-aged and senior citizens resonate with Zomato as a brand. No wonder all the hype! Without further ado, let's evaluate the IPO.
This article covers:
About Zomato 
A food directory turned online food aggregator, Zomato was incorporated in 2010 in Gurgaon. They connect restaurant partners, delivery partners, and customers via their new-age, innovative technology platform to cater to their various needs.
As of Mar 2021, RedSeer revealed that Zomato is one of the leading food services platforms in India in terms of the value of food sold. During FY 2021, Zomato's platform had an average monthly active users (MAU) of 3.21 cr. They were operational in 525 Indian cities and had 3,89,932 active restaurant listings. Further, App Annie's estimated that Zomato's mobile app has been the most downloaded application in their domain in India from FY 2019 to FY 2021. This on both the iOS App Store and Google Play combined.
Business segments
Zomato's services span both B2B and B2C segments. The offering under both of them are:
B2B segment
Under the B2B segment, Zomato lists regional restaurants on their platform and gives them much-needed visibility. They also provide their restaurant partners with sector-specific marketing tools to grow their food business by capitalising on customer engagement and customer acquisition. In addition to this, Zomato also provides restaurant partners with last-mile food delivery service. And the company's Hyperpure is a one-stop procurement solution that supplies restaurant partners with high-quality ingredients.
B2C segment
Offerings under this segment include facilities to find and discover listed restaurants, doorstep food delivery, dine-out services, and table booking. In addition, customers can also read and write reviews, add images of food and restaurants, and make payments for dining out at restaurant partners. Customers also have an option to subscribe to Zomato Pro, a customer loyalty program.
Promoters of Zomato
The company is professionally managed and thus has no promoters. As of 6th Jul, the company had 74 shareholders some of which are:
Info Edge (India), the largest shareholder with an 18.68% pre-IPO stake
Uber B V with 9.19% stake
Alipay Singapore Holding with 8.39% stake
Antfin Singapore Holding with 8.26% stake
Internet Fund VI Pte Ltd with 6.04% stake
SCI Growth Investments II with 6.03% stake
Deepinder Goyal with 5.55% stake
Zomato IPO details 
Worth Rs 9,375-cr, the IPO will open on 14th Jul and close on 16th Jul
Shares worth Rs 9,000 cr will be fresh issuance and up to Rs 375 cr will be an offer for sale by current shareholders
While the face value of each share is Re 1, the price band for the IPO is fixed at Rs 72-76
Each lot consists of 195 shares and a maximum of 13 lots can be bid
The shares are likely to be listed by 27th Jul
Utilisation of the funds
Zomato plans to use the IPO proceeds to fund organic and inorganic growth initiatives and for other general corporate purposes.
Investor category-wise reservation of the IPO
10% of the IPO is reserved for retail investors
75% for qualified institutional buyers
15% for non-institutional investors (NIIs)
65 lakh equity shares are reserved for eligible employees
Book running managers and registrar to the IPO
Credit Suisse Securities (India), Kotak Mahindra Capital Company, BofA Securities India, Citigroup Global Markets India, and Morgan Stanley India Company are the book running lead managers. Of these, Kotak Mahindra Capital Company, Credit Suisse Securities (India), and Morgan Stanley India Company are the global co-ordinators too. Link Intime India is the registrar of the issue.
Valuation of Zomato
Loss-making Zomato is looking at an ambitious market cap of ~Rs 60,000 cr. This valuation is equivalent to the market cap of 6 listed Indian QSRs (quick service restaurants), which is Rs 60,710 cr. Not only this, their valuation is also greater than the market value of the top 20 listed Indian hospitality chains combined, which is nearly Rs 44,000 cr. These figures are as of 12th Jul 2021.
Financials of Zomato 
In FY 2020, Zomato's consolidated loss widened to Rs 2,385.6 cr from Rs 1,010.2 cr y-o-y and their revenue nearly doubled from Rs 1,312.58 cr to Rs 2,604.7 cr
For FY 2021, their consolidated loss was Rs 816.43 cr and revenue was Rs 1,993.78 cr. The dip in their revenue was mainly due to the impact of COVID-19
Following are the restated consolidated financials of Zomato for three years.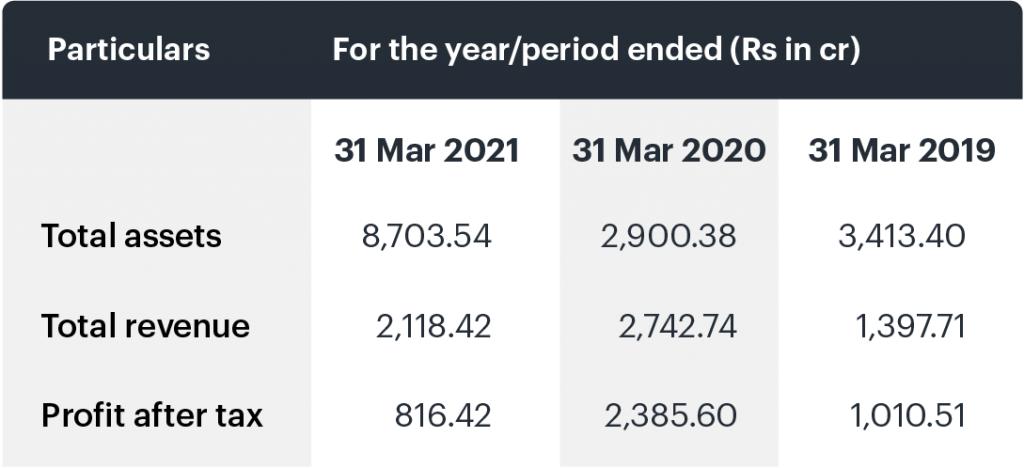 Source: Chittorgarh
Strengths of Zomato
Zomato's wide spectrum of B2B and B2C services offers an end-to-end solution to both restaurant businesses and customers.
Restaurant partners gain visibility on their platform, they can also source quality ingredients and products and cater to customers at their own premises or deliver food at doorstep via delivery partners
Customers, on the other hand, can order food and dine out, which negates the need to jump various platforms to fulfil their needs. This also makes the company a unique entity to do so in their domain
The company has a widespread and efficient hyperlocal delivery network. This allows them to deliver food on demand, whenever and wherever
The company leverages artificial intelligence, machine learning, and deep data science to drive innovations on their platform and give the best experience to their restaurant partners, delivery partners, and customers
Zomato enjoys a strong brand recognition among customers of all ages across India
As of 31st Dec 2020, Zomato had a presence in 23 countries with ~1.31 lakh active food delivery restaurants, and ~1.61 lakh active delivery partners
Although the business was impacted in FY 2020 due the pandemic,  experts opine that Zomato has strong growth prospects
High entry barriers and duopoly (Zomato and Swiggy) of the food delivery business would command a premium to global peers
Risks of the company
Watch out for the following risks that Zomato faces or might face down the line:
Although not directly into the food business, considering Zomato's all-inclusive services, they face competition from both QSRs and hospitality chains
NRAI, a food service body representing over five lakh restaurants in India is looking to launch its own food-ordering app. This would pose competition for Zomato
While Zomato is a disruptive business that has redefined online food platforms, an entry of a big pocketed player into the market can severely impact the business
Loss-making Zomato's ambitious market cap valuation has attracted criticism. Experts defending the valuation believe it is based more upon growth potential and futuristic assumptions than on traditional parameters
Zomato says that their losses will continue as they have made significant investments to grow business
Zomato's long term strategy for growth
Focus on unit economics and growth simultaneously
Expand and strengthen community across its three businesses namely food delivery, dining-out, and Hyperpure
Invest in new products, technologies, and features for their customers' benefit
Continue to invest in building strong brand recognition across the country
Like any other initial public offer, you should do your own homework before subscribing to the Zomato IPO. If you decide to subscribe and are allotted with the stock, be sure to continuously track the performance. If you aren't familiar about how to invest in the IPO, here's all you need to know about subscribing to an IPO.
Latest posts by Aradhana Gotur
(see all)