Last Updated on May 24, 2022 by Anjali Chourasiya
Here we go, again! The years 2021 and 2022 are going to be a ride for companies going public. In the recent past, Nykaa and PB Fintech went public and there are a few more companies lined up to be listed for IPOs this year. One such company is Shriram Properties. This article answers your questions about Shriram Properties IPO, the company overview, strengths, and risks associated with it to help you make a better investment decision.
About Shriram Properties
One of the five largest residential real estate development companies in South India, Shriram Properties, essentially focuses on the affordable and mid-market housing categories. Shriram Properties are a part of Shriram Group, which is a business group in the retail financial services sector and various other industries.
Shriram Properties commenced operations in the year 2000 in Bangalore and later grew their presence in other cities of South India such as Chennai, Coimbatore and Vishakapatnam. Though they have a presence in Kolkata, their two key markets are Bangalore and Chennai. The company is transitioning from a real estate development model to a combination of real estate development and a real estate services-based business model. This also includes a shift towards an asset-light business strategy.
About Shriram Properties IPO
Shriram Properties IPO includes a fresh issue worth Rs. 250 cr. and an offer for sale worth Rs. 550 cr. The overall issue size is Rs. 800 cr.
The opening date of Shriram Properties IPO is 8 December 2021.
Shriram Properties IPO is likely to be listed on the BSE and NSE.
The face value of each share is Rs. 10 and the set price band of Shriram Properties IPO is Rs. 113 to Rs. 118 per equity share.
The bid lot size is 125 shares.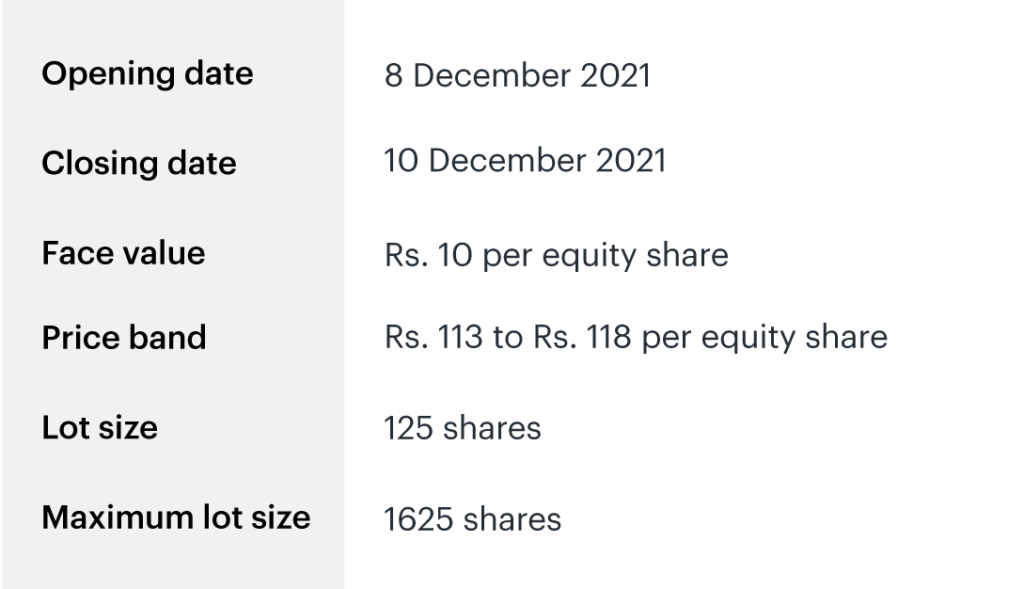 Book running lead managers of the Shriram Properties IPO
The joint coordinators and lead managers of Shriram Properties IPO are Axis Capital Limited, ICICI Securities Limited, and Nomura Financial Advisory and Securities (India) Pvt Ltd.
The issue's registrar is KFin Technologies Private Limited.
Reservation for various investor categories for Shriram Properties IPO
10% is the maximum subscription amount reserved for retail investors.
15% is reserved for Non-Institutional bidders.
75% is reserved for Qualified Institutional Buyers (QIBs), which includes 60% for anchor investors and 1/3rd of the anchor investor portion for domestic mutual funds.
Objects of Shriram Properties IPO
Funds from Shriram Properties IPO will be used for:
Repayment or prepayment, in full or part, of certain borrowings made by Shriram Properties and their subsidiaries, Shriprop Structures, Global Entropolis, and Bengal Shriram.
Towards general corporate purposes, but not more than 25% of the gross proceeds of the fresh issue. These purposes include working capital requirements, investment in subsidiaries and joint ventures, strengthening of marketing capabilities, and strategic initiatives.
Financials of Shriram Properties
As of 31 March 2021, the net asset value (NAV) stood at Rs. 56.43.
As of 31 March 2021, Shriram Properties had posted negative earnings per share (EPS) of Rs. 4.60.
As of 31 March 2021, the company's total income was at Rs. 501.39 cr.
Following are the financials for 2019, 2020, and 2021: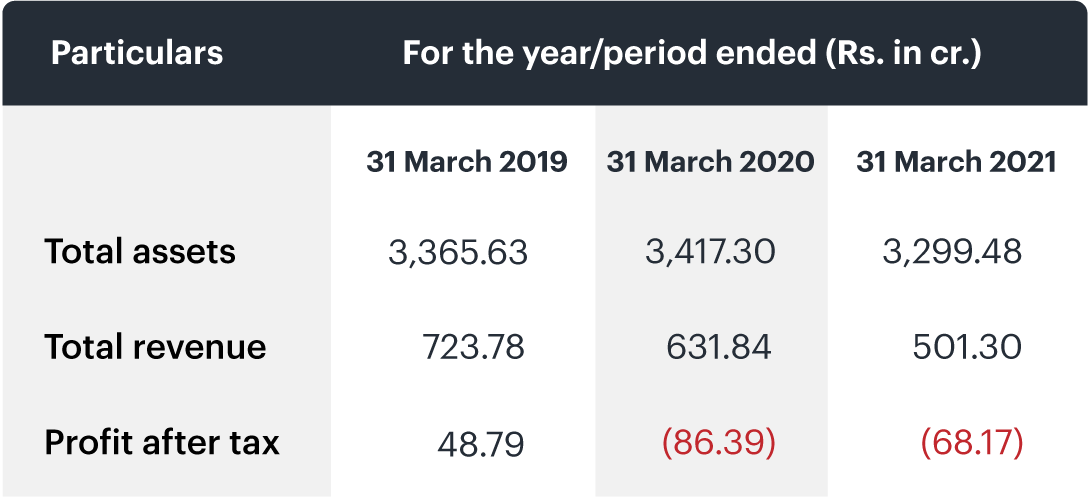 Peers of Shriram Properties
In their offered documents, Shriram Properties Limited have shown the following companies as their peers:
Strengths of Shriram Properties
The company is a part of the Shriram Group and is backed by marquee investors affiliated with TPG, Tata Opportunities Fund, Walton Street Capital and Starwood.
They are one of the five largest residential real estate development companies in South India with a focus on mid-market and affordable housing categories.
They have established strategic relationships with domestic as well as international financial investors.
Their scalable and asset-light business model is supported by the company's strong financial position.
They also have an experienced and professional management team.
Risks of Shriram Properties
Before making an investment choice, here are a few risk factors that could help you analyse it better:
The company's business and profitability are significantly dependent on the performance of the real estate market in India, and particularly in the South. Fluctuations in the market may affect the business's revenues and earnings.
77.92% of the estimated saleable area of their ongoing, under development and forthcoming projects, are located in South India. This exposes them to risks from economic, regulatory, and other changes as well as natural disasters in this part of India.
The company may have to make advance payments to the owners of the land when they enter into joint development agreements, which may not be recoverable.
There are pending legal proceedings that involve the company, subsidiaries, directors, group companies, and promoters. Such procedures could drain the financial resources of the company.
Their development management business is rather new and it's not a sure shot if they will succeed in growing this business.
Around 22.08% of their saleable area is located in Kolkata. Their future business, financial condition and result of operations are all dependent on the performance of the real estate market in Kolkata.
Shriram Properties is a well-known real estate development company in South India, which primarily focuses on the mid-market and affordable housing categories. They are also among the five largest residential real estate companies in terms of number of units launched between 2015 and 2020 across Bengaluru and Chennai.
It's always better to do thorough research before subscribing to the Shriram Properties IPO. To get a hassle-free experience of subscribing to an IPO, read the article on how to subscribe to an IPO.
These numbers/figures mentioned in this article are sourced from DRHP, the data from RHP will be updated subsequently as and when released.
Latest posts by Manonmayi
(see all)