Last Updated on Dec 29, 2021 by Aradhana Gotur
Were you also disheartened when PUBG was banned in India? Because it felt like all hell broke loose to many. Why are we talking about PUBG anyway? Well, Nazara Technologies, a company closely related to the game is going public tomorrow. Nazara Technologies IPO is one of the most-awaited IPOs of 2021 for two main reasons.
One, it is backed by Rakesh Jhunjhunwala, an ace stock market investor. And two, Nazara Technologies is one of India's leading online gaming companies, making the IPO the 1st pure play gaming company to go public in India. More on the IPO in the article.
This article covers:
About Nazara Technologies
Highlights of Nazara Tech
Business verticals of Nazara Technologies
Popular Intellectual Properties owned by Nazara Tech
Subsidiaries of Nazara Technologies
Investees of Nazara Tech
Context for Nazara Tech IPO
About Nazara Technologies IPO
Promoters and investors exiting Nazara Technologies
Reservation of Nazara Technologies IPO
Book running lead managers and registrar of the IPO
Financials of Nazara Technologies
Nazara Technologies' MAU details
Recent developments in Nazara Tech
Prospects of Nazara Technologies
Risks of Nazara Technologies
About Nazara Technologies
Established in 2000 by Nitish Mittersain, Nazara Technologies is a leading diversified gaming and sports media platform in India. Pleasantly, Nazara's presence is not just limited to domestic borders but across other emerging and developed economies including North America and Africa. Nazara is known for its Chhota Bheem, Motu Patlu, and World Cricket Championship game series.

Highlights of Nazara Tech
The hype for Nazara Technologies is not without reason. Here are some highlights that justify it:
Nazara was among the first entrants in the domestic markets in eSports and cricket, entering the arenas via Nodwin and Nextwave, respectively
It owns a majority stake in Nodwin Gaming, which is a leader in eSports
Business verticals of Nazara Technologies
eSports
Interactive gaming
Gamified early learning
Legacy telco businesses
Premium offerings account
Real money gaming accounts
Popular intellectual properties owned by Nazara Tech
Nazara has assets across grassroots, regional, national, and international eSports. Also, it is the only Indian company to have rights over well-known Intellectual Properties (IP) such as:
Kiddopia in gamified early learning
CarromClash and WCC in mobile games
Qunami in skill-based, fantasy and trivia games
Halaplay Technologies Private Limited ("Halaplay")
Nodwin and Sportskeeda in eSports and eSports media
Subsidiaries of Nazara Technologies
Paper Boat apps Private Limited (holding 50.91%)
Nodwin Gaming Private Limited (holding 57.05%)
Absolute Sports Private Limited (holding 63.90%)
Next Wave Multimedia Pvt Ltd (holding 52.38%)
Halaplay Technologies Private Limited (holding 69.09%)
Sports Unity Private Limited (holding 62.53%)
Investees of Nazara Tech
Hashcube (holding 12.38%)
Mastermind Sports Limited (holding 26%)
Moong Labs Technologies Limited (holding 24.41%)
Context for Nazara Tech IPO
As mentioned, Nazara Technology had planned an IPO way back in 2018. However, despite filing a draft red herring prospectus with SEBI and getting the necessary approvals from the market watchdog, Nazara stepped back citing market conditions. Nonetheless, the company is glad and opines this is a better time to make a market debut.
Since 2018, the gaming market has evolved to Nazara's benefit. The quality and speed of the internet and the infrastructure of digital payments got better with time. This enabled multiplayer gaming in India and gave more business to companies such as Nazara. India also saw the emergence of a paying user market. Meaning, users began to pay to play games, all to the credit of gaming companies.
Besides, the coronavirus pandemic, which plagued many businesses, proved to be a boon to gaming companies including Nazara. Thanks to the nation-wide lockdown that left people with very little means of entertainment, citizens turned to online games for their needs. As a result, the mobile gaming sector grew stronger. Naturally, the enormous demand for mobile gaming opened up new doors of opportunity for Nazara Technologies.
About Nazara Technologies IPO
The Rs 582.91 cr-worth Nazara Technologies IPO will open on 17th Mar 2021 and close on 19th Mar
While the face value of each share is Rs 4, the IPO's price band is fixed at Rs 1,100 to Rs 1,101 apiece share
The issue consists of an offer for sale (OFS) of 52.9 lakh shares
The bid lot is of a minimum of 13 shares
Shares are to be listed on both BSE and NSE
Promoters and investors exiting Nazara Technologies
Promoter: Mitter Infotech LLP
IIFL Special Opportunities Fund
Good Game Investment Trust
IndexArb Securities and Azimuth Investments
Post issuance of the IPO, the promoter holding in Nazara will reduce from over 22.5% to 20%. The remaining stake will be locked in for 3-yrs. Ace investor Rakesh Jhunjhunwala will continue to hold his 10.8% stake in the company.
Reservation of Nazara Technologies IPO
75% of the IPO is reserved for Qualified Institutional Buyers (QIB)
15% is reserved for Non-Institutional Investors
10% of the IPO is reserved for retail investors
Shares of up to Rs 2 cr are reserved for eligible employees, who will get a discount of up to 10% of the offer price
Book running lead managers and registrar of the IPO
While IIFL Securities, ICICI Securities, Nomura Financial Advisory and Securities, and Jefferies India are the Book Running Lead Managers to the IPO, Link Intime India is the registrar.
Financials of Nazara Technologies
Nazara reported a net loss of Rs 10.1 cr in the first half of FY 2021 compared to a net loss of Rs 24.9 cr in FY 2020
In FY 2020, Nazara reported a 45.85% hike in revenue from Rs 169.70 cr y-oy
It incurred a net loss of Rs 26.61 cr in FY 2020 compared to a net profit of Rs 6.71 cr in FY 2019
40% of Nazara's revenues comes from India, 40% to 41% from North America and rest from Africa, West Asia, and South Africa
Nazara Technology is a debt-free company
Notes:
The company claims that its net losses don't reflect operational deficiency but were incurred due to depreciation in intangible assets after it went on an acquisition spree.
Financials in Rs cr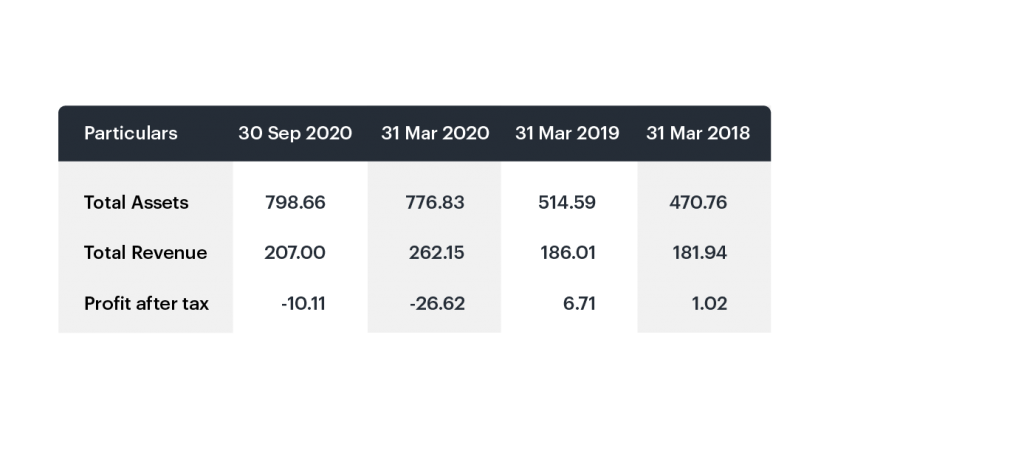 Nazara Technologies' MAU details
Nazara develops content for both Indian and global audiences. During FY 2020, the online gaming company had an average of 4.02 cr monthly active users (MAU). For the 9-mth period ended Dec, the average MAU was 5.75 cr.
Recent developments in Nazara Tech
Early this week, Nodwin Gaming had raised Rs 164 cr from Krafton, its famous South Korean video game holding company. At the time, Nodwin Gaming was valued at ~Rs 1,100 cr. For context, Krafton owns 'PlayerUnknown's Battlegrounds' (PUBG) and Nazara owns a 55% stake in Nodwin Gaming
In Feb, Nazara Tech had raised Rs 100 cr from Instant Growth Limited (IGL), an investment vehicle of Hornbill Orchid India Fund
In Jan, WestBridge Capital exited Nazara by selling its stake to Plutus Wealth Management for over Rs 500 cr
Prospects of Nazara Technologies
The gaming company is the next-gen digital play catering to the youth, which is a widely unexplored market in India. In fact, the domestic mobile gaming industry is expected to triple its size to over $3 bn in the next 3 yrs
Apart from gaming, fantasy sports, eSports, and sports content creation, the company also has offerings in the education technology space, which is also evolving
Nazara's Kiddopia has an untapped potential to enhance its paid subscriber base in the US, which can scale up its overall business
The ad revenue in the Gaming range is expected to grow by 30% to Nazara's benefit
The company boasts a new-age business model, strong backing, and sound fundamentals, which make it an attractive investment
In the last 5 yrs, Nazara has invested over Rs 300 cr in the Indian gaming ecosystem
Risks of Nazara Technologies
As per the company, Nazara had reported a restated loss in FY 2020 and for the 6-mth ended 30th Sep 2020. The company may also incur additional losses in the future
Nazara may not be able to effectively monetise its eSports offerings, thus adversely impacting its business, finances, and cash flows
Nazara has had negative cash flows in the past, which may continue in the future as well
One of Nazara's group companies had incurred losses in the last 3 financial years
As always, we urge you to do your homework before subscribing to the IPO. That's what a prudent investor does, research extensively and not just go by what sources say 🙂
Latest posts by Aradhana Gotur
(see all)