Last Updated on Jun 1, 2022 by Anjali Chourasiya
Indian multinational automotive manufacturing corporation, Mahindra & Mahindra (M&M) stock surged more than 5% to its all-time high and crossed the Rs 1,000 per share mark on Tuesday. The primary reason behind the stock rally seems to be the company's strong profits in the March 2022 quarter. 
Stock performance
In 2022, the stock has rallied 22% whereas the Nifty Auto Index has seen a modest gain of 6% in the same period. The M&M stock recorded its all-time high of Rs 1,042.35 apiece on 30 May 2022.
On Monday, 30 May 2022, the stock closed at Rs 998.35 apiece whereas, on Tuesday, the stock surged 3.80% to Rs 1,036.25. The primary reason behind the surge seems to be the announcement of healthy FY 2022 Q4 results.
Financial performance of M&M
The revenue of the company for the March 2022 quarter has appreciated 28.2% to Rs 17,124 cr. from Rs 13,356 cr. in the same period a year ago. The company's quarterly net profit is up 427% for the quarter under review to Rs 1,292 cr. from Rs 245 cr. in the same period the previous year.
The consolidated profit after tax (PAT) has risen to Rs 2,237 cr. for the period under review from Rs 1,513 cr in the same period a year ago, amounting to 48%. On top of gains, the company has announced a dividend of Rs 11.55 per share, which is 231% of the face value.
M&M said their auto business delivered the highest ever quarterly UV volumes in FY 2022 Q4 with 42% growth y-o-y. However, the company witnessed a slight dip in its earnings before interest, tax, depreciation and amortisation (EBITDA) in the same period.
The company has also declared the highest ever standalone revenue for Auto and Farm Segments at Rs 55,300 cr. for FY22 and a strong auto-export performance with 77% growth y-o-y.
Anand Mahindra's comment on the surge
The recent rally prompted the Mahindra Group chairman, Anand Mahindra congratulate his colleagues for the bounce back after the sharp fall in 2019 from its all-time high of Rs 984. In an annual leadership conference the same year, he requested his team to "take the hill" i.e. dare to dream.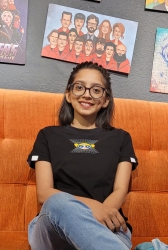 Latest posts by Anjali Chourasiya
(see all)