Last Updated on Apr 6, 2021 by Manonmayi
It is said that the third time's a charm. Investors are hoping this holds true to Macrotech Developers—a Mumbai-based popular real estate company, formerly called Lodha Group—that has postponed debuting the market twice already. Macrotech Developers IPO would be the largest offered by a reals estate company public after DLF, which went public in 2007. Here's all you need to know about the Macrotech IPO.
This article covers:
Lodha Developers aka Macrotech Developers had attempted to go public way back in 2009 and 2018. However, the company shelved its plans both times citing adverse conditions in the real estate segment and the broader market.
About Macrotech Developers
Founded in 1995 by Mangal Prabhat Lodha, Macrotech Developers is a Mumbai-based real estate company primarily engaged in offering affordable and mid-income residential spaces. In 2013, Macrotech Developers ventured into the London realty market by acquiring 2 prime sites in central London for about £ 400 mn (around Rs 4,038 cr).
Years later, in 2019, Macrotech Developers ventured into areas other than residential spaces such as the development of industrial parks, logistics, and commercial properties. In the same year, it also entered into a joint venture with ESR Mumbai 3 Pte. Limited (ESR). ESR Mumbai is a subsidiary of ESR Cayman, a logistics real estate platform whose focus is the Asia Pacific.
Macrotech Developers has been India's largest real estate company in the residential segment by sales value from FY 2014 to FY 2020. It has operations in the Mumbai Metropolitan Region, Pune, and London.
Brands of Macrotech Developers
Macrotech offers real estate projects under brands such as:
Lodha
'iThink'
Lodha Luxury
'Lodha Excelus'
CASA by Lodha
'Lodha Supremus'· Crown – Lodha Quality Homes
Listed peers of Macrotech Developers
Macrotech Developers has listed peers such as:
DLF
Oberoi Realty
Sunteck Realty
Godrej Properties
Brigade Developers
Prestige Estates Projects
Brigade Developers Sobha
Macrotech Developers IPO details
As per Macrotech's DRHP, the company may raise up to Rs 500 cr via the pre-IPO route. Following are the other details about the IPO:
The initial public offer is set to open on 7th Apr and close on 9th Apr
While the face value of each share is Rs 10, the price band is in the range of Rs 483 to Rs 486 apiece
The minimum bidding lot is 30 shares and the maximum size is 13 lots
Macrotech Developers IPO would likely be listed on both BSE and NSE on 22nd Apr 2021
Post IPO, Macrotech Developers' implied market cap is expected to be ~Rs 21,740 cr
Subscription reservation for Macrotech IPO
30% of the IPO is reserved for anchor investors
50% of the issue is reserved for the qualified institutional buyers
15% is saved for non-institutional investors
35% is parked for the retail investors
Shares worth Rs 30 cr are reserved for its eligible employees
Utilisation of the proceeds of IPO
Rs 1,500 cr of the net proceeds of the IPO would be used to prepay, repay or redeem all or a part of its borrowings and that of some of its subsidiaries in FY 2022
Rs 375 cr would be used to acquire land or land developmental rights in the next 2 yrs
Some of the proceeds would also be utilised for general corporate purposes
Book running lead managers and registrar to the IPO
SBI Capital Markets, Edelweiss Financial Services, BOB Capital Markets, ICICI Securities, JM Financial, IIFL Securities and YES Securities are the book running lead managers to Macrotech Developers IPO and the registrar is Link Intime India.
Promoter holding details of Macrotech
As of now, promoters hold a 100% stake in Macrotech Developers. Via the IPO, they look to dilute their stake by 10%.
Financials of Macrotech Developers
In FY 2018-2019, Macrotech Developers registered net new sales of over Rs 7,000 cr with collections of over Rs 9,000 cr
As of Dec 2020, Macrotech had consolidated outstanding debt of Rs 18,662.19 cr
For the 9-mth ended 31st Dec 2020, the company reported a loss of Rs 264.3 cr compared to a profit of Rs 503 cr a year ago. During the same period, Macrotech registered a revenue of Rs 2,915 cr compared to a revenue of Rs 9,272.9 cr. The decline in the figures was due to the impact of the pandemic
For the period ended Dec 2020, Macrotech Developers reported a ~66% fall in its total income, which stood at Rs 3,160.49 cr5. During Q3 FY 2021, Lodha Group registered over Rs 2,500 cr of bookings in luxury and affordable housing projects. The company registered ~Rs 1,000 cr of bookings in the luxury and premium homes segments and Rs 1,500 cr in its mid-income and affordable business segments during the period
Financials in Rs cr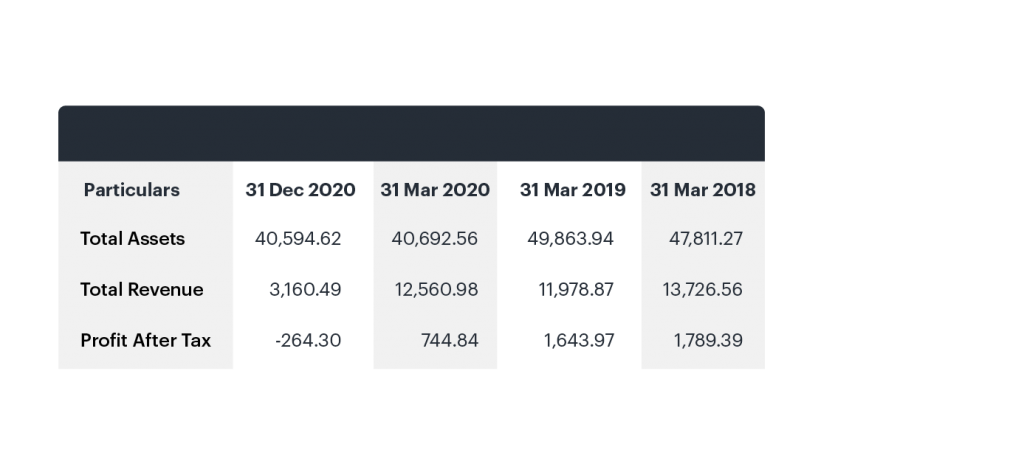 Ongoing projects of Macrotech
Macrotech Developers has the following ongoing projects:
Amara (Thane)
BelAir (Jogeshwari)
Crown Thane (Thane)
Lodha Sterling (Thane)
Lodha Luxuria (Thane)
Lodha Belmondo (Pune)
Lodha Splendora (Thane)
Casa Maxima (Mira Road)
Upper Thane (Thane outskirts)
Palava (Navi Mumbai, Dombivali Region)
As of 31st Dec 2020, Lodha Developers had 91 completed projects with 77.22 mn sq ft of developable area, 36 ongoing projects with 28.78 mn sq ft of developable area, and 18 planned projects. That apart, Lodha has land reserves of ~3,803 acres in MMR having the potential to develop ~322 mn sq ft area.
Strengths of Macrotech Developers
Although an already reeling residential sector was further disrupted by the pandemic, the recent months have seen an improvement in home sales particularly in metros including the Mumbai Metropolitan Region (MMR), which is the core area of operations
Macrotech Developers is one of the largest residential real estate developers in the country
It is prominent in the Extended Western Suburb micro-market of the MMR. Among the 5 largest developers in the micro-market, Macrotech Developers had the 2nd largest share of absorption by value and the 5th largest share of supply of units of residential projects from 2015 to 2020
It has a strong sales distribution network that spans across India and NRI markets including Singapore, the UK, and the US· The company also has an experienced management team on board and boasts strong project execution capabilities
Risks of Macrotech Developers
Increasing COVID-19 cases can continue to have a negative impact on Macrotech's business
Lodha's finances have been fluctuating over the past few years
As per the DRHP, Lodha Group is facing litigations involving the company, subsidiaries, Directors, Promoters, associates, and Group companies
The company has certain contingent liabilities, which, if they become due can adversely impact its finances
Macrotech has massive debt in its books, which can impact its growth strategy
Latest posts by Aradhana Gotur
(see all)