Last Updated on May 25, 2022 by Neera Bhardwaj
Fixed deposits are investment instruments offered by banks to help individuals save money and earn stable monthly returns. They offer guaranteed returns and are not prone to market volatility. You can choose any investment tenure from seven days up to 10 yrs, reflecting on the scheme's flexible nature. Best part? You can start FDs with a minimum amount of Rs. 1,000. Of course, the 5-yr FDs are tax saving up to Rs. 1.5 lakh under Section 80C of the Income Tax Act.
But, did you know that if you opt for a fixed deposit scheme offered by banks, you can also enjoy an insurance cover on it? This is called deposit insurance. Let's explore this in detail.
What is deposit insurance for fixed deposits?
Fixed deposits held with commercial and cooperative banks are covered under the Deposit Insurance and Credit Guarantee Corporation (DICGC) Act, 1961. Under this Act, deposits up to Rs. 5 lakh would be insured if the bank defaults.
So, if you make a deposit and the bank suffers a financial crisis/bankruptcy due to which it files for liquidation, your deposit would not be lost. If the bank fails to repay the principal deposited and the interest earned, the DICGC will pay you back what you owe up to a limit of Rs. 5 lakh.
The Parliament of India passed the Deposit Insurance and Credit Guarantee Corporation (Amendment) Bill, 2021, during the monsoon session, notified on 27 August. The RBI subsidiary shall settle the claims as per section 18A of the DICGC (Amendment) Act, 2021. The amendment came in view after RBI placed restrictions on Punjab and Maharashtra Cooperative (PMC) bank last year.
Salient features of deposit insurance on fixed deposits
Here are some important aspects of deposit insurance allowed under the DICGC Act, 1961:
The Deposit Insurance and Credit Guarantee Corporation (DICGC) is a wholly-owned subsidiary of the Reserve Bank of India (RBI).
The insurance cover is available for deposits made with commercial and cooperative banks. This will also cover deposits given out by branches of foreign banks that operate in India.
Your deposited money and the interest earned thereon would be refunded within 90 days from when the bank comes under the moratorium.
The limit of coverage was Rs. 1 lakh earlier. However, the Union Budget 2020 enhanced this limit to Rs. 5 lakh for increased relief to depositors.
Benefits of deposit insurance on fixed deposits
The insurance cover available on fixed deposits has the following benefits for depositors:
RBI-backed guarantee
DICGC being a 100% subsidiary of the RBI, guarantees investor protection with regard to your fixed deposits. You do not have to fear for your hard-earned money if the bank defaults. The RBI ensures that your deposits and the interest earned to date are refunded up to certain limits. This guarantee is fool-proof as it is backed by the country's apex bank, the RBI. As such, you get security on your deposits irrespective of how the bank fares.
Popularity of fixed deposit investments
With the security of insurance coverage on deposits, they have become more popular among investors who are risk-averse and want guaranteed returns on their investments. The insurance cover has made fixed deposits popular among big and small investors alike.
Quick access to money
The DICGC ensures that once the bank files for a moratorium, your money is refunded back to you within 90 days. As such, your deposits are not tied-up in any red tape and are not held for long periods of time. You get access to your savings at the earliest so that you can use them for your financial needs.
Things to keep in mind about deposit insurance
Though the insurance cover keeps your fixed deposits safe, here are some things that you should remember:
Post office deposits and deposits made with non-banking financial companies (NBFCs) do not come under the purview of the DICGC Act. Such deposits, thus, do not enjoy insurance coverage.
If you have multiple fixed deposits with the same bank, the limit of Rs. 5 lakh will apply to the aggregate amount of the deposits you own.
If you have multiple fixed deposits in different banks, you would be able to enjoy the insurance cover of Rs. 5 lakh independently for each bank.
Besides fixed deposit accounts, the insurance cover is also available on the balance held in a savings account, current account, recurring deposit account, and other deposit accounts held with the bank.
The insurance cover is free of cost for the depositor. You don't have to pay any additional charges for enjoying the coverage. The bank itself bears the charges. In the case of joint accounts, if different individuals hold the accounts in the same order, the aggregate limit of coverage in all accounts would be Rs. 5 lakh. However, if different accounts are held by these individuals in a different order, each account would be covered up to the limit of Rs. 5 lakh.
For instance, say, X, Y and Z hold 3 joint accounts in the following manners: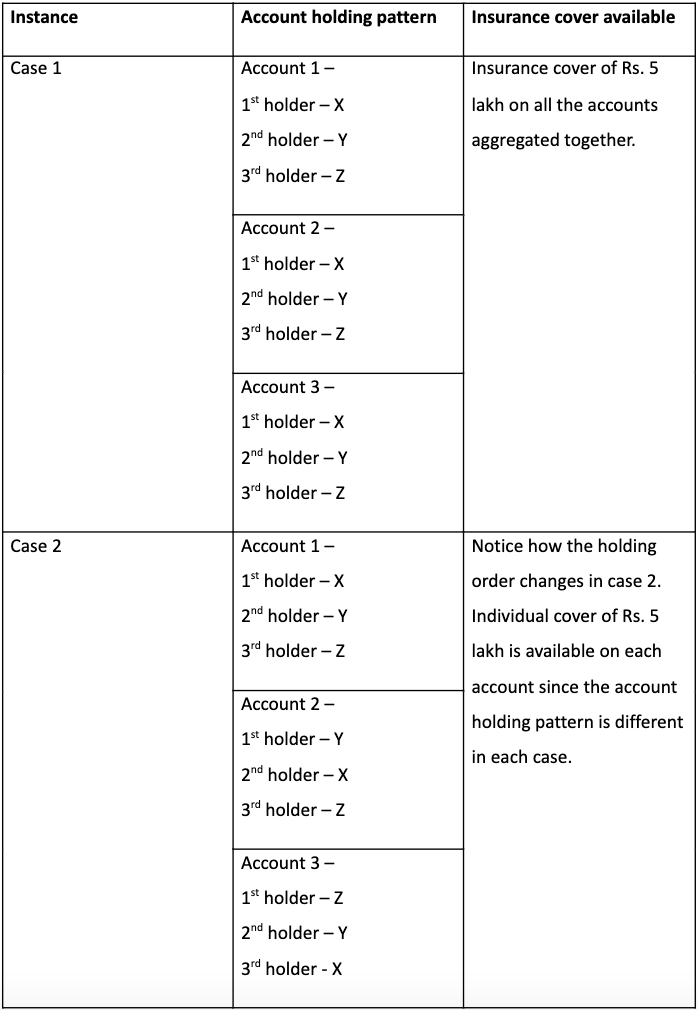 Conclusion
Deposit insurance on fixed deposits is a free and beneficial insurance cover which safeguards your money if the bank defaults on the same. It makes fixed deposits more secure and trustworthy. So, if you are looking to open a fixed deposit account, choose a bank covered under the DICGC Act and enjoy free deposit insurance on your deposited amount up to a maximum of Rs. 5 lakh. Get assured returns and the guarantee of refund of your deposits even in the unlikely case of a default (up to the maximum limit) so that you can plan your financial goals in a fail-safe manner.
Latest posts by Manonmayi
(see all)