Last Updated on Jan 19, 2023 by Aradhana Gotur
There are several ways of buying gold for investment purposes. Gold ETFs (Gold Exchange Traded Funds) are one of the easiest and safest ways. In this article, let's discuss these asset classes and get a list of the best Gold ETFs in India for 2023.
Best Gold ETFs in India in 2023
Note: The best index mutual funds in the above table are derived from Tickertape's Stock Screener. The data is as of 9th January 2023, and the filters applied are:
Category: ETF > Gold
5-yr CAGR: sort from high to low
Expense ratio
Gold ETF meaning
Gold ETFs are a type of Exchange Traded Funds. These are passively managed funds. You can include Gold ETFs in your portfolio to diversify it, as these can be a good way to hedge against market volatility.
How do Gold ETFs work?
Gold ETFs invest in gold bullion (99.50% pure). The ETF provider stores this physical gold in vaults with the custodian bank.
Gold ETFs track the price of such physical gold. Investors of these ETFs gain when gold price moves up without actually having to hold it in the physical form.
​​Benefits of investing in Gold ETFs
Since Gold ETFs are stored in a digital form in your Demat account, you need not worry about theft or paying storage costs.
You can access these as per your requirement without having to depend on your locker provider.
Gold ETFs are liquid, just like stocks. You can buy and sell them as and when you need them.
Since ETFs are available in the form of units, you can buy your desired quantity at low costs.
Gold ETFs act as a hedge against market volatility, giving your portfolio some stability.
Gold ETF in India doesn't have entry and exit loads.
Investors can avail a loan by pledging their ETFs as security with financial institutions.
You can pledge Gold ETF units with banks as collateral to avail a loan.
How are Gold ETFs taxed?
Gold ETF returns attract short-term or long-term capital gains depending on the holding period. Long-term gains on selling these are taxed at 20% (with indexation benefits). Short-term gains are added to your annual income and taxed at your applicable slab rate.
How to find the best Gold ETF?
Although a fund's historical performance is not an indicator of how it will perform in the future, observing its historical data can give you an idea about its potential and stability.
Looking at the liquidity of the Gold ETF helps in ascertaining how easily and quickly you can buy or sell its units. The more liquid the asset, the better it is, as this allows you to sell the ETF units in order to meet your financial needs even in an emergency without many hassles.
The difference between the returns of the fund's tracking index and the fund itself should not be significant. Select ETFs with a minimum tracking error.
Check the expense ratio. The lower the expense ratio, the better it is.
Note: The above factors should not be considered in isolation as they can be misleading.
How to find the best Gold ETF using Tickertape?
Use Tickertape's Stock Screener to discover the best Gold ETFs
Discover the best Gold ETFs with Tickertape's Stock Screener based on metrics that matter to you. Add filters like expense ratio and sort it from low to high if you are looking for a low-costing Gold ETF. Adding tracking error filter will help you identify ETFs that are deviating from the benchmark and those that are performing in line with it. Likewise, there are other filters related to risk, returns, and so on, that you can add to the screener to get Gold ETFs in 2023.
Evaluate Gold ETFs with Tickertape's ETF Pages
Once you have a list of the top Gold ETFs, you can evaluate these individually using Tickertape's ETF Pages. Let us launch the Kotak Nifty 50 ETF as an example. Follow these steps:
Go to Tickertape website or app
Look for your desired ETF in the search box
When on the ETF page, you can see an investment checklist on the left-hand side. This gives you a bird's eye view of the ETF
Next, in the overview tab of Kotak Nifty 50 ETF, you can see the real-time NAV for various periods like 1 Day, 1 Week, 1 Month, and 1 Year, the asset class of underlying securities, and the type of indices the ETF is tracking. The overview tab also mentions the key metrics in addition to the expense ratio and tracking error, AUM of the ETF, and profile of the Asset Management Company.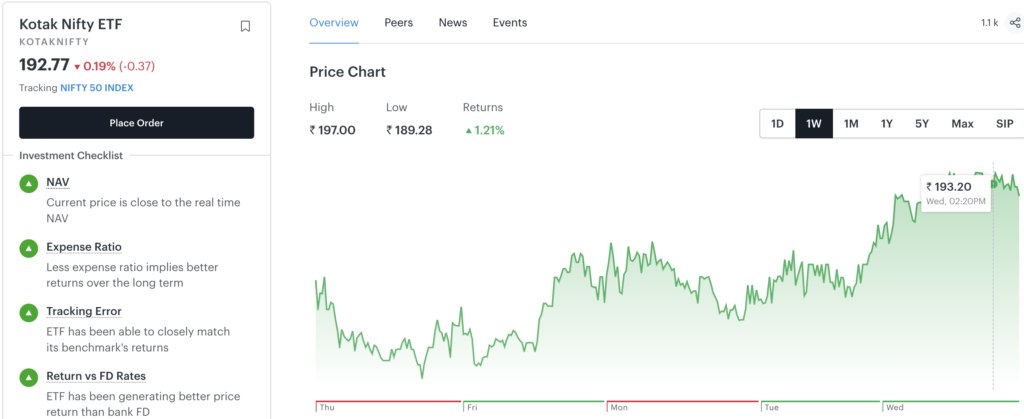 But what really sets Tickertape's ETF Pages apart from others is its "Peers" tab where you can compare the ETF with its peers based on expense ratio, tracking error, and liquidity. You can also compare the price trend of two or more ETFs or with a sing stock for your desired period.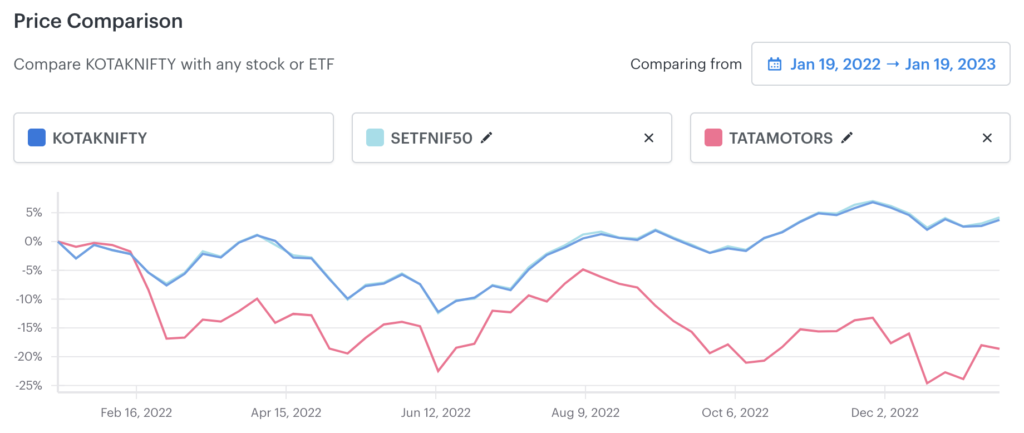 The 'News' and 'Events' tabs on the ETF Page has recent developments and corporate actions relating to the fund and its constituents.
Who should invest in Gold ETF in India?
Investors who wish to diversify their portfolio
Investors who are risk-averse (those with low-risk tolerance)
Investors who want to avoid the storage costs of physical gold
Frequently Asked Questions (FAQs)
What is Gold ETF?
Gold ETF is a type of Exchange Traded Funds that are passively managed. These ETFs track domestic gold prices.
Do Gold ETFs have a lock-in period?
No. Gold ETFs don't have a lock-in period.
Is a Gold ETF better than physical gold?
It depends on the purpose of buying. In case you want to buy gold for ornamental uses on an immediate basis, physical gold is the answer. However, if you want to hedge your portfolio or diversify it, Gold ETFs are a good option as you can reduce costs by saving storage charges.
How can I invest in Gold ETFs?
To invest in Gold ETFs, you must have a Demat account with a stockbroker. After that, you can buy units of Gold ETFs like you buy stocks.
What is Gold beEs?
Gold BeES are open-ended ETFs that are traded on stock exchanges. These are tracked to offer returns in line with domestic gold prices.
How to check Gold ETF price?
One of the quickest ways to find the Gold ETF price is on Tickertape. Simply search for your desired Gold ETF on Tickertape. Once the ETF Page opens, you can see the Gold ETF price on the price chart.
Latest posts by Aradhana Gotur
(see all)