Last Updated on May 24, 2022 by Aradhana Gotur
Over the next 10 yrs, the sale and use of the radio frequency spectrum will see changes and upgrades as per the Department of Telecommunications (DoT). In the recent past, the 5G network has become the talk of the town. However, it has picked up pace over the past few months. With remote working becoming the new normal, it is only fair that 5G gets all the hype.
For instance, Bharti Airtel has joined hands with Tata for 'Made in India' 5G network. They're set to pilot Tata's solution as part of their 5G rollout plans starting Jan 2022. But before getting into the details, let's understand what 5G technology is.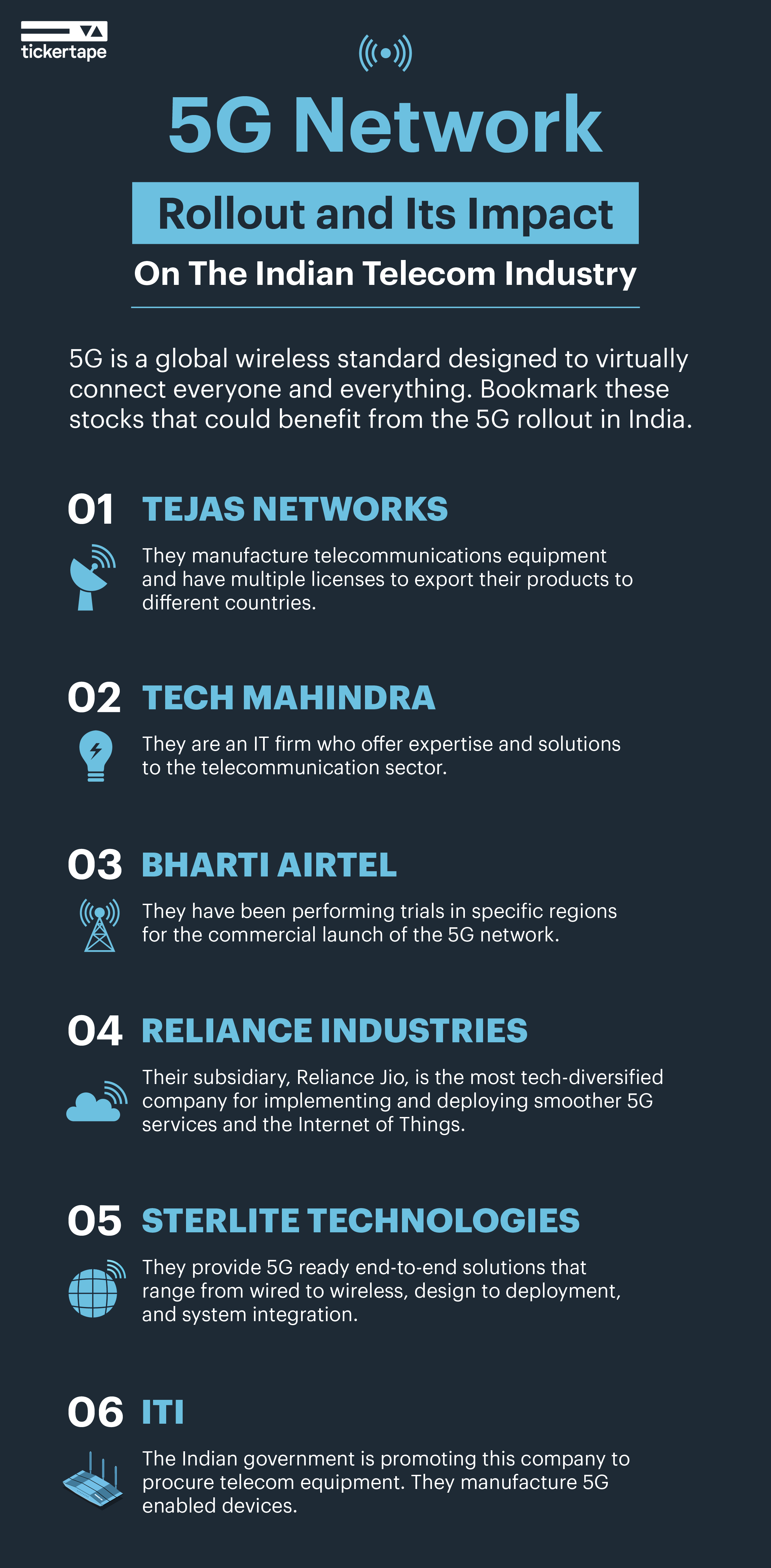 What is 5G technology?
5G or the fifth generation is the latest upgrade in the long-term evolution (LTE) mobile broadband networks. 5G basically works in three bands:
Low-frequency spectrum: has a maximum speed limit of 100 mbps (megabits per second). This is used in commercial cell phones.
Mid-frequency spectrum: provides a speed limit between 100 and 900 mbps. This spectrum is commonly used by industries and specialised factory units to provide stronger frequency.
High-frequency spectrum: has a speed limit as high as 20 gbps (gigabits per second). It is used in the campuses and arenas where there are lesser buildings disrupting the frequency.
5G technology is the next generation of wireless communication, connecting devices, businesses, machines, and people. This network will easily give way to Artificial Intelligence (AI), smart buildings, self-driving cars, and more.
5G technology is the next generation of wireless communication, which will connect businesses, machines, and people.
Click To Tweet
Is India prepared to adapt to 5G?
Digital literacy is crucial for India to be competitive in the global arena and to take a leap towards the future. And an increased consciousness towards data security will help the country adapt to this better. India can become the global digital powerhouse by embracing revolutionary technologies like 5G and taking all precautionary measures in order to prepare itself for a faster and smoother 5G rollout.
After a long wait, the government has finally given permission to telecom industries to begin trials. A key point is that the new technologies like the Internet of Things (IoT), Augmented Reality (AR), AI, and others involve large amounts of data being transferred and exchanged. However, there are a few challenges that could cause problems once the 5G is launched. This could open doors to cyber threats and security breaches. Additionally, inadequate infrastructure is another challenge that is predominant.
Telecom giants involved in 5G implementation
After almost 2 yrs, the Department of Telecommunication (DoT) has approved the applications of Reliance Jio, Bharti Airtel, Vodafone Idea and BSNL to conduct 5G trials. These telecom giants are to run trials with gear makers Ericsson, Nokia, Samsung and C-Dot.
Also, the Tata Group, through acquiring majority stakes in Tejas Networks, has ventured into making chipsets and other equipment for the 5G network. However, the major hurdles faced by two top players, Airtel and Vodafone Idea, are the lack of cash-flow and inadequate capital. It's only a matter of time to see some changes on this front.
Steps towards implementing 5G
The DoT has given a green signal for trials and they are in progress. The 5G network is expected to go live fully by 15th Aug 2022. Some steps taken to put this into action are:
Reliance Jio started performing 5G trials in Mumbai in Jun 2021 and is working towards developing an indigenous 5G network. They are also working on making a massive Multiple Input, Multiple Output (MIMO) and 5G Small Cell equipment for commercial use. And they have announced their 5G postpaid fibre plans for broadband internet
Bharti Airtel has already performed 5G trials over a commercial network in Hyderabad. Though the company has announced that their 5G network is ready, they are awaiting a regulatory approval in order to enable the software update
Most phones that are launched over the past year have given importance to 5G connectivity
The Government of India, with its Make in India campaign, is taking steps to make India a global manufacturing hub
Along with this, there are other partnerships and collaborations that the Indian telcos are taking part in, which are discussed below.
How has 5G helped the telecom sector?
The gravity of the 5G network is such that the global and local giants in the industry are coming together to collaborate and make this possible. Tech Mahindra, Sterlite Technologies Ltd, and state-run ITI Ltd are among the Indian companies that are providing 5G expertise. Here are a few telecom firms that have benefited from this:
Tata Sons' subsidiary, Panatone Finvest, has an open offer to garner up to a 26% stake in Tejas Networks.
Reliance Jio has partnered with the US chipset maker Qualcomm for the 5G ecosystem's critical equipment manufacturing.
Bharti Airtel and Tata Consultancy Services are collaborating to implement 5G solutions, starting from Jan 2022. Airtel has also extended their partnership with Ericsson for 5G-ready radio network deployment.
Vodafone Idea announced their partnership with Cisco to build cost-effective network architecture for a better quality experience.
5G technology has dropped a massive chain of opportunities for the telecom sector both in India and global markets. The Rs 12,194 cr production linked incentive scheme would be a big boost to the sector and could encourage more companies to come together. With the new cycle of investments for 5G implementation and fibre-based broadbands rolling out, the time has come for the telecom sector to grow and shine.
Pros and cons of 5G network
Here are the top pros of 5G technology:
Speed: 5G offers a speed of up to 20 gbps, whose magnitudes are far greater than 4G and 4G LTE. The download speeds of 5G are incredibly high. It easily supports the enterprise use of services such as automation and advanced video conferencing capabilities.
Lower latency: The time period between clicking a link of a webpage to the opening of the webpage would shorten drastically. One of the trials showed that it could be less than 5 milliseconds! This supports new applications like the IoT, AI, and more.
More bandwidth: 5G paves the way for more possibilities and versatile opportunities to achieve more in less time. And since it supports both a faster connection and more devices, it only means that more people can connect to the internet. This leads to better connectivity and collaboration with people from all over the world!
Now, let's dive into a few cons:
Limited global coverage: One of the biggest cons is its limited or uneven coverage. Since it is only available in specific locations, like the big cities or highly populated areas, remote areas might not be able to access this technology.
Low broadcast distance: The reason why 5G is fast is due to the combination of new technology and the use of higher frequency. However, a big drawback is the lack of broadcast distance. It means objects like tall buildings and trees block these high frequencies to travel seamlessly. So, if the speed and service should be uninterrupted, there will have to be numerous 5G towers installed for even coverage. This is both time-consuming and expensive.
Cybersecurity: 5G network is managed by software, which is easily open to vulnerabilities. And this creates a path that is accessible by hackers to breach privacy, systems, data and much more. Moreover, when there are various other measures taken to expand the bandwidth, it opens a path to more cybercrimes.
Nonetheless, 5G technology has been eagerly awaited. And in terms of production and technology of the 5G network, India is making tiny strides. It is also lending a hand to advanced 5G technology by bringing in a number of significant global companies as well as home-grown ones. What are your thoughts on the country's technological future and next-generation networks? Let us know in the comments.
Latest posts by Manonmayi
(see all)