According to Vikram Samvat, one of the calendars followed by Indians, Diwali marks the start of a new financial year. This is one of the reasons why it is considered to be auspicious in India. Diwali is not only a time for gifts and sweets but also for investing in 'stocks'. Yes! You heard it right. Apart from investing in precious metals like gold and silver, it has become customary for many investors to buy stocks.
But Diwali is a public holiday. And stock exchanges are supposed to be closed on holidays. Then how can you buy stocks on that day? The answer is 'Muhurat Trading' session. Let's discuss everything you need to know about it – meaning, history, and the advantage of buying stocks during the session. Read on! You know you are curious!
This article covers:
What is Muhurat Trading?
Indians value customs and they make sure to do things at the right muhurat. Muhurat is believed to be an auspicious time for individuals or enterprises to perform or begin an activity. It is believed that when an activity is performed during this time, it is completed without obstacles. One such auspicious muhurat comes on Diwali.
On this holiday, the Indian stock exchanges open for a one-hour trading session called Muhurat Trading. Every year, the stock exchange defines the day and time of this trade session. Buying and selling stocks during this one hour is thought to bring the blessings of goddess Lakshmi, the goddess of wealth.
That is why many individuals buy equity on this day. Some even keep them for the long-term and pass them down through generations.
The history behind it
Muhurat Trading has been practised on Indian exchanges for over a half-century. It was first organised by the Bombay Stock Exchange (BSE) in 1957. The National Stock Exchange (NSE), continuing the legacy, started holding Muhurat Trading in 1992.
For the investor community, this session marks the new year. Stockbrokers close the old ledgers and commence working on the new ones. Before this traditional trade session, stockbrokers perform 'Chopra Pooja' (worship of account books) at stock exchanges.
Amusing fact
There are many faiths linked with this trade session. The first one was Marwari investors selling stocks during this muhurat as they believed money should not enter the house on this day. On the other hand, Gujarati investors bought the stocks during the session. But there is no data to back this up, and it is no longer true in the current times.
Who can invest during the session?
Any and every investor/trader can participate during this session. But just because it is the muhurat, you should not invest blindly. Make sure to research and identify good stocks after carefully analysing them.
Process of Muhurat Trading
This trading session is divided into the following 5 components:

Block deal session: During this, two parties decide to buy or sell shares at a predetermined price and notify the stock exchange.
Pre-open session: Here, the exchanges set the equilibrium price before the market opens (usually about eight minutes).
Normal market period: This is the one-hour session in which most of the trading takes place.
Call auction session: This is when the illiquid shares are traded. If the security meets the criteria set by the exchange, it is classified as illiquid.
Closing session: Here, traders and investors place market orders at the closing price.
Muhurat Trading timings 2021
This year too both BSE and NSE would allow Muhurat Trading on Diwali, that is, 4th November 2021. For the exact timings, refer to the table below.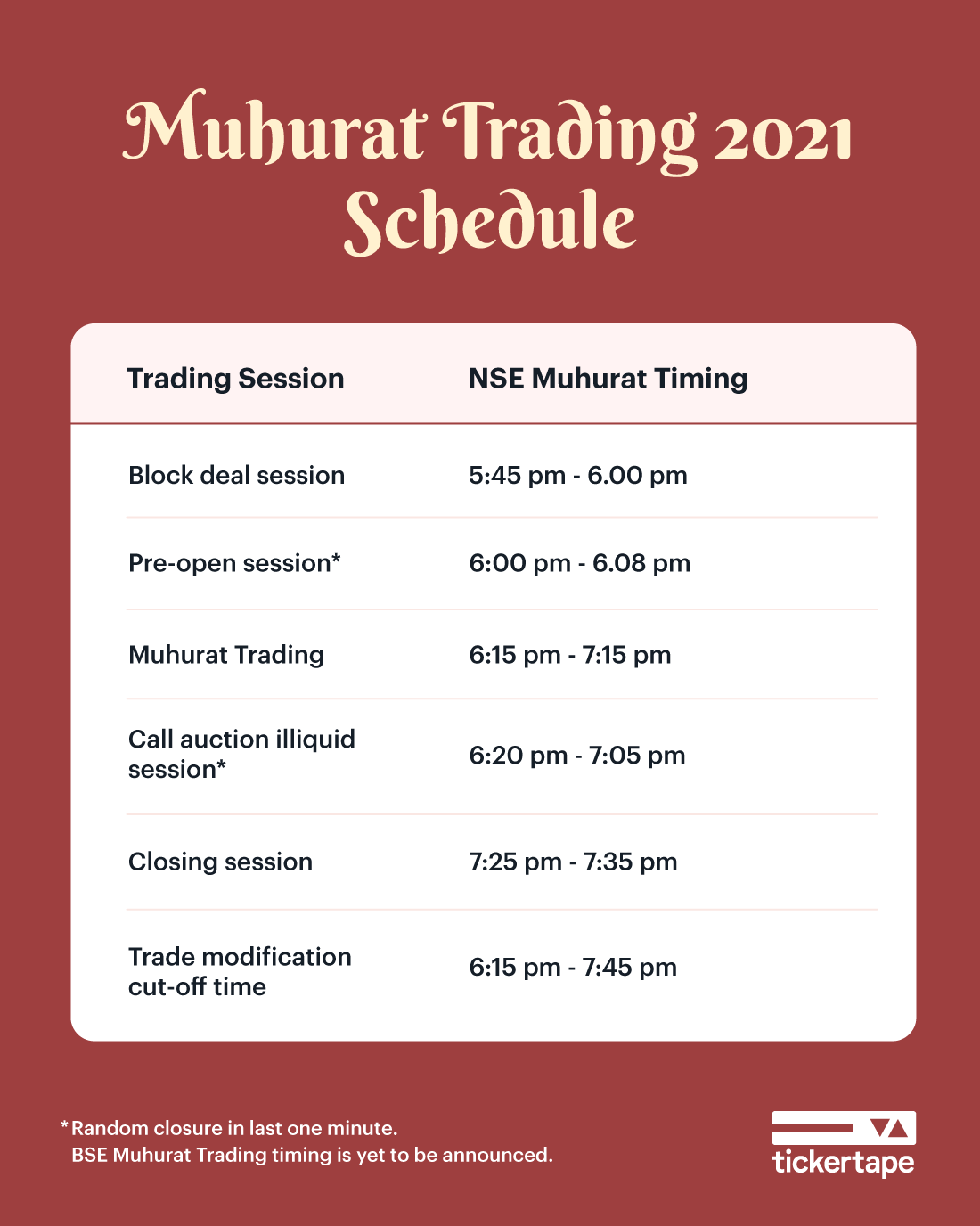 Advantages of the session
It is a good time to buy/sell shares as trading volumes are high during this session. High trading volumes indicate that there is a lot of interest or activity surrounding the stock market.
It is considered an auspicious time, so if you are a first-time investor you can start investing on this day.
It is an excellent opportunity for seasoned intraday traders as the market is generally bullish during this session. But there have been times when the market saw a dip the very next day. So it is important to remain cautious and invest/trade after researching.
If you are someone who is still looking for the right muhurat to start investing then Muhurat Trading 2021 is your stroke of good luck. Look for stocks that are backed by strong fundamentals, have growth potential, and have good cash flow. If you are not sure about which stocks to invest in, you can start your research using Tickertape's Screener. It has over 200 filters that allow you to swiftly filter through a plethora of stocks based on relevant key metrics.
In addition to the Screener, Tickertape also has other investment analysis tools such as comprehensive Asset Pages for Stocks, Mutual Funds, ETFs, Indices, Market Mood Index, and more.
Make sure to not miss out on this once a year opportunity to invest in stocks on shubh muhurat. Here's wishing you a Happy Diwali and may this Muhurat Trading session bring you good luck!
Latest posts by Ayushi Mishra
(see all)