Last Updated on Jun 14, 2022 by Neera Bhardwaj
Stock market pundits say that to make money on the bourses; you only need a pen, paper and a mind of your own. And, when it comes to mind, Anil Kumar Goel surely wins! The 62-year-old legend is known for being one of India's top investors, regularly purchasing good stocks at low rates.
But, how does he get his hands on the most incredible offerings and make his riches? Everything begins with the portfolio. So, let's dive deep into it!
About Anil Kumar Goel
Anil Kumar Goel is a seasoned Dalal Street investor who is enamoured with the stocks of small and micro-scale enterprises. In the late 1960s, he began assisting his grandfather in his steel trading firm, which was expanding rapidly back then.
While his pals were in college in the late 60s, swaying to the Beatles, Goel was toiling away in humid Chennai, assisting his grandfather in running the family's thriving steel trading business.
Goel made his first sale at 13 when he sold "slow-moving" steel angles to grape producers in Hyderabad for a good profit. The test came in 1974-75 when steel prices plunged from Rs 6,000 to Rs 1,200 per tonne in six months, and he had the foresight to buy more material at lower costs and average it out.
His first foray into the retail stock market occurred in the early 1990s. He entered the market in the 1990s and put it to the test for the first time in 1991-1992 when it fell. He deposited Rs 50 lakhs in September 1992, but the market collapsed further in 1993, and his family wanted him to leave, but he insisted on staying. Showy traders, rags-to-riches stories, and extraordinary passion drew people to exchanges like never before. Goel was baffled as to how markets could keep rising indefinitely. As a steel trader, he understood that asset prices could not always follow an upward trend, which is how he developed his talent to build a magnificent portfolio!
Anil Kumar Goel and Associates portfolio 2022
Goel has a net worth of Rs 1,534.67 cr. and invests heavily in the sugar and textile industries. So, let's have a deeper understanding of his portfolio and picks!
Please note: These are the shares held by Anil Kumar Goel as per the information available with the exchanges. For the latest quarter, results might not be available for some companies as they may file them later on.
Anil Kumar Goel and Associates portfolio analysis
Goel is well-known for his steady approach to investing. He owned 17,56,400 shares or 4.87% of Nahar Spinning Mills as of 31 March 2022, up from 16,67,000 shares or 4.62% as of 31 December 2021. He also made headlines by selling 20,000 shares of Panama Petrochem from Jan-Mar 2022, reducing his stake in the company. He is particularly fond of sugar stocks!
His favourite stock, Dwarikesh Sugar Industries, has risen nearly 2,900% in the last ten years. The investor-owned 4.46% of the firm as of 31 March 2022. During the same period, Dalmia Bharat Sugar, Triveni Engineering & Industries, TCPL Packaging, Panama Petrochem, Uttam Sugar Mills, Star Paper Mills, KRBL, Nahar Capital, Vardhman Special Steels, Dhampur Sugar Mills, and Nahar Poly Films all gained between 700% and 2,900%. In Q4 FY22, he held between 1% and 10% of these companies' stock.
Anil Kumar Goel and Associates net worth
Anil Kumar Goel and Associate's net worth has moved sharply during the last few years. The portfolio began in 2015 with Rs 465.4 cr. and ended in 2022 with Rs 1,534.67 cr. His net worth trend over the last six years looks like this:
Anil Kumar Goel and Associates bulk and block deals in 2022
Bulk and block deals enable transparency and explain why stock volumes have increased or dropped. The disclosure of bulk and block transactions can aid in determining which industries are gaining and losing popularity with purchasers. It also influences future investment decisions made by individual investors.
Anil Kumar Goel sold his 0.91% stake in Step Two Corporation Ltd on the 23rd and 25th of May 2022 for Rs 6.71 lakh and Rs 7.40 lakh, respectively. You can use Tickertape's Stock Deals tool to analyse his bulk and block deals for a particular period to keep track of his block deals.
Conclusion
Anil Kumar Goel is known as the "Sugar Baron" on Dalal Street due to his taste for sugar stocks. His strong eye for small and micro-scale firms sets him apart as one of India's most influential investors. You can also keep an eye on the market by using Tickertape's Stock Screener to stay up to date on market trends and choose top stocks to add to your investment portfolio!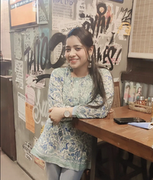 Latest posts by Neera Bhardwaj
(see all)